LARGO — "Life is winning."
That's the message Vice President Mike Pence sounded Wednesday afternoon while speaking to members of the Susan B. Anthony List, a national pro-life group, at Starkey Road Baptist Church in Largo.
Pence's visit marks the second time in less than a week that a member of the executive branch has made a campaign stop in Pinellas County.
On July 31, President Donald Trump traveled to Belleair and touted his administration's response to the coronavirus pandemic.
Pence's first stop in the county began with a tour of A Woman's Place Medical Clinic in Pinellas Park, where he spoke with pregnancy staff at the nonprofit pro-life facility.
The vice president continued on to Starkey Road Baptist Church, where he spoke to a group of pro-life activists and commended their efforts to fight abortion.
"Life is winning," Pence said. "It's good to be back in church and it's great to be among so many champions for life. Now a network of more than 800,000, SBA (Susan B. Anthony List) is the most effective pro-life grassroots organization in America."
Pence thanked audience members for their continued efforts to support anti-abortion efforts, as well as their support for President Trump.
"Let me bring greetings from another friend of mine," he said. "A guy who loves the state of Florida and and a man who is the most pro-life president in American history.
"Because of the work you have done, we now have a pro-life champion in the White House," he continued.
"Because of what you have done, life is winning in America."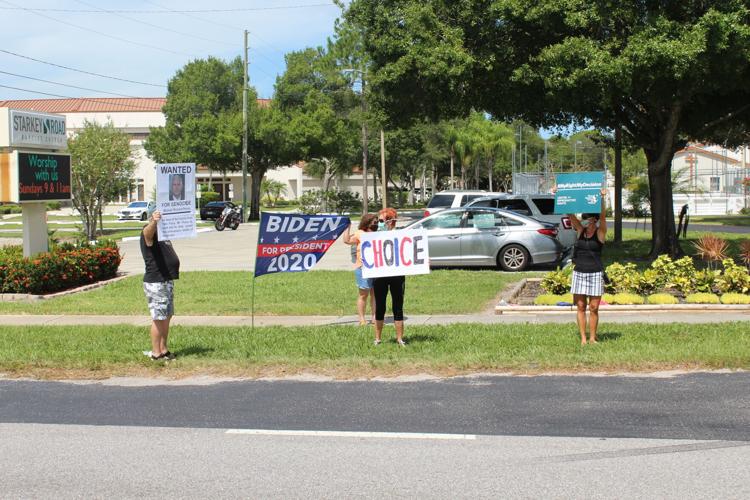 While speaking, Pence took a few jabs at former Vice President Joe Biden, the Democratic presumptive nominee. In particular, Pence took aim at Biden's support of the repeal of the Hyde Amendment, a legislative provision barring the use of federal funds to pay for abortion.
Coronavirus response
Pence also addressed the ongoing COVID-19 pandemic, which continues to spread across the state.
"It's good to be with all of you today as we approach a time of choice for the American people," he said. "But as we gather today, I don't have to tell people in Florida, we are also living in a time of testing. Here in Florida and all across America, we have faced challenges with this coronavirus pandemic, like many of us have never seen in our lives.
"I am proud to serve alongside a president who has put the health of America first from day one," he continued.
On Wednesday, the Florida Department of Health announced the state has recorded more than a half-million cases of coronavirus.
The agency reported 155 new COVID-19 cases in Pinellas County, bringing the count to 17,202. Seven more residents also died from the novel coronavirus, increasing the death toll to 467.
Since Monday, 428 new cases and 28 deaths have been reported.
Pence congratulated Gov. Ron DeSantis on the state's response to the pandemic.
"I heard yesterday at the White House coronavirus task force meeting, because of the governor's leadership, and the cooperation of the people of Florida, we are seeing encouraging trends all across the state of Florida and across the sunbelt," Pence said.
Pence went on to say that the Trump administration is working to provide Florida with necessary resources to combat the virus.
"I make you a promise, on behalf of the president and our entire team in Washington, we are going to continue to bring the full resources of the government to bear, to make sure the people of this community and this state have the testing, the medical supplies, and will continue to develop medicines and vaccines until we put the coronavirus in the past and open up Florida and America bigger and better than ever," he said.