LARGO — Mary O'Geary's life might have turned out a bit differently if her daughter's Girl Scout troop had not wanted to go on that first camping trip.
The troop would need at least one parental supervisor with first-aid training, and, as luck would have it, O'Geary was chosen to be indoctrinated in the art of administering first aid.
"Since I was the only one that didn't work outside the home, I was elected to go take first-aid training at the American Red Cross," O'Geary said.
That crash course in first aid not only enabled her daughter's troop to go camping, but opened the doors to O'Geary's own 50-year commitment to working for the American Red Cross that continues to this day.
To honor O'Geary's five-decade stint, the Central Florida chapter of the Red Cross provided the Largo resident her own special parade on April 5.
A small group of Red Cross staff gathered in O'Geary's front yard to present her an award and pin for her 50 years of service.
However, O'Geary was in for a bigger surprise when a line of 24 horn-honking cars, packed with cheering passengers, filed by her house to celebrate her milestone.
The motorcade included O'Geary's closest Red Cross friends from across Central Florida who she hasn't seen for over a year due to the pandemic.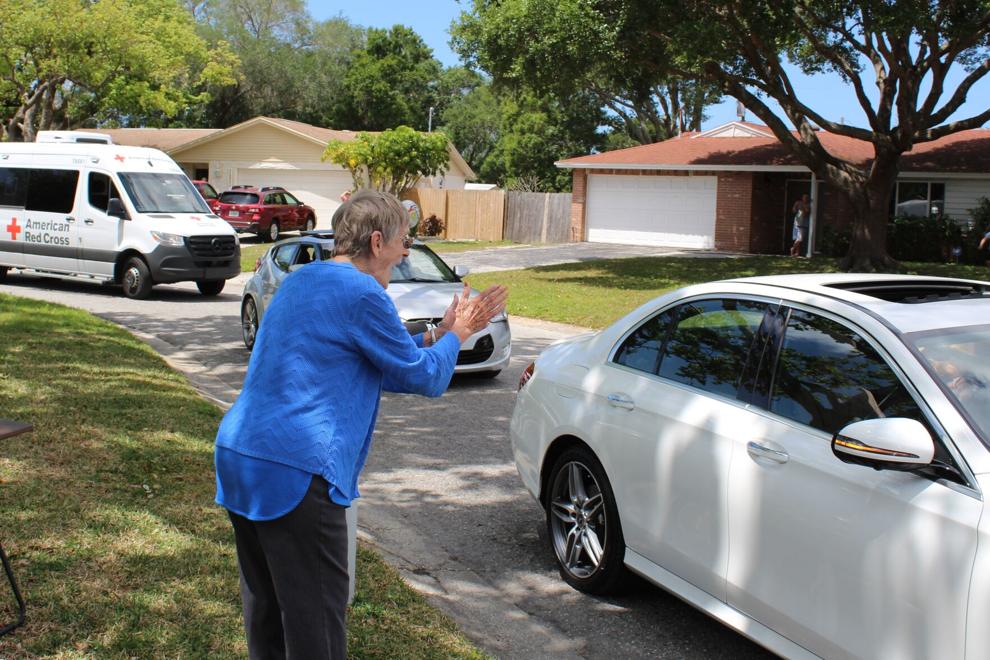 O'Geary had previously been honored in 2015 with the Clara Barton Award for Meritorious Volunteer Leadership, for her "compassionate service and extraordinary achievements." Named after the Red Cross founder, it represents the highest honor the Red Cross bestows upon its volunteers.
While O'Geary's Red Cross initiation came by way of circumstance, her 50 years of service may have something to do with the character traits she brought to it.
O'Geary cites her parent's example, including her homemaker mother who found ways to volunteer service, to prepping her for a life-long service call.
"My dad always told us that 'service is the rent you pay for the space you occupy,'" O'Geary said.
She started as a Red Cross volunteer for the Tampa Bay chapter on April 4, 1971 as a water safety instructor.
Two years later, she became a paid Red Cross employee put in charge of developing youth programs from the ground up. She was eventually appointed Director of Safety Services by the Red Cross's National Headquarters, and then later Director of Youth Services where she grew a handful of youth programs.
O'Geary is quick to point out that her Red Cross work was not solely a one-way street.
"The Red Cross enabled me to develop skills that I did not have, and then it sought ways to help me put them to use," she said.
As a homemaker who had not worked outside the home, O'Geary realized she felt painfully shy when interacting in public.
Working for the Red Cross helped her develop confidence in herself.
"When I first joined Red Cross, I could not have sat in a room of ten people and told them my name; I was not accustomed to being in public a lot," O'Geary said.
Now, meeting and interacting with people at the Red Cross day after day, her communication skills "grew exponentially."
O'Geary also credits her husband, who worked with her to become skilled using instructional projection slides, which helped her feel comfortable speaking in class.
"As the technology grew, I became accustomed to having the lights on and then actually looking at people and being able to still carry on with what I needed to do," she said.
Her newfound communication skills led O'Geary to become a full-time instructor and then an instructor trainer "where I could design, and then put on instructor workshops," she said.
O'Geary says her Red Cross tenure has provided a life she had no idea even existed.
"It's been a whole different lifestyle; it's not something that I had ever even envisioned," she said.
Her Red Cross lifestyle included going on major disaster relief operations across the country.
The job's biggest satisfaction, O'Geary says, is providing for those who find themselves in their darkest hour.
"To be able to assist the folks that the first day you meet them, their outlook is, "I have nowhere to go, nothing to eat and all I have to wear is on my back,'" she said.
In 1989, after 16 years of service, O'Geary retired as a Red Cross employee.
However, she soon returned as a volunteer to plan and develop programs that help disaster victims return to self-sufficiency, and also managed other volunteers, providing recruitment, training, placement and development.
O'Geary is recovery planning and training coordinator for the region, where she develops workshops to train other volunteers in recovery services. She is also responsible for region casework and referrals.
O'Geary has assigned and deployed more than 59 times for disaster relief operations — most recently during Tropical Storm Eta.
Since 2016, she has contributed nearly 6,000 hours of volunteer service. She won the regional award for most hours worked in fiscal year 2018.
What kept her coming back, she said, is that the Red Cross mission has never changed.
"The thing that has never changed is the mission. That's what drew me and kept me — keeping my eye on the mission — to relieve human suffering and to assist those affected by disasters, whether they were man-made or natural."
During her tenure, she has come to know Red Cross disaster work as an ongoing job.
"The Red Cross is usually the first on the scene, and the very last to leave," O'Geary said. "When the Red Cross is on the job, we don't go home — we are home. We make sure the locals have the chance to develop their (first aid) skills, so that when we need them in our home town, they're ready to come."
With Red Cross mission work, there's always more to be done.
"I've never left, truthfully," O'Geary said. "I started out as a volunteer, then I became paid staff, and I finally retired. But the fun part was volunteering for me, and the opportunities were just enormous."