LARGO — Plans to construct a 224-unit apartment complex on an 8.8-acre site at the southwest corner of Clearwater-Largo and Rosery roads took a leap forward Feb. 22 when Pollack Shores Real Estate Group officially purchased the property and announced a time frame for construction.
According to the Atlanta-based investment firm, the development called The Rosery will offer streetside retail, public art, connectivity to Pinellas Trail and plenty of amenities.
"The Rosery is the first of its kind in the Largo community, offering residents a luxury apartment home with direct access to popular outdoor amenities," said Steven Shores, president and CEO of Pollack Shores, in a press release. "We have designed an active, communal environment delivering in-demand walkable access to unique retail, new culinary concepts and the Pinellas Trail."
The firm says groundbreaking will begin in April, with the first units expected to be ready by the summer of 2020.
The Rosery will be Pollack Shores' second project in Largo after the development and sale of Gateway North on Roosevelt Boulevard, said Brian Oates, managing director of Pollack Shores. "With recent reports showing year-to-year rent growth of almost 3 percent, the entire Tampa Bay area continues to outpace most other U.S. metropolitan areas in the multifamily arena," he said. "We're eager to work alongside the Largo neighborhood once again."
Adding affordable housing
The property was formerly the Rainbow Mobile Home Park, which had 121 mobile homes at its peak, but is now mostly vacant land.
The project, which is located within the Clearwater-Largo Road Community Redevelopment District, will be the first to utilize the city's Affordable Housing Density Bonus.
The incentive means Pollack Shores has agreed to set aside 20 percent of its units (44) for affordable housing for the next 30 years. The rest will be market-rate prices. In exchange, the firm was allowed to have 12 extra units an acre, from 15 to 27. The bonus, therefore, has allowed The Rosery to nearly double in size, adding about 100 extra units.
"I think it's going to be great because what it does is it allows some of the individuals who live in that market to maybe go to a permanent residential unit to rent at an affordable price, rather than being in a mobile home," Teresa Brydon, Economic Development manager for the city of Largo, told Tampa Bay Newspapers on Feb. 26. "So, it gives people some options that they didn't have before for either a one-bedroom or a two-bedroom."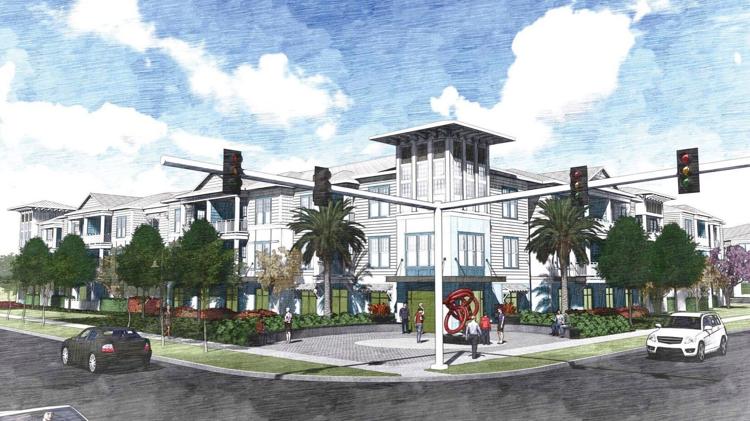 Anthony Everett, director of Central Florida for Pollack Shores, said it shouldn't have a problem signing up tenants for those one-, two- and three-bedroom units ranging from 688 to 1,372 square feet and featuring plank flooring, stainless steel appliances, modern cabinetry and doors, granite countertops and large front porches and walk-out patios.
"This area has quickly emerged as one of the most desirable locales in the Tampa Bay area," Everett said. "The Rosery will draw a mix of young professionals and active adults seeking to live in a walkable, urban-style environment. One of the biggest differentiators will be The Rosery's direct access to the Pinellas Trail."
Brydon said the city is already gearing up to start construction on a project to improve trail access at West Bay Drive, so the project just adds to the accessibility for residents.
"When this project is done, somebody will be able to get on their bike, go down to the Pinellas Trail, get off at the new Washington connection over the overpass and then go down Washington Street and go to Publix on their bicycle and not even be on a major corridor street," she said.
Brydon added that Pollack Shores has worked with the city on coordinating the development with the Rosery Road reconstruction project.
"We are working with them to put on-street parking up along Rosery where the new apartment complex is going to be," she said, adding that it will benefit both residents and patrons to area businesses.
The project also will have a public plaza at the corner of Rosery and Clearwater-Largo roads that will host public art displays and other pedestrian-focused activities. Other amenities include a resort-style pool, outdoor seating area, fire pit, hammock garden and club room with internet café.
"There's some really, really great projects that are all underway and it's going to significantly change that intersection, and I think it's going to make it better," Brydon said.