LARGO — The state fire marshal is investigating a blaze that destroyed a vacant supermarket at 11904 Seminole Blvd. in Largo on June 15.
Almost 70 crew members and six different agencies worked together to battle the fire that originated at the 42,000-square-foot former Winn-Dixie that has been closed since late February.
Largo Fire Rescue received the call about the fire at 11:11 a.m., according to LFR spokeswoman Summer Mahr.
Officials said the roof of the 42-year-old building quickly caved in, so crews were on the defensive in the first 15 minutes. Mahr said the blaze required three alarms and multiple crews and resources from several additional agencies, including Seminole Fire Rescue, the Pinellas County Sheriff's Office, Pinellas Suncoast Fire & Rescue, Sunstar Paramedics and Clearwater Fire & Rescue, responded.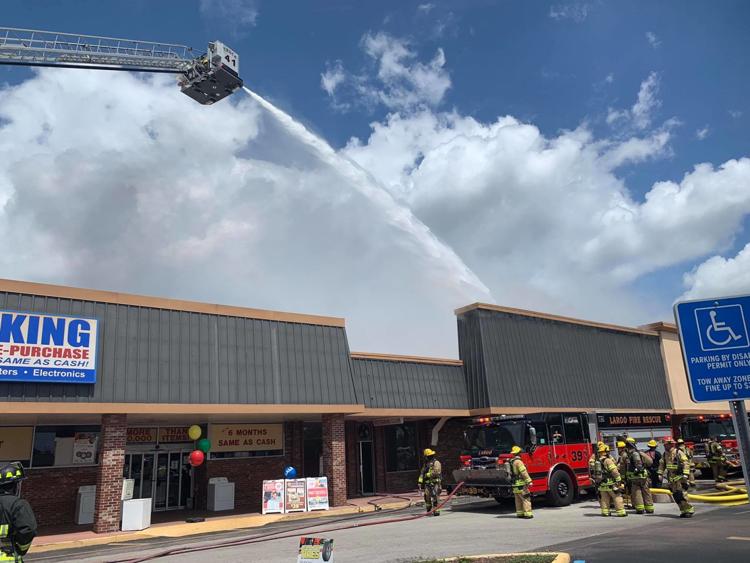 LFR officials said they were able to knock down the blaze by 12:07 p.m., but the fire wasn't under control until 2:13 p.m.
No civilians were injured, but LFR had two of its crew members suffer heat-related injuries — one was transported to a local emergency room and released later that afternoon, while the other was evaluated, treated and released at the scene.
Officials said the three vacant stores directly to the north of the grocery store also sustained damage, and the vacant structure to the south appears to have significant roof damage and some smoke and fire damage to the interior.
A damage assessment and cause of the fire will be provided when the state fire marshal completes a report.