LARGO — Some might see nothing but trash at a former landfill near Largo Central Park, but a Clearwater developer sees treasure.
Porter Development LLC is hoping to transform the 87.9-acre piece of city-owned property east of the Largo Public Library into a sports tourism destination.
"We're trying to partner with municipalities and activate large blocks of what we would consider dormant (property). And we're trying to do that through indoor and outdoor recreation and entertainment uses," Les Porter told city commissioners March 22 during a special work session. "We think the mix of those adds to the wellness and quality of life in the surrounding community."
The proposed sports complex would include a 170,000-square-foot active recreation center, another 60,000 square feet of indoor pickleball courts, outdoor pickleball courts, and a 10-acre public lagoon concept.

"This would be the first of its kind in Pinellas County, and we feel like it would be a significant amenity again not just to your residents but also to potential visitors," land-use attorney Brian Aungst said of the lagoon.
A large portion of the northern portion of the property would also be retained as green space that would be available for recreational uses, he said.
The complex would be managed by Sports Facilities Companies, a Clearwater firm that manages recreation and event venues around the country.
Dan Morton, a development adviser with the company, added that the center would include eight basketball courts, 16 volleyball courts and an open floor space that could create opportunities for plenty of local programming, such as cheer, dance or fitness activities.
The firm would also manage onsite concession services and seek to attract up to 35 tournaments each year.
The result would be a recreational and economic windfall for Largo, he said.
"At maturity, we expect about $16 million in new, direct spending into the community," he said, referring to hotels, restaurants, transportation and entertainment.
Over 20 years, he said there is the potential for a $370 million economic impact.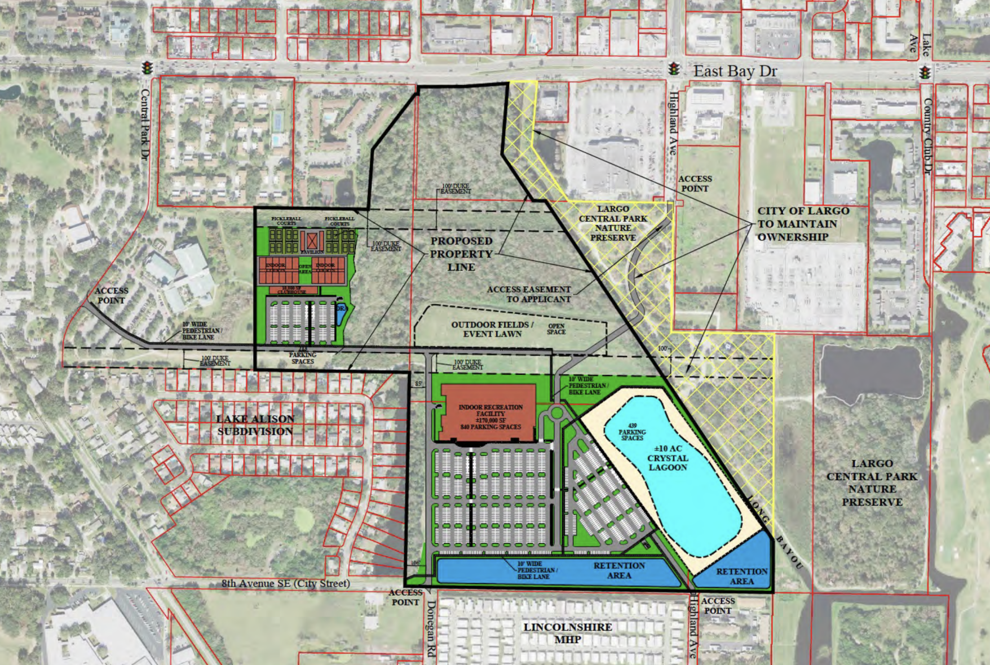 Obstacles
Several challenges lie ahead before the visitors — and money — start flowing in.
The city charter is the first, City Manager Henry Schubert said.
"This project would involve the sale of city property and our city charter requires referendum approval of the sale or lease of any city property that exceeds 1½ acres," he said.
Commissioners agreed to move the process forward so that voters would decide on the sale and proposal during the November general election.
"The beauty of having this discussion now … is that in order to further this effort it has to go to referendum. So, our community gets to speak about how they feel about this," Commissioner John Carroll said.
Another challenge would be reversing any environmental damage done to the site when it was a landfill.
However, Miles Ballogg, a brownfield site consultant with Cardno engineering, said he was confident in remediation efforts because recreation is one of the best uses to mitigate that risk.
The third — and likely biggest — roadblock will be traffic concerns.
The property, formerly the home of the Bay Area Renaissance Festival, is directly east of the library and west of the Central Park Nature Reserve with limited access and mainly two-lane roads in the vicinity.
In October, commissioners narrowly rejected a developer's plans to construct a 231-unit apartment complex directly southwest of the proposed site after residents complained about compatibility and traffic concerns along Eighth Avenue Southeast.
Aungst said they are aware of the concerns and think the sports complex is a better fit with the community, which includes the Lincolnshire Estates mobile home park across the street.
"What we're proposing is much more compatible and much more consistent with the city's vision of an activated open space recreation area," he said.
Robert Pergolizzi, a land and transportation planner with Gulf Coast Consulting, added a detailed traffic analysis of the entire site would be conducted.
The goal, he said, would be to mitigate the traffic impact by creating multiple access points and improving existing roads.
The main access to the complex would be via Highland Avenue and East Bay Drive, he said.
Another access point would be an improved roadway along Central Park Drive that cuts behind the southern portion of the library's parking lot.
Library director Casey McPhee said that would be a challenge for the 1,500 to 2,000 patrons who visit the library each day.
"I think if you have that access from the library entrance to the facility, you are basically giving up your control over Largo Central Park Drive," she said. "To me that's very challenging and it would be difficult for our patrons to get in."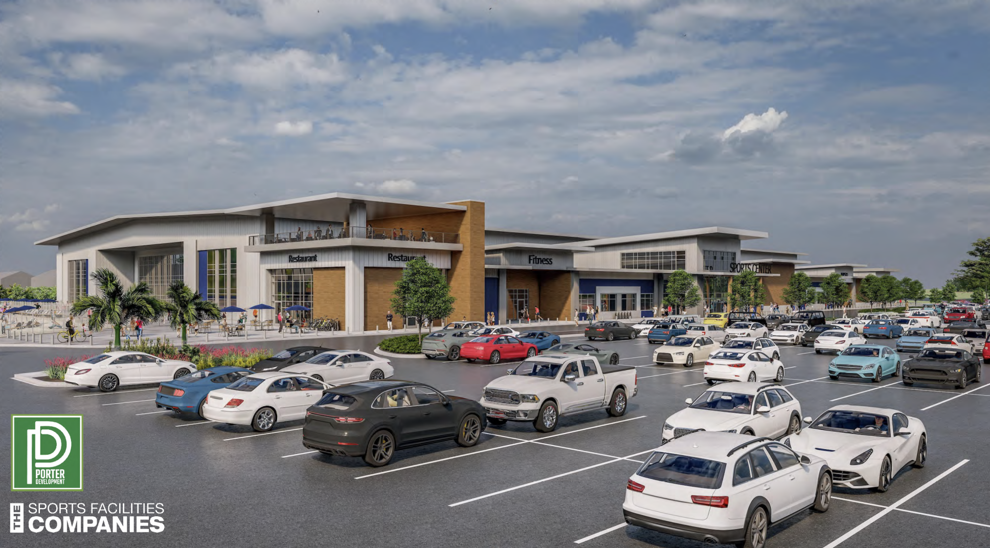 A better fit
Porter said the plans are flexible and he is accustomed to addressing the public's concerns, especially since he lives only 1½ miles from the property.
"We all do a lot of work in Pinellas County. Every time you develop in Pinellas County, someone's unhappy," he said. "So you deal with that, right?"
After mainly focusing on shopping centers, Porter said this would be his first sports complex. It's not his first attempt at building one, though.
Last year, he sought to build a similar facility on a former Raytheon site directly southwest of Tyrone Square Mall in St. Petersburg.
That property, however, would require a land-use change and Porter said the county did not want to give up its industrial use.
The Largo property is zoned for recreational use, which won't require a land-use amendment, making it an ideal location, he said.
"We think the draw of our concepts would be a nice catalyst to help move your downtown to where you hope it can be," he said.
Largo is in the midst of a $58 million project to construct a mixed-use City Hall on West Bay Drive, so commissioners shared Porter's optimism for the project's potential.
"The developments we're doing already are going to be a catalyst for growth here in Largo and I can assure you that this coming along in that same timeframe would be just a huge asset as well," Commissioner Jamie Robinson said.