LARGO – For about 20 years, Mickey Krause has suffered from a type of high blood pressure that affects the arteries in the lungs and heart called pulmonary hypertension. It causes shortness of breath, fatigue and an enlarged heart, and, in most cases, leads to congestive heart failure.
So when the 66-year-old Largo resident says she has put all of her heart into breathing life into a derelict building on Clearwater-Largo Road, she means it.
"It (art) helped keep me alive. I really do think so," she said. "This project is something I've really had a passion for, and most of my life I haven't had anything that I was really passionate about."
After nearly four years, that passion fueled by her love of art and belief in its ability to heal led to the February opening of Art Lovers Place, a nonprofit art studio and gallery geared toward others like her – seniors, the disabled or veterans – who would benefit from the therapeutic aspects that painting can provide.
"I took a building that was just an eyesore and I made it into something really fun," said Krause, referring to the property most people probably knew as the Betty Boop building because it had a large painting of the cartoon character sitting in a martini glass on the front of it.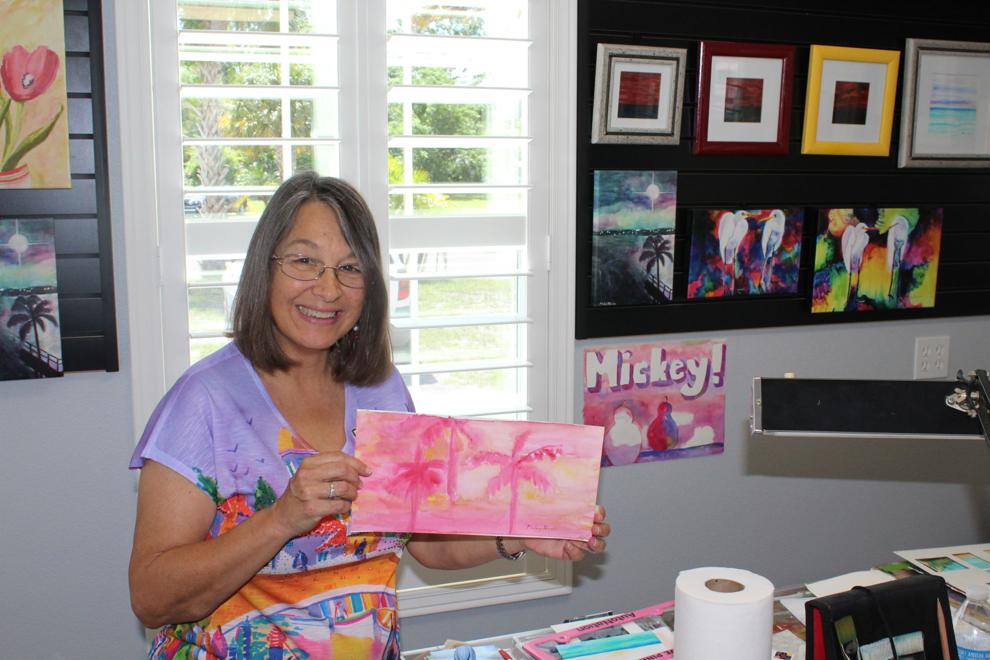 Finding purpose in art
The long road to the grand opening was hardly fun, however.
In 1998, Krause was diagnosed with pulmonary hypertension caused by a hole in her heart when she was born, but wasn't discovered until she was 26. She had two open-heart surgeries to repair it, but still lived with its aftermath – high pressure in her pulmonary arteries.
She decided to move to Florida and went on disability, but the 50-year-old wasn't sure what path to take the rest of her life.
Art was the answer.
She had dabbled with painting earlier in life, but decided to get serious by taking workshops from professional artists. In 2007, she attended the Ringling College of Art and Design in Sarasota for three semesters, but life would intercede.
She withdrew to help out in a family business in Palm Harbor, where she was part owner of the Lake Tarpon Resort and Dockside Sports Bar & Grille. She helped run the 98-room hotel and restaurant, but the daily grind left her little time or energy to paint. So, she changed course again in 2013 when she sold her stake in the business.
Not long after, she joined the Largo Art Association, which brings artists together weekly at the Largo Community Center. The group rekindled her love for painting and inspired her next move.
"We were all kind of in the same boat, where at home you get really distracted when you're trying to paint and our art group only meets on Fridays for four hours," she said. "I thought, 'Gee, wouldn't it be nice to have a place where people could … gather together and shoot the breeze and paint and drink and eat.'"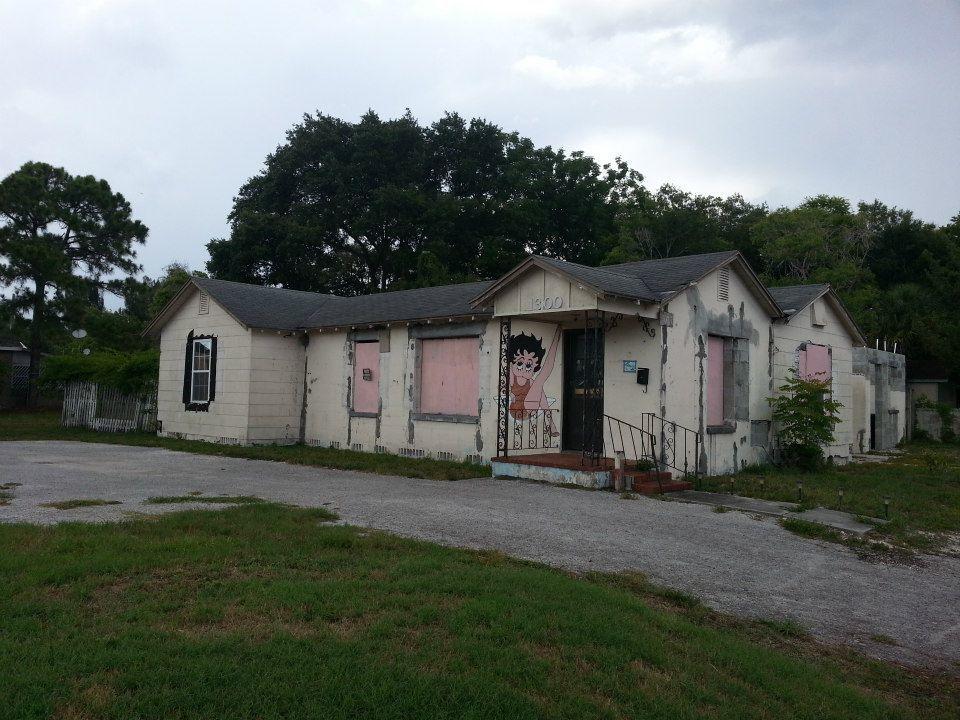 A blank canvas
Krause wasted no time pursuing her dream.
She took out a reverse mortgage on her home, began fundraising and started looking for the right spot.
Betty Boop in the heart of the Clearwater-Largo Road Redevelopment District would eventually catch her eye in June 2014.
"This one was a total wreck. It had no roof in the back and had been vacant for years," she said. "It was a derelict building."
Despite its flaws, Krause liked the 1,500-square-foot property because it sat on a double lot and was a blank canvas.
"I just could envision what a neat space this could be. My dad said, 'The worse it is, the better you like it,'" she said with a chuckle.
It was going to take a lot of work – and fundraising – to turn her vision into reality.
"There were no walls, no electricity, no running water, nothing. Down to the studs," she said.
It contained so many problems, including plenty of asbestos, that some architects and contractors said it should be just be torn down.
Some, however, said it could be salvaged, which is what Krause spent the next three years and seven months doing, spending more than $70,000 of her own money in the process.
The final year posed the biggest challenge when she suffered a blood clot and spent nearly two weeks at Largo Medical Center. She persisted, however, and after a final coat of pink paint, she finally brought her dream to fruition.
"It was such a relief. Such a relief to finally get opened," she said. "When I got my certificate of occupancy from the city, that was a big day."
Artist Jim Melton, who met Krause through the Largo Art Association, said the work she has done is nothing short of remarkable.
"She's done a really fabulous job with the interior and the exterior, bringing it from a derelict place to a top-notch enjoyable environment," said Melton, who is one of three resident artists at Art Lovers Place.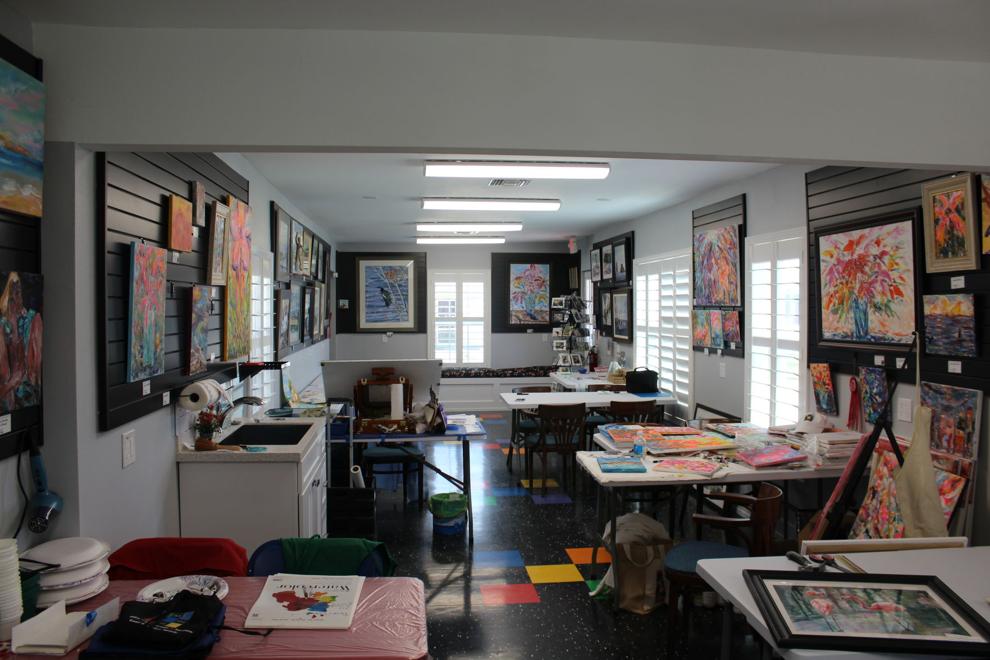 A place to escape
Melton said the studio is special not only because of the work Krause has done, but because it is one of few locations in the area that allows artists to focus on their work.
"I like to come here because I don't have the distractions here that I have at home," he said. "… There's a million things there to distract me, where here it's just paint."
Krause hopes to attract about six more resident artists to fill up the center, but she said, for a small annual fee, anyone can drop in and paint for an afternoon.
She said they also will be holding classes where teachers will offer step-by-step instructions and participants will leave with their work.
In fact, as a result of a $5,000 grant she received from the Pulmonary Hypertension Association, she already has several such classes lined up for people who suffer from the disease.
For those who are disabled, she said, painting offers something that doctors and medicine can't provide.
"You're getting in touch with your creativity," she said. "It's stress reducing. You are around like-minded people with the art and the creation of it."
Looking ahead
The center may be up and running, but Krause said her next challenge is learning how to best utilize the space to help seniors, the disabled or veterans.
She is working to build relationships with nonprofits and nursing homes and would like to set up special days and programs just for veterans, but she needs help, she says.
She is looking for knowledgeable volunteers to form an advisory committee to design ideas and methods to implement them.
She also needs money to make it happen, so she has actively sought out grants and has continued to fundraise online.
All the work has meant she hasn't been able to do any of her own painting.
"I haven't done a full-size painting in a couple of years, because I'm so inundated with everything," she said.
But she's not frustrated because her new art center has provided plenty of creative stimulation.
"This whole project has been like one big artwork," she said. "One big art installation."