DUNEDIN — It was not the first time — and probably not the last — that a plan to develop land considered to be environmentally sensitive has drawn stiff opposition in the community.
City commissioners were all ears Sept. 1 as they listened to concerns expressed by local residents and a Sierra Club representative about a proposal to develop a housing community at Keene Road and Virginia Avenue in the unincorporated area.
The entire 43.44 acres, consisting of two parcels, was appraised in 2018 at $11.73 million. It is contiguous to the state-owned 54.3-acre Jerry Lake.
Essentially, commissioners want to see the land preserved — as much of it as possible. Combined, the Gladys Douglas Hackworth property is the single largest remaining undeveloped parcel in the Dunedin planning area that is privately held.
'A bellwether issue'
Vicki Love, president of Blue-Green Connections, which strives to protect land and waters, said that home development would significantly impact the site. The land is under contract with a builder for a reported $14.5 million, city memos say.
She wanted to know what the city's backup plans are to protect endangered species and to address traffic issues and other concerns if the sale of the property goes through.
"I really hope we are not waiting for the due diligence period to end before we decide our next steps," she said.
James Scott, speaking on behalf of the Suncoast Sierra Club, said there is a lot of interest in the issue.
"This is bellwether issue for conservation in Pinellas County, he said. "This special piece, slipping through the cracks, is an indicator of a problem in our conservations policy as a county."
City Manager Jennifer Bramley spoke at length on the background that led to proposed sale of the property.
Preservation of the property has been an expressed goal of the city, the county and the late Gladys Douglas-Hackworth.
But negotiations over appraisal of the land eventually sparked disagreement. Representatives of the estate took issue with the larger parcel being appraised as open space and not the highest and best use of the property, Bramley said.
"I think the negotiations got pretty rocky at that point," she said.
County and city officials were understandably distracted in the spring because of the virus issues, Bramley said, and not much progress was made. Staff has been working to provide City Commission answers to questions regarding the property.
"Unfortunately, it went under contract before we are able to do so," she said.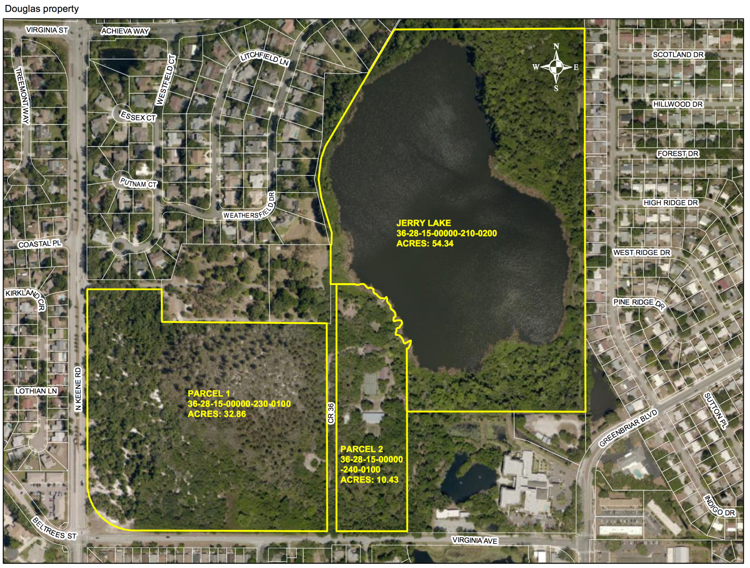 Precious green space
The city is in a difficult position because the property is in the unincorporated area and the vast majority, if not all, of the funding needs to come from Penny for Pinellas and Florida Community Trust funds, Bramley said.
Nevertheless, commissioners gave the go-ahead to staff Sept. 1 to move forward with their efforts to preserve the land if possible.
Mayor Julie Ward Bujalski and other commissioners said that it is important that they band together on the issue.
"I think that preservation of land is one of the most important things we can do for the future generations of people who are going to live here," she said.
She recalled the discussions involving upset residents in 2016 when plans were announced to develop about 8.5 acres at the southeast corner of Hammock Park. The developer agreed to allow the city time to buy the land for $1.34 million. Commissioners voted 5-0 to purchase to the land.
A crowd filled the commission chambers at City Hall during more than one discussion, and many residents sat outside to watch the discussion on video screens.
"I do think that anyone involved in this can look back at Hammock discussions and see how serious this community is," Bujalski said.
The more urban the area becomes, the more precious green space is, said Commissioner Jeff Gow.
Acquiring the land is a possibility city officials can't let pass by, he said.
"You know in that list of why people come to this area of the country, they acknowledge it's for the beautiful weather, but nowhere, ever, did I read it's for our asphalt, our concrete, condos. And so, it's just a matter of identifying of what's important," he said.
Commissioner Moe Freaney recalled that an effort was made to purchase the property before 2006 when she was on city staff. She called the land priceless.
"I would practically kill for this piece of land," Freaney said.
She acknowledged that there are a lot of issues when involved when it comes to the estate, such as zoning and financial matters. If it is sold, commissioners will have to do their best to preserve environmentally sensitive areas, she said.
According to a 2018 appraisal, the property consists of two parcels separated by an unimproved right of way and appears suited for residential development. The city has utility lines in the area and one of the connection requirements would be that the property would have to be annexed by the city.
Commissioner Deborah Kynes also spoke in favor of the commission doing all it can to preserve the land.
"I just don't know all the legalities," she said. "And when you begin these considerations on how you move from here to here, you have to know all the answers to the questions," she said.
But she also advised against finger pointing, particularly at Gladys Douglas Hackworth, a philanthropist who Kynes said supported Dunedin and Pinellas County in many ways.
"So, let's all band together, work together toward a really common goal of saving whatever we can save of that last beautiful, old Florida landscape," she said.
Commissioner Heather Gracy said she agreed with other commissioners, calling the meeting "a terrific session where we could hear what were the facts."
"I'm eager to look at that and how we fund it and specifically what are the grants, where are they coming from and how can we pursue them as vigorously as how are public wants us to," Gracy said.
She said she thinks that the discussion was the most citizen participation the commission has had since the pandemic prompted city officials to have Zoom meetings.
"So that tells me people are listening and so that thrills me," Gracy said.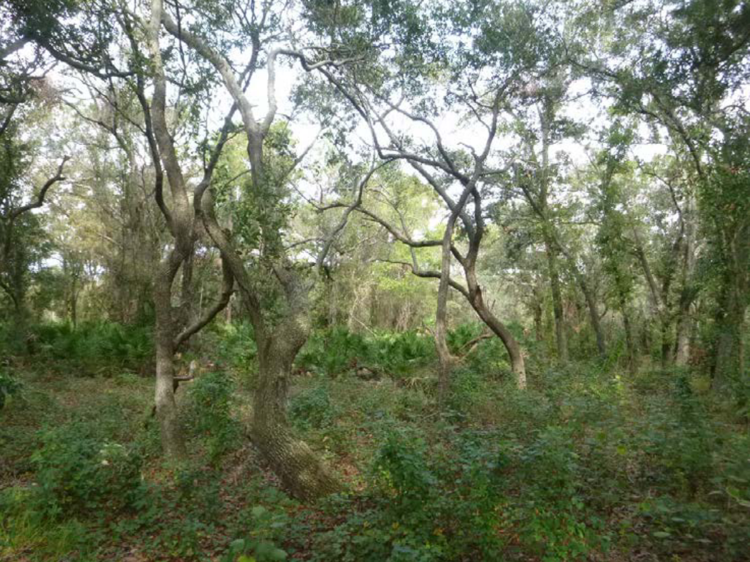 Challenges moving forward
According to city memos, city and county projections show there are significant budget pressures by both governments moving forward. County Administrator Barry Burton said that there are many properties throughout the county that are in line for open space and preservation funds.
City officials say funding the acquisition without the estate's acceptance of a purchase price for the property below its highest and best use real estate valuation will be challenging.
City and county officials expressed continued interest in the property via telephone to an attorney for the estate on Aug. 27. County and city staff will develop a proposal for consideration by county and city commissioners and submit it to estate representatives.
They also met with representatives of the Southwest Florida Water Management District to discuss opportunities for gaining access to Jerry Lake as a recreational amenity should public acquisition of the parcels occur. The board, city officials say, is not generally receptive to conveyance of district property without compensation.
Funding sources for acquisition of the Gladys Douglas Hackworth property would be Penny for Pinellas preservation funds, Florida Communities trust fund, city of Dunedin funds, the Florida Recreation Development Assistance Program and the Southwest Florida Water Management District Funds.
Deja vu? When city officials began efforts to acquire what is known as the Weaver property off U.S. Alt. 19 several years ago, "it wasn't pretty," Freaney said.
Costs initially were high, Freaney said, but the estate funded grant assistance and though the acquisition "took a winding, winding path, you know what we have today."
The 8-acre park, which gets high usage, includes a fishing pier, pavilions, playground and restrooms.
"Let's stay positive," Freaney said, "let's hope we get a second bite of the apple and let's be ready."