DUNEDIN — Talk of establishing a performing arts theater in the community took center stage during a City Commission discussion May 17 involving representatives of the Arts and Culture Advisory Committee.
Committee Chairwoman Jackie Nigro said Dunedin needs a 200- to 250-seat capacity venue that can host poetry readings, drama and comedy, children's theater, music and film.
"And while we do not envision a public-private ... partnership, we do envision and invite city government alignment and support," Nigro said.
A professional theater will provide economic development through increased tourism, jobs for performers and staff and boost surrounding business visibility she said.
"It will increase diversity and acceptance, expression and provide an educational hub for our children and grandchildren to view on stage the possibilities in life and explore their imaginations," Nigro said.
Elizabeth Brinklow, a consultant for the city on the arts, said proponents of having a theater say there is no expectation of funding from city coffers, but they are asking for support in other ways.
Commissioners expressed enthusiasm for having a theater, but Mayor Julie Ward Bujalski said she doesn't think government should take on the task on its own.
"And I do not mean to be the water on the fire, but we have not one dime set aside for this, and nor do we have it available to us at this moment with our current plans," Bujalski said. "It doesn't mean it won't evolve."
The excitement for such a project is great, Bujalski said, and she gave kudos to proponents of the project who flew down to Sarasota recently at their own expense to visit a venue involving a number of arts organizations.
Commissioner Deborah Kynes said she is interested in having a performing arts center, mentioning a variety of shows and other activities it could support.
"There are some very small venues I've seen that show wonderful films that you really can't find in the major cinema houses," Kynes said.
Commissioner Moe Freaney said plans for a performing art center will take "a groundswell of citizen support and dollars to make it happen, but I'm certainly in support of it because I think it does add something to the community."
The discussion stemmed from a proposed resolution extending the Arts and Culture Advisory Committee for another three years. Commissioners approved the resolution.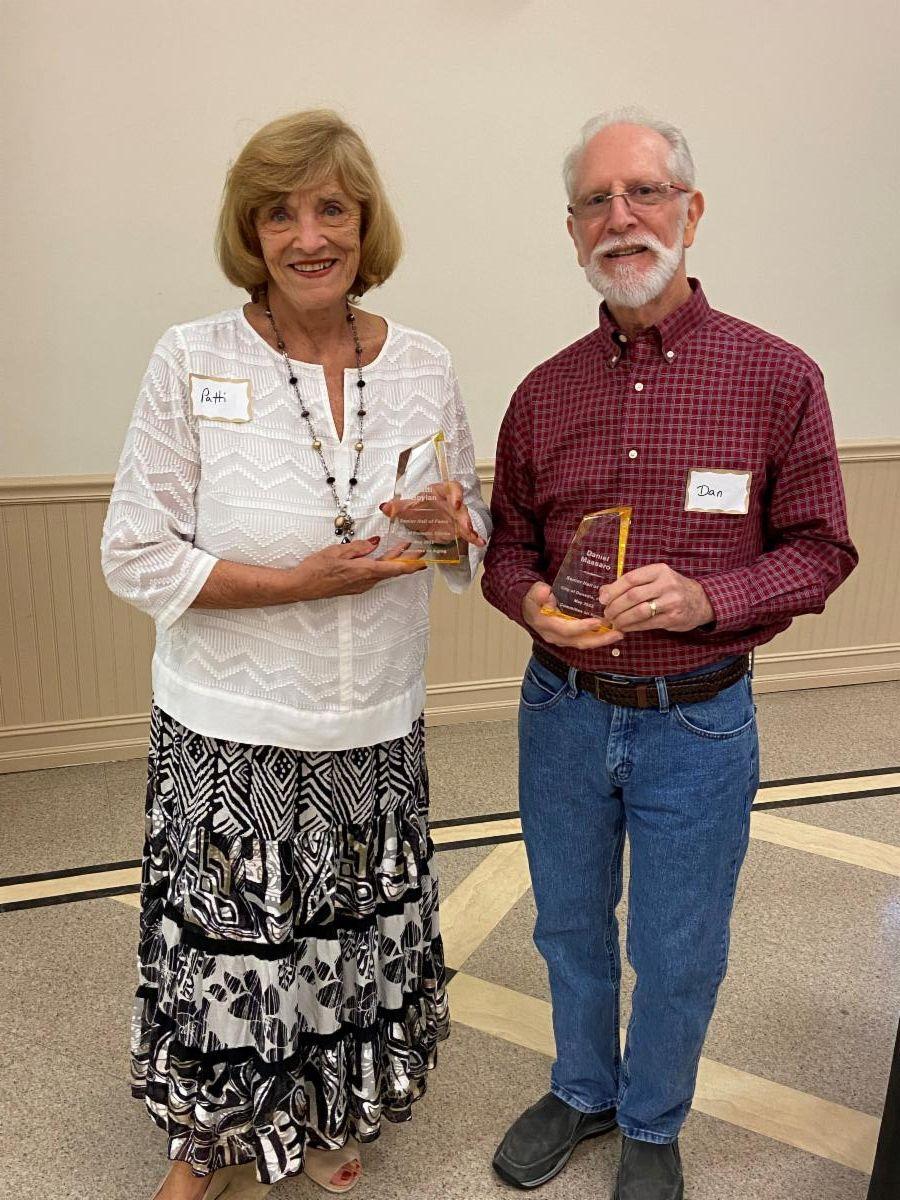 Senior Hall of Fame
City commissioners also recognized by a proclamation two city residents who are the newest inductees to the Dunedin Senior Hall of Fame.
They are Dan Massaro, who has served on numerous boards and committees in town, and Patti Boylan, who has taught in Pinellas County schools for over 36 years and recognized by several organizations for her contributions to the environment.
Massaro has left his footprints on everything in Dunedin with his extensive experience and expertise in architecture and construction and related fields, city officials say. He is considered a catalyst that helped downtown evolve into what it is today.
From 1975 to date, Massaro has been involved in boards for 37 of those 47 years. He is the vice chairman of the Local Planning Agency board.
"And I've enjoyed every moment of it. I think our downtown is absolutely gorgeous and great and the envy of many, many other cities within the state of Florida. So, thank you for allowing me to be on these boards and committees," Massaro said.
Boylan has lived in Dunedin for more than 40 years and in Pinellas County for over 50 years.
"I'm just so honored to receive this award. I couldn't have done all of this without the help of hundreds of people over the years that have helped me with my projects and I helped them with theirs. I thank the City Commission for everything you have done," Boylan said.
Commissioners and the mayor praised the honorees for their service. 
Bujalski said what she values about both Massaro and Boylan is the time they have taken to not only try to address things they see going on in the community that can be improved, but they sit down and "discuss it like fellow neighbors and spend sincere time on these committees and boards and projects with maybe the staff people here in the city and anyone else ..."
"A lot of people just don't do that anymore. They don't have time for that in their lives," Bujalski said. "They don't think it is important. And they (Massaro and Boylan) set a prime example for all the people who are moving in the community how to get engrained — how to meet people, how make a difference in your community and how to solve community problems in a way that isn't divisive."