PALM HARBOR – As a new, first-time mom, Caroline Sakla was doing a little exploring but was frustrated with what she said was the area's lack of meaningful places to be for her and Jacob, her little one.
"I decided to be a stay-at-home mom, but I wanted somewhere to go where it just wasn't playing around," Sakla, a Dunedin resident, said. "The library had some activities, but everyone left once they were done. I wanted more of a community, I wanted to find a place where families could meet and stay."
So, she decided to create her own.
On Aug. 20, Sakla's first foray into the business world became reality with her opening of Little Explorers, a children's center emphasizing social, physical and cognitive development. It's located at 35225 U.S. 19 in Palm Harbor, at the intersection of Aldermen Road.
"My No. 1 goal was to focus on bonding with family," she said of her business. "The second is development."
Her own family will certainly be calling it a home away from home. Jacob is now almost 2 years old, and newcomer Chloe is 7 weeks old.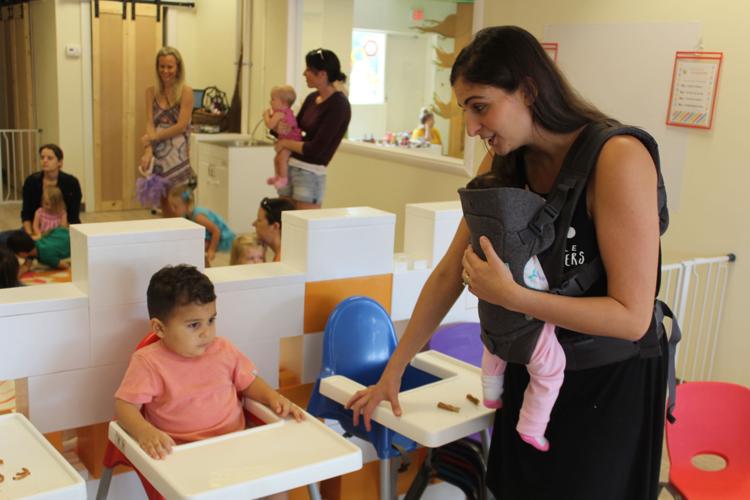 "I found out I was pregnant again the day after I signed the lease," Sakla said. "I had a business baby and a second baby."
The facility has a play area for children age 6 and younger, plus interactive areas for older kids. During after-school hours, it transforms into an area where homework can be done and assorted classes and programs are offered.
Sakla's assistants include a person certified in wellness, a theater major, and a former teacher. Sakla herself is a career instructor, having most recently taught math at Largo Middle School.
"Most importantly, they are all moms and they all have their kids in the programs," Sakla said of her staff. "People thank us for being completely invested."
And don't expect to find the setting, well, stinky, Sakla said.
"One of the reactions we get is how good the place smells, and how clean it is," Sakla said. "In fact, they're shocked. We use essential oils and pride ourselves on having a place that doesn't smell like dirty diapers.
"Remember, we have to work there, so we want it nice too."
Along the facility's edges are social areas, including comfy couches, where parents can interact with one another and enjoy a cup of coffee while observing their children.
"Parents walk in and say, 'Wow, it's so artistically beautiful,'" Sakla said. "We definitely thought of the moms and made sure the place could be enjoyed by adults. In fact, we plan to host mom-networking events."
One of those will be held Dec. 15, when a "meet-a-mom" speed-dating party will be held.
"We plan to have roses and use a timer, just like the real thing," Sakla said.
An ugly-holiday-sweater party is also in the works.
The kids will also get the chance to take center stage, thanks to a kids market that's planned for elementary-school kids. It's being held Dec. 14 and it's a chance for the kids to sell the holiday creations they've made.
Amber Khalil, a Tarpon Springs resident, recently made her first visit to Little Explorers with her two children. She said she'd be back.
"I like the inventiveness," she said of the program she was observing. "They're using more of their minds than most play places. It's less physical, more imagination."
Sakla likes the idea she's still helping kids learn.
"I didn't want to lose my identity just because I became an at-home mom. I wanted to utilize all of my years in education," she said. "The cool thing for me is I get the mental stimulation while I try to learn how to soar in the business world."
And her kids will be there for the ride.
"It will be great for them as they grow older to see me in both of these roles," she said. "To think I can still be a mom and have them alongside of me for all of this is wonderful.
"Selfishly, it has worked for me. But I hope what I'm doing is also wonderful for everyone else."
Sakla was beaming as she walked about her new business, chatting with parents and patting little ones on the head. With Chloe snug in a baby carrier on Sakla's chest, the new business mom shared a few dance moves with Jacob and then moved on to helping check in a guest.
It was the ultimate in multitasking.
"We all need one-another. It might sound cliché, but you really can't do it alone," Sakla said. "It literally does take a village to raise a child."