PALM HARBOR — "It felt surreal."
That's how Palm Harbor native Matt Mogensen describes his performance on Discovery Channel's new reality show "Getaway Driver," which tests contestants' "drift driving" skills in an automotive cat-and-mouse game.
Mogensen, who appeared on the seventh episode of the series Aug. 30, said driving onto the show set felt like defying the laws of physics, motion and time.
"I was trying to take it all in at the same time while it was going on," said Mogensen, who appeared on the show's seventh episode Aug. 30. "It was one of the best experiences of my life."
But what is "drift driving?"
"Drifting is essentially, sliding your car sideways," said Mogensen. "It's kind of like when you spin out in the snow after you give it too much gas and, your car starts sliding."
But unlike a driver spinning in the snow, drift drivers create sliding sideways movement to demonstrate driving prowess, and, perhaps, evade a driving pursuer.
Such specific "drift" driving skills are what Mogensen called upon as one of 24 driving competitors to appear on the eight-episode reality show that concludes Sept. 6.
Mogensen's drift driving passion started playing simulated video games as an adolescent. The pastime became a hobby when he crafted a custom-made video game drifting track, complete with steering wheel, computer, gear shifter and foot pedals.
"I learned to essentially drift drive competitively on a video game," Mogensen said.
Mogensen's love for anything automotive and mechanical started in a Palm Harbor University High School classroom.
"A robotics class there sparked my interest in the whole mechanical world," Mogensen said.
After high school, Mogensen moved to Orlando to attend the University of Central Florida where he earned a bachelor of science degree in mechanical engineering and then began working as an engineer for FARO Technologies.
Mogensen retains his Pinellas County roots here through his parents, who reside in Palm Harbor.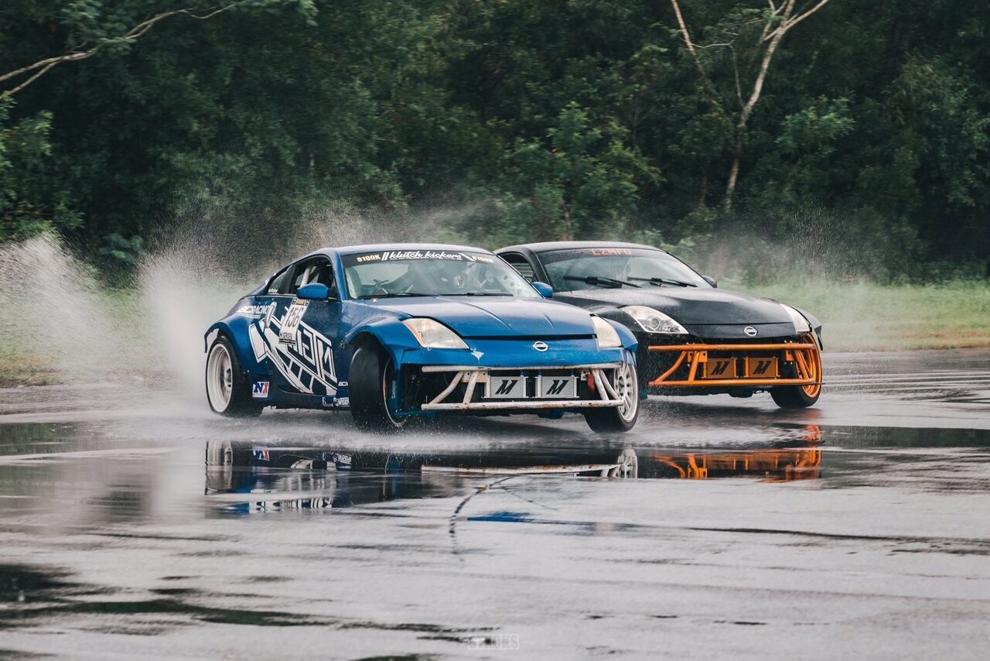 Mogensen's self-taught drift driving lessons resumed after college, when he bought one, then two, rear-wheel driven Nissan-Z sports cars that he customized into drift driving race cars from the ground up.
The mechanical engineer soon drove his car at the Orlando Speed World and tracks around the Southeast. In 2019, he earned his Pro2 license.
"After just eight months of drift driving, I competed and won my first drift event competition," Mogensen said.
However, COVID-19, for now, has put Mogensen's Pro circuit plans on hold.
According to Mogensen, the switch from video games to the real thing was easy.
"When I drove the car on the track, it felt just like the video game," Mogensen said. "So, I started drift driving and competing from there."
In a short time, Mogensen has cultivated a multi-online presence in the drift driving car world with Facebook and Instagram accounts.
So it was no surprise when Discovery Channel executives used Instagram to reach Mogensen to gauge his interest in competing on "Getaway Driver."
The Discovery Channel show pitch: skilled drivers escape pursuers as they search for an exit. Contestants score points through their drift driving evasive tactics.
Mogensen was one of 24 drivers chosen to compete in season one of "Getaway Driver."
It didn't take long for Mogensen to say "yes" to Discovery's offer.
"They said, 'You will be driving your car as hard as you can while you are getting chased,'" Mogensen said. "And I said, 'Ah, yeah, OK.'"
Mogensen attributes his early start with racing video games and "being a nerdy mechanical guy" as key factors in his selection by Discovery Channel.
"And that's how they portray me in the series," Mogensen said.
Located somewhere in South Carolina, the TV show set features an enclosed area dubbed the "compound." Day and night show filming took place in February.
Each episode features 3 to 4 driver contestants with two rounds of driving — a day run and then a night run.
The goal for "Getaway Driver" contestants is to find an exit out of the compound while being chased by high-speed "pursuers."
"The drivers — retired police officers — are going to stop us by any means necessary, and you have to use all of your drifting skills to try to escape," Mogensen said. "They ram you and try to spin you out."
With "Getaway Driver" season one complete, Mogensen says he plans to keep his hand in drift driving in more ways than one.
"Driving and working on race teams, and working toward manufacturing car parts," Mogensen said. "And also using my engineering background behind the wheel and under the car."
Mogensen likely won't be alone. The popularity of drift car racing, he says, continues to grow.
"It's growing exponentially in the past 5 years," Mogensen said. "Every day, average people are building cars and going to the racetrack."