OLDSMAR — In many ways, Doug Bevis' final meeting as Oldsmar mayor March 5 epitomized his tenure. He made some people laugh and he made some people cry, and in the process, he made some people realize why he was such a perfect, if unconventional, leader for the city for the past six years.
Between relating a pair of heartfelt tributes to his mom and daughter, donning a multi-colored tutu gifted by a local dance instructor and watching a video poking fun of his propensity for being long-winded, Bevis, who termed out of office March 12, showed the candor, confidence and self-deprecating humor he so often displayed during his 10-year run as mayor and council member. In addition to being a commercial real estate agent, Bevis has been a radio DJ for more than 30 years, after all.
"Most of the time it's been a pleasure to serve with you," longtime local lawmaker Jerry Beverland, who often sparred with the mayor, joked. "But it has been an incredible journey; it really has, for you and the rest of us. Thank you."
Council member Gabby McGee said, "If you hadn't taken the initiative to run for mayor, I wouldn't have had the opportunity to run for this seat and serve for the last six years.
"You go above and beyond as mayor," she added. "It's been an honor serving with you, and we're certainly going to miss you."
Council member Dan Saracki also credited Bevis with sparking his desire to serve the community.
"Ten years ago, Doug gave me the council manager award and at that time, I had no idea about the city, and getting that award woke me up to what the city is all about," Saracki said. "So, thank you for that award, for getting me up here and giving me the courage to do better. It really means a lot to me."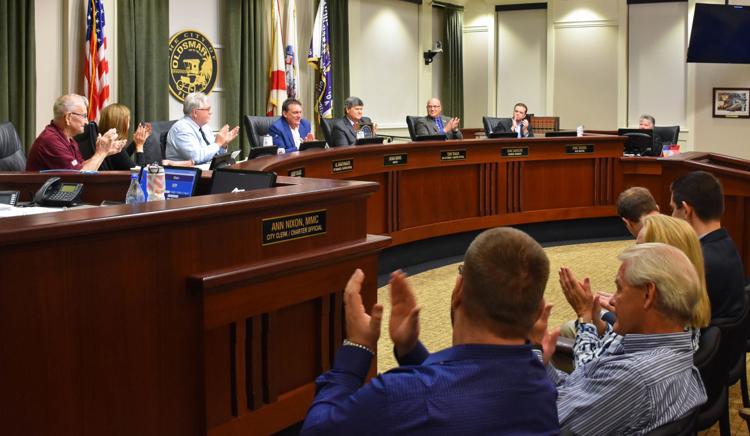 "So, I'm to blame for you being up here?!" Bevis cracked.
Earlier, Bevis used his final Council Manager Award to honor his mother, Carol Bevis, and daughter, Jessica Pedraza, for helping shape him into a successful businessman, civic leader and father.
"She persevered and worked hard and really gave me my drive to be who I am today," he said of his 79-year-old mom, who still lives in Ohio. "We struggled but she preserved and worked really hard … and it was because of my mom that I wanted to do something different. I never thought it would be this, but … !"
Regarding Jessica, who lives in Brandon and was in attendance, Bevis said, "I awe at what you do, every day, with your family."
He said she put herself through college and got her master's degree while raising a family, noting, "I get my energy from her. You never stop giving up on your dream and what you want to be, and I'm just really proud of you."
Of course, the mayor followed up that touching moment with a lighthearted one when he returned to the dais. "Thank you for indulging me in honoring my family in my last meeting and seeing me in a tutu," he said, adding, "I don't think my daughter expects anything less out of me."
Mayor-elect Eric Seidel spoke about following in Bevis' footsteps after the meeting.
"I think what he'll be remembered for most is he did more for raising the city's profile than any mayor I've ever seen," he said. He was a tremendous PR mayor and he brought so much attention to the city. He's teed it up for the next council, so we'd better be perfect!"
A few days later, Bevis reflected on his final meeting.
"It was very neat," he said. "To be able to give my mom and daughter the Council Manager award was extra special to me."
Regarding the end of his tenure, Bevis said, "I think there's still more to accomplish and I would've like to have stayed on. But at the same time a part of me says let someone else have a chance. I was talking to (Pinellas County Commissioner) Dave Eggers recently and I said I've been married twice and typically there was a good reason to break up. But this time I'm ending a 10-year relationship and we're being forced to get a divorce. So, it's kind of bittersweet."
As for the future, Bevis said he plans to continue working his real estate and DJ careers while eyeing a possible run for a different public office down the road.
"I'm vetting the idea of running for Pinellas County Commission," he said, noting he has already spoken with Eggers and Commissioner Janet Long about the prospect.
"I've been talking to people, getting feedback and taking the pulse of the area. I think I have a good relationship with the other 23 mayors in Pinellas County. But it's a heavy lift, no question about it. So, we'll see," Bevis said.
Asked if his last meeting was a fitting finale, Bevis replied, "I wore a pink tutu. Of course it was."