PALM HARBOR – When Erine Koulianos got a call in the early morning hours in September 2014, she raced to the scene and saw smoke billowing out from the roof of St. Raphael's Orthodox Church on Riviere Road in Palm Harbor.
"It looked like a tea kettle with the smoke pouring out of the sides," Koulianos, an executive committee member whose father founded the church in 1996, recalled. "I thought the roof was going to blow off, or at least collapse. It was awful. I was in complete shock."
Fortunately, the fire, which was caused by faulty wiring, did not lead to the roof collapsing. In fact while the building was a total loss, the structural damage was limited enough to allow Koulianos to extract several items, including sacred relics of the church's patron saints, Raphael, Nicholas and Irene.
"Our worship center was demolished by the fire, but the fire line stopped at the case where we had the holy relics stored," Koulianos said. "It was a miracle. There's nothing short about it."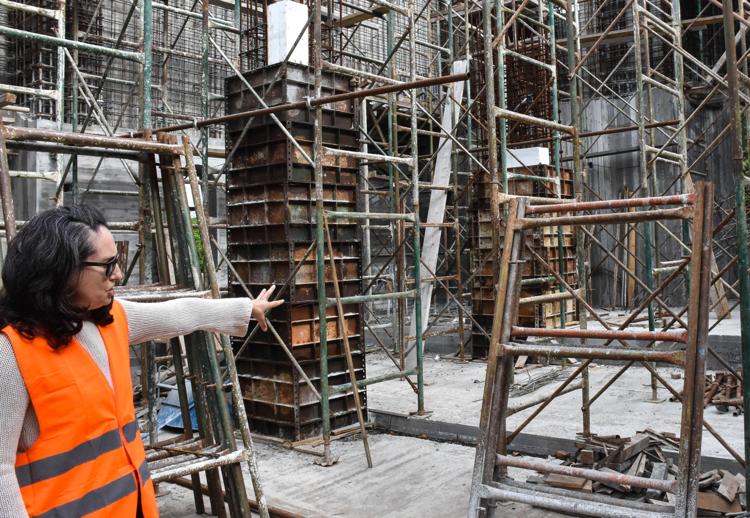 Today, Koulianos is overseeing the construction of St. Raphael's replacement following four years of services held at the nearby library, a shopping center on U.S. 19 and a home on an adjacent property.
Thanks to the vision and determination of some dedicated parishioners, a dozen master craftsmen from Greece began building a new, 5,400-square-foot traditional Byzantine style church in August 2017.
The $1.8 million project will feature imported wood and stone, marble floors and custom doors, windows and glass topped by a 55-foot-tall solid concrete dome that required a special variance from the county.
"One of our oldest parishioners, Zenon Post, had the strength and enthusiasm to make this a reality," Koulianos said during a hard-hat tour of the site in late November.
"He understood we had money from the insurance settlement, so he got a bunch of people together and said together we are going to get this new church built."
Post, a 97-year-old Greek native who is still as sharp as a tack, said the idea to rebuild was an easy one.
"I'm religious," he said. "I believe faith and religion is important. The fire discouraged them, but I saw we had the money from the insurance and I knew we could mortgage it for a new location. Faith is faith and I believe in the power of Jesus Christ, and when I start something I never give up."
According to Koulianos, a Tarpon Springs resident whose family has ties to St. Nicholas Greek Orthodox Church, the new basilica will serve not only as a house of worship for the greater Palm Harbor community but double as an emergency shelter for the county.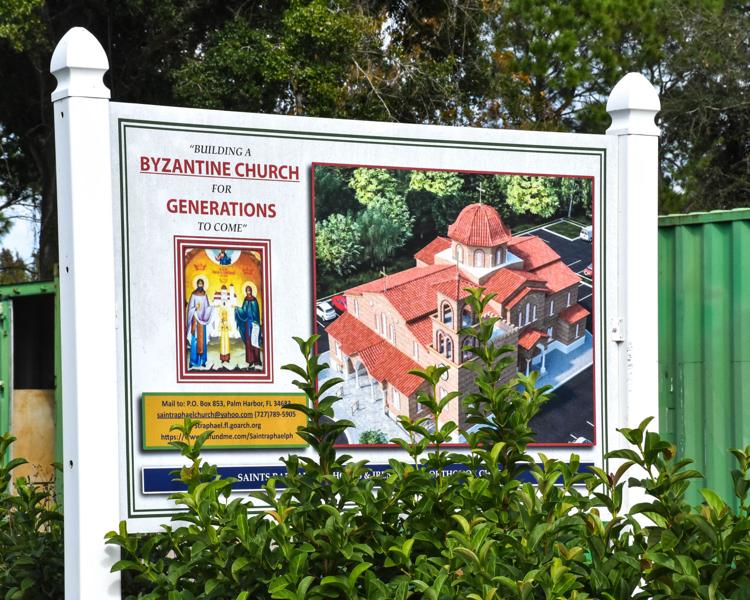 "The footings were set 6 feet down. It's got a solid concrete dome. Lightning won't affect this structure at all," she said as she pointed to the building's basement, adding, "This is the way they did it 2,000 years ago."
She noted the project's world-renowned architect/engineer, Efthymios Tsaparas, said he hopes his latest unique project will be completed by the spring.
"He wanted to offer the United States something like he has in his motherland, a beautiful structure that will last forever, like the Parthenon," Koulianos translated for the Greek builder, who has constructed elaborate churches in his native country as well as one similar to St. Raphael's in South Carolina. "He said this is going to be a community church that's going to be here for history. There's no date of expiration."
Standing in the grassy lot at back of the new building that's literally rising from the ashes of the old church, Koulianos couldn't help but get emotional about the project, which is roughly half funded at this point.
"I'm grateful for the generation who started this church, my father and those who came before us and poured their sweat and tears into the church," Koulianos said. "And I'm very excited for our generation because it's for them. We're leaving them something they can feel proud of.
"Everyone will be welcome here. It belongs to everyone," she added. "Not only is this a church, it's a feel-good place. It's got meaning. Sometimes you have to let go and let God do His thing."
For more information on St. Raphael's, visit st.raphael.fl.goarch.org or call 727-789-5905.