OLDSMAR — For more than 15 years Oldsmar leaders have been trying to turn the downtown district into a commercial, residential and retail mecca.
Over the past few years, several attempts to build a multimillion-dollar, multiphase mixed-used development on State Street next to City Hall have come and gone. At one point the City Council even had a group of USF architecture and design students come up with concepts.
Before becoming mayor in March, longtime City Council member Eric Seidel stressed that getting the Town Center project out of the planning stage and into development was his top priority.
"My primary goal is for our city to once and for-all start building a downtown," Seidel said via email last August, when announcing what turned out to be his unopposed mayoral candidacy. "We have so many amenities for our citizens, but we still have no central place developed our community can call "Their" downtown. It's been talked about too long now, it's time to make it happen."
Last week, the city moved one step closer toward Seidel's goal when the council unanimously approved a concept plan for the Oldsmar Town Center project.
Drafted by local design professionals John Bews, Randy Mears and David Wallace, the plan incorporates many of the components city officials requested be part of the project over the years. They include: mixed-used buildings and open greenspaces; hotels, residential units and parking areas; co-worker, pop-up and other collaborative spaces; a brewery, a museum, or exhibit area, and more into the 10-acre space.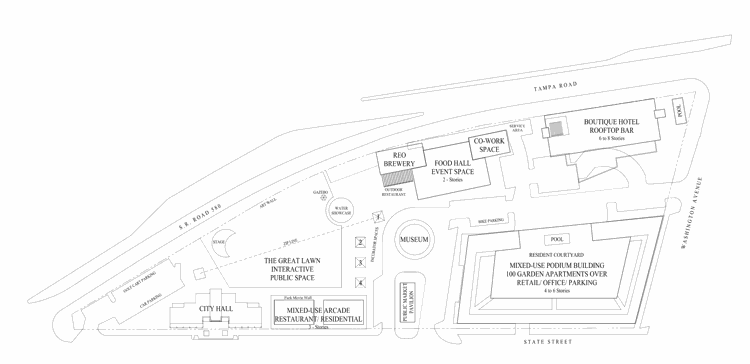 During a workshop unveiling the plan for city officials on June 27, Wallace spoke about the difficulty incorporating all the pieces into a relatively small space and making it work.
"We started the site plan in January, and we drew it a dozen times, with things added and taken away," said architect Wallace, one of the longest tenured board members of the nonprofit group Oldsmar Cares. "We spent 60-80 hours with it, but I'm happy because this is my city and I want to do the best for it I have 40 years' experience in this area, and I think we nailed it and I'm proud of it. I think it'll be our legacy."
A project to invigorate a downtown district that's tailor-made for redevelopment is exactly what this new council is seeking, and each member vehemently praised the plan and the group for their work.
"I see the elements that are important to me," Seidel told Bews and Wallace, who were present at the workshop. "I like this…but the only way it will work is if we compromise."
"The site plan is pretty unique," Councilman Dan Saracki said. "I like it a lot."
Councilwoman Katie Gannon said, "I was shocked all of these elements fit on this triangle."
Indeed, the ability to incorporate more than a dozen crucial components into the master plan that will be presented to various developers was the most difficult challenge, according to Bews.
"I think this is the closest we've gotten to collecting everyone's thoughts and ideas in the last 15 years," he said. "This is the most comprehensive version I've seen. We're really excited about it."
Following the plan's unanimous approval during the July 2 council meeting, Seidel said he was equally excited about moving this long-awaited project forward.
The approval of the Master Concept Plan is important because it allows us to move to the next step, targeting "best in class" entrepreneurs and business organizations who we want to have come make the Town Center their home," he said via email. "For years I've watched the many city councils struggle to come to a consensus on a master plan for an Oldsmar Town Center."
Regarding the actual development of the concept, Seidel said: "Early interest from the business community has been very encouraging. We already have two quality groups competing to build the Boutique hotel with a roof top bar and a respected developer who would like to do the whole project." 
Regardless of who builds the Town Center or when certain components are added, the mayor said: "At the end of the day, the citizens of Oldsmar and our nearby visiting neighbors will have a walkable Town Center they can call their own, lots of green spaces, family friendly entertainment and quality food choices and vendors that will let everyone know this city team is serious about 'Building the Vibe.' "