DUNEDIN — For decades, the city of Dunedin's Parks & Recreation Department oversaw the Dunedin Concert Band. The informally organized band was founded in 1981, but never existed as a legal entity of its own. This all changed in 2014, when Stephen P. Brown, previously director of the Clearwater Chorus at Ruth Eckerd Hall, took over as conductor.
After conversations with Dunedin leaders and city staff, he realized they were on the same page regarding the direction of the band. It would split from the city's recreational offerings and he would form a separate not-for-profit organization.
"We wanted to do this in order to operate the band with some accountability and with a little more formality," Brown said. "There was no record-keeping. Nobody was answerable to anything. There was just an individual conductor who did their own thing. The city was very happy that I was willing to change that."
For 18 months, a steering committee of musicians and supporters of the band worked to determine the structure of this new organization.
After many meetings and discussions, the Dunedin Music Society was born. The Dunedin Concert Band was a key part of this new organization, but there were several new programs and bands added to the mix as well — the Pinellas Community Players, Rhythm Kings Jazz Orchestra, Summer Sinfonia and the Tampa Bay Music Reading Workshops.
"Instead of limiting ourselves to being the Dunedin Concert Band, we could call ourselves the Dunedin Music Society so we could do more than just one band," said Brown, who currently has the title of general director of the DMS.
The group's reach has expanded significantly since it incorporated in December of 2016, he added. Each year, it hosts more than 125 events, which includes more than 26 public performances, and impacts more than 3,500 people in 18 communities throughout the region.
"The reason we have so many events is because our mission is to connect local communities with live music," Brown said. "That means not only do we offer opportunities for the public to experience live music in the same way as Florida Orchestra does, but we offer opportunities for musicians, as well, to improve their performances, both professional and amateur. We have a dual approach to things, both the educational side for performers and the entertainment side for the general public."
Though Dunedin is part of the organization's name, that "doesn't mean you geographically limit yourself," Brown said. DMS bands have performed at and hosted events throughout the county.
The Dunedin Concert Band remains its largest ensemble with around 60 musicians. One of seven concert bands in Pinellas County, "it has become quite advanced," Brown said. "We've improved the quality of the band. We play more advanced music. We've attracted some more advanced performers."
Meanwhile, the Pinellas Community Players, which has around 20 members, is geared towards musicians who haven't played in a long time or who are new to their instrument, he said.
The Summer Sinfonia is a small chamber ensemble, ranging from five to a dozen performers, that primarily performs during the summer and commissions new music from composers around the globe. Last year, the group performed seven pieces from four countries, Brown said.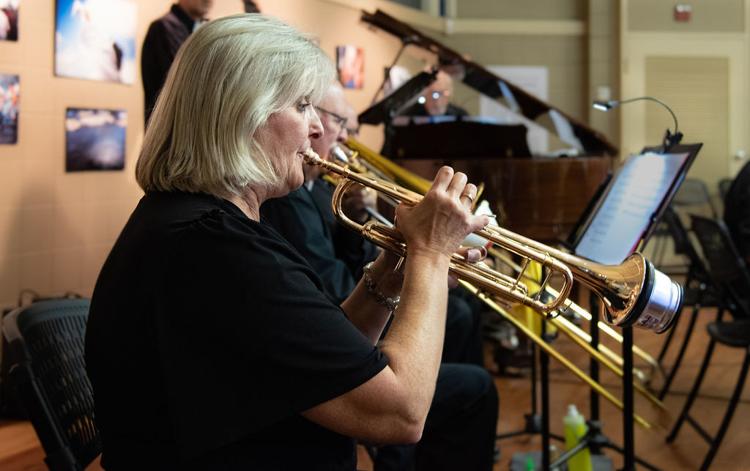 The Rhythm Kings Jazz Orchestra, formerly the Tarpon Springs Rhythm Kings, has about 13 members and performs jazz and dance music of the 1920s and early 1930s.
Most concert bands and ensembles don't practice or perform during the summer, Brown said. The DMS keeps a busy schedule throughout the summer months with the Tampa Bay Music Reading Workshops. These workshops are open to all musicians.
"Rather than take three or four months off because their ensembles aren't playing, they can keep their fingers nimble at our workshops," Brown said.
The DMS is always looking for support in different ways, he added. There are a number of volunteer opportunities for musicians and non-musicians. Donations are always appreciated as well, he said.
"But the best way to support us is to come to one of our events," he said.
A fundraiser, Waltz for Music, is set for Tuesday, July 23, 7:30 to 8:30 p.m., in the Dunedin Community Center's Music Room, where attendees will waltz to live classical music in an intimate setting. There will also be a silent auction with a variety of items to bid on.
Tickets for DMS members are $37 and $45 for general admission. All funds raised will be used to buy sheet music for the upcoming concert season.
For more information, visit mydms.me.