OLDSMAR — For the first 100 years of its existence, the city of Oldsmar had no public art installations.
Today, three years after Oldsmar celebrated its centennial, public art is popping up all over town.
After two murals were painted at R.E. Olds Park in November 2016, another mural was added at the entrance to Sheffield Park in March 2018. This year, several major public art projects are planned, including pop-up exhibits, rotating and permanent art installations.
"This is our very first pop-up art installation, but it's the first of many," Mayor Eric Seidel said outside City Hall on May 7 during the premiere of "Unveil the Trail," a collection of animal tracks that are revealed by spraying water on the sidewalk at 10 different locations in town. The mayor thanked Arts Coordinator Lisa Schmid for "all her hard work on this and our other art projects."
According to Assistant City Manager Felicia Donnelly, the pop-up project represents one portion of the city's rapidly expanding public art portfolio.
"The city is embarking on a series of comprehensive public art projects," Donnelly said prior to Tuesday's unveiling. "In last year's budget, enhancing public art opportunities was identified as a priority by the City Council … because we feel public art helps create a sense of place and inspire learning and creativity for residents."
Donnelly said the four main components of the program include: curated exhibits at City Hall; temporary pop-ups to encourage interactivity and awareness of the public art programs; a permanent piece of public art that will be in the soon-to-be redeveloped downtown corridor; and a partnership with Creative Pinellas that will see the organization's traveling community public art project, SPACEcraft, debut in Oldsmar this summer.
"We coordinated with Creative Pinellas to be the inaugural launch site of the piece, which will feature two interactive shipping containers in the field next to City Hall to provide accessibility and visibility," Donnelly explained, noting the project is being funded by BP oil spill dollars and is tentatively set to debut in mid-June or early July. "We think it will serve as a launch for us, as well a perfect opportunity to showcase our future art efforts and let people know what's going on with our public art programming."
By the time SPACEcraft debuts, the word about Oldsmar's public art program should be out.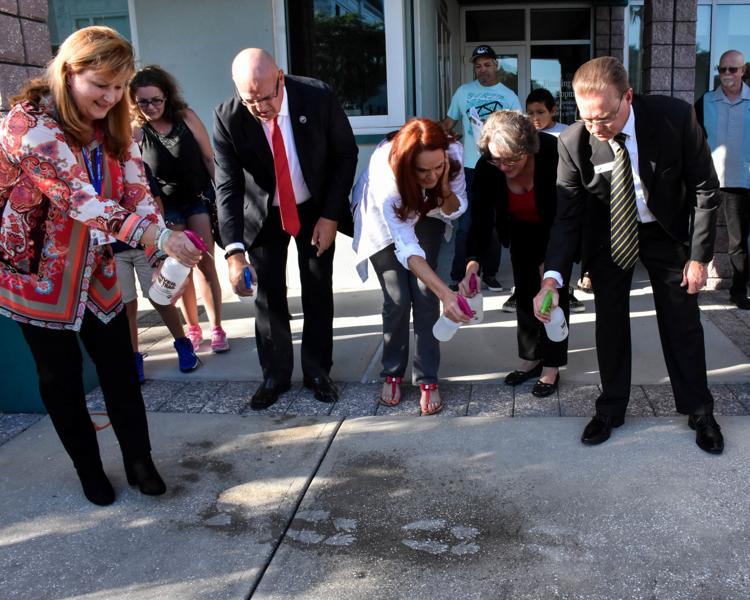 Prior to the Unveil the Trail debut, where city officials and residents sprayed water on the sidewalk to reveal a set of raccoon tracks, Schmid honored the winners of the city's Water Conservation Art Challenge to a crowded City Hall lobby. After the ceremony, Public Works Director Nan Bennett awarded gift bags and certificates to dozens of local grade schoolers who participated in the city's Drop Savers Poster Contest during the City Council meeting.
According to Schmid, promoting the importance of public art is essential to any well-rounded community.
"Our leaders acknowledge that public art strengthens our community by promoting our uniqueness, inviting engagement, and inspiring thought and conversation," she said via email. "As the City's Arts Coordinator, I am honored to be part of this exciting public art movement in Oldsmar and look forward to bringing more innovative projects for our residents to enjoy."
Seidel said he's thrilled to see the influx of public art in Oldsmar, which coincides with his mayoral campaign promise to redevelop the downtown district.
"With any downtown area you want to have a certain vibe and making art a big part of the Town Center will help accomplish that feeling," Seidel said. "I think it's an exciting time for our citizens, as these projects bring an expansion of culture and inspiration to our cities public areas. I expect as the area starts getting built, the art will add to the walkability for our citizens. I look forward to what's to come."
For more information on Oldsmar's Unveil the Trail public art project, visit OldsmarPopUpart.com.