PALM HARBOR — New York-born, Pinellas County-raised artist Stephen Palladino vividly remembers the first time he spray-painted the concrete walls of the McMullen Booth Road underpass near the Boot Ranch shopping plaza.
"Me and a friend put an alligator on the concrete back when I was not so young," Palladino, 32, recalled with a smile recently. "The cops showed up and they weren't too happy about it! But I just had a desire to see my work on that bare wall."
Flash forward 20 years and Palladino, now a world-renowned artist who works in several media, was not only commissioned to paint a massive mural near his initial illegal attempt, he became the first artist to complete a public art mural as part of the partnership between Pinellas County and its Creative Pinellas arts agency.
On Sept. 28, Palladino was present for the official unveiling of "Be Right Back," his sprawling, vibrant mural featuring people and animals in motion, including one very prominent alligator.
"I feel super lucky to be chosen for this project," Palladino said after the ceremony, which was attended by Creative Pinellas chief executive Barbara St. Clair and Pinellas County Commissioner Karen Seel and featured a performance by the East Lake High School Vocal Ensemble.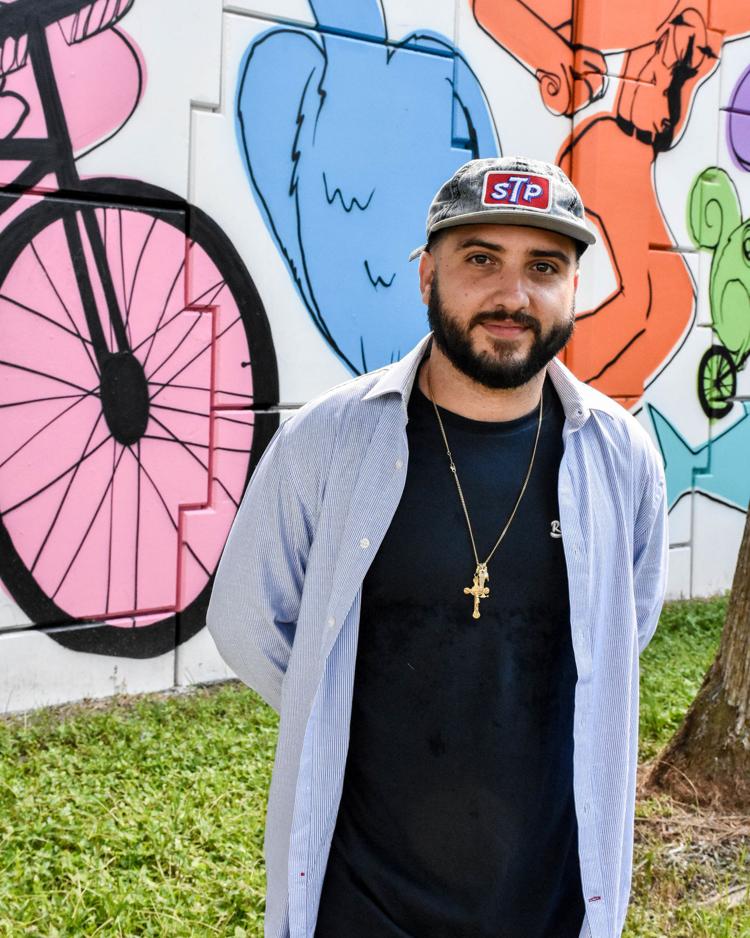 "Ever since I was young, I wanted to be a muralist. Over the years I started to build my portfolio and eventually I had so much to show, they recognized my work."
Asked how it felt to be working on a project so close to where he was busted for doing the same thing two decades prior, Palladino said, "I was nervous at first, but really grateful looking at the big picture. Just grateful for the opportunity. Astonishment is hard to feel, but I'm overwhelmingly grateful."
According to Creative Pinellas' Jenee Priebe, the opportunity to have a world-famous, home-grown artist paint the county's first commissioned public art mural was a match made in heaven.
"It's been really amazing and a great experience having Stephen as the first artist for the county," she said. "We wanted it to be smooth, and to hire someone who could handle the size and scope of the work. We had a number of applicants we felt could handle it, but we felt Stephen had the style we wanted, and also the ability to reach beyond the bay area because he works all over the world. We felt were felt lucky to have Stephen apply and we're thrilled he was selected."
Priebe noted the mural is already receiving rave reviews from people who walk the area, which is adjacent to a canal and was covered in water several inches deep throughout much of the two-week job, according to Palladino.
However, as Seel and St. Clair pointed out, the site will eventually be home to an extension of the Pinellas County Trail, allowing hundreds of bikers, walkers and other visitors to view "Be Right Back" on a daily basis.
"The mural is a project for the future," St. Clair said prior to the ceremony. "It will be part of the experience once the county completes the extension of the Pinellas Trail. It's wonderful that people are already enjoying it. The lively colors and different characters are catching people's eyes. I think this is going to be a mural that becomes iconic, part of what we think about when we think about Pinellas County."