OLDSMAR – After the City Council rejected a developer's request for an extension on a proposal to build a 50-unit town home community on four acres of city-owned land near the Oldsmar Public Library last summer, Mayor Doug Bevis said the property was too valuable to support a project that wasn't in line with their downtown vision.
"I'm not sure what's going to happen now, but I do know that's a valuable piece of property, and because the city owns it, we have a say in what goes there," Bevis said in June 2018. "Something will be built there, eventually, and we want to make sure it's the right project for the city and the downtown district."
That something could be coming soon, as the council agreed last month to enter a memorandum of understanding with Tampa-based firm DFMAR, LLC for a mixed-use development to be constructed on seven acres of land on the southeast corner of St. Petersburg Drive East and State Street East.
"The MOU states we will only negotiate with DFMAR for the next six months," City Manager Al Braithwaite said on Feb. 5. "All of the specifics of the development will still have to be approved by the council."
Details of the project remain scant. According to a letter from DFMAR managing member Francisco Semsch that was attached to the MOU, the firms expect to "transform this section of State Street and St. Petersburg Drive into the beginning of a dynamic urban district" with a project that would include retail, offices, multifamily residences, a parking deck, plazas, internal streets and pedestrian circulation.
Mayor Eric Seidel expressed disappointment over the fact that the agreement contained no conceptual plans, site specifics or architectural renderings of the project.
"I do think that's a mistake," said Seidel, who automatically became mayor on March 12 after running unopposed. "You have an excellent reputation, but I'm not in the habit of approving something that locks up an asset without seeing it."
Semsch, a Tampa architect who has worked on several major projects in Oldsmar over the years, including the Galleria, said details of the concept would be revealed after the city approved the MOU. "After it is approved, we will make it public," he said.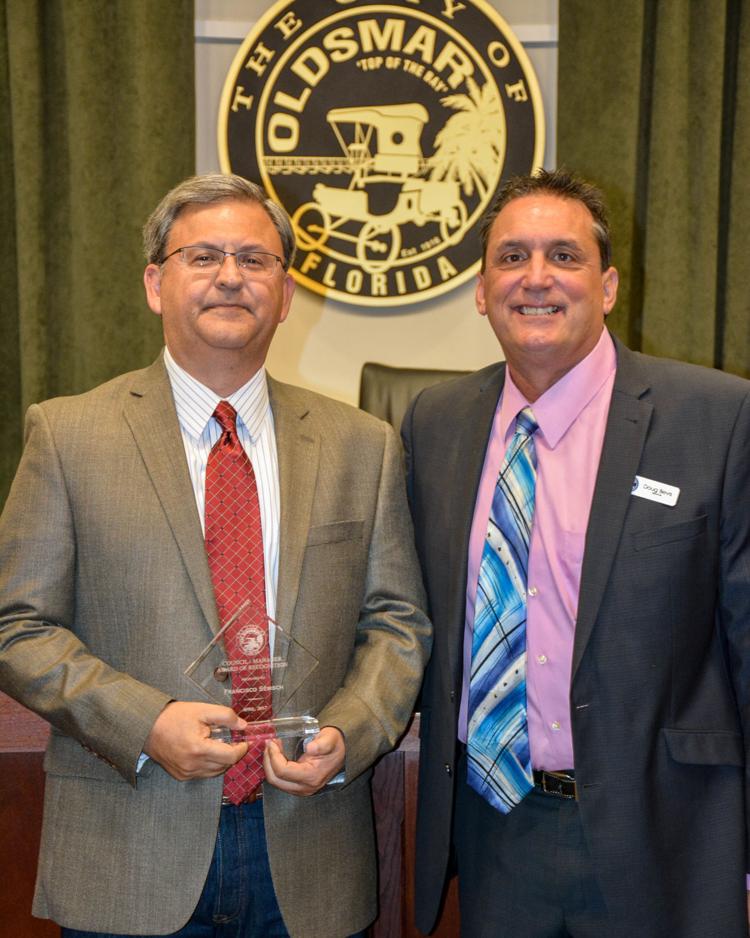 Council member Jerry Beverland said he was staunchly against the city giving away any of its valuable downtown property.
"If land is given up, I'm against it. Seat 1 is against it," Beverland, who was running for re-election in the March 12 election, said. "That land is worth a lot of money and we're gonna get money out of it and not give any of it away."
Results of the 2019 municipal election were not available before press time.
"As a steward of the taxpayer's dollars we're not in the habit of giving land away," Beverland said.
"We understand where you're coming from," Semsch replied. "But we don't get into business to make a product that fails. It's our goal to make the city a happening place. It's time to do this."
After members Gabby McGee and Dan Saracki said they had no problems with the MOU and looked forward to seeing the concept, the council approved the request to enter the MOU by a vote of 5-0.
Afterwards, Seidel elaborated on the project and where it fits in the downtown redevelopment plans.
"I'm guardedly optimistic," he said. "We all know Francisco's work and reputation. He has a reputation for doing outstanding work. To be honest if it were anyone but him asking us to do this, I don't know that I would've agreed to give up the right to that property for six months."
He said based on the preliminary details in the agreement, as well as positive words from city officials who have seen the concept, he believes the project could be the linchpin of the downtown redevelopment.
"If it's the right project it could, but that remains to be seen," Seidel said. "But regardless of what happens to this property, the focus will be the property next to City Hall and making meaningful progress on the downtown redevelopment. I will have more tunnel vision in the first year than most because I believe that's what it takes to get things done."
Seidel said a workshop to reveal the conceptual design and other elements of DFMAR's State Street project would be scheduled after the new City Council is seated, on March 19.