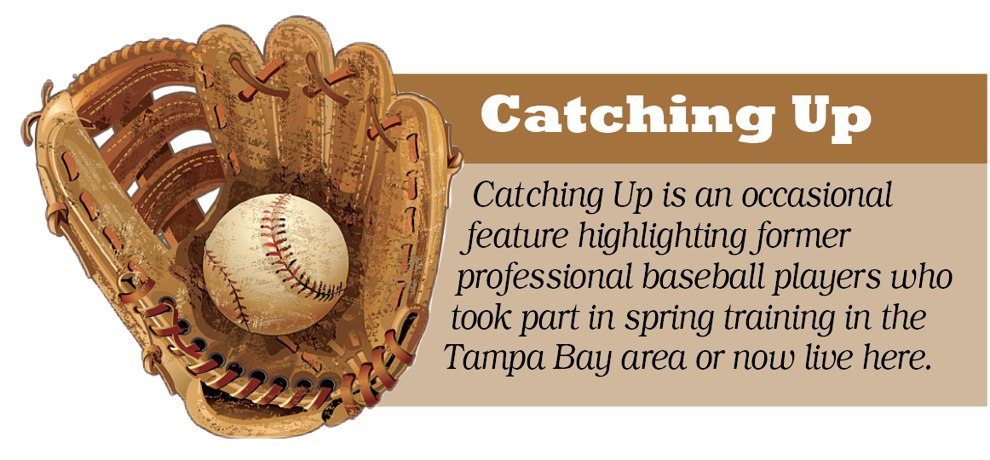 At the Courthouse Performance Center in Oldsmar, former Tampa Bay Devil Ray Toby Hall works with baseball players on every aspect of the game, with one exception.
"I kind of do it all," said Hall, "except when it comes to baserunning."
Hall laughs and then explains.
"I had zero stolen bases for the longest time," he said. In fact, in a major league career covering nearly eight full years, Hall had all of two steals — and they came in the same game and the same inning!
"We were playing the Yankees in New York right after 9/11 (September 2001) and I was on first base," Hall recalled. "(Roger) Clemens was pitching, (Jorge) Posada was the catcher. I thought I saw the third base coach give me the signal to steal. I looked over at the first base coach and he turned away. So I thought, OK maybe I did get the sign to steal."
Hall took off on the next pitch, clearly surprising the Yankees — and his own team — and was safe. And then a couple of pitches later, Posada threw to second to try and pick off Hall and he took off for third. Hall got in safely.
"Two stolen bases within four minutes," Hall chuckled. "My next time at bat Posada looks at me and says, 'Are you kidding me?'"
Later that night, Hall got a call from the front office and was told in no uncertain times, no more stealing attempts!
Hall, a catcher who played in the majors from 2000 to 2008, mostly with Tampa Bay, these days finds himself "either on a ballfield or at cow shows."
He works with baseball players about three times a week at the Courthouse Performance Center where he is a partner with Jason Miller, but also spends time travelling with his high school-aged daughter, Kendall, who shows cows at various events. Kendall, who is involved with her high school's FFA program, has aspirations of becoming a large animal veterinarian. He and his wife, Karra, also have a son Tayden who was signed by the Milwaukee Brewers last year and is currently playing with the team's farm club, the Carolina Mudcats. Like his father, he is a catcher (and also plays first base).
Hall proudly notes that at the Performance Center, they've been able to get college scholarships for over 100 players.
"To see that, that's what makes it a lot of fun," said Hall, adding that currently the Center works with about 600 kids, both in baseball and softball.
What is also fun for Hall is his relationship with Matthew Walker and the Miracle by the Bay Foundation, an organization that advocates for people with disabilities. Hall's recognition of the challenges of those with disabilities playing sports actually goes back to 2007 when he was with the Chicago White Sox. Around that time he witnessed a game being played on a little league field by people with disabilities. That's when he first got to know Walker, who has cerebral palsy, and the two kept in touch from then on and in time their friendship grew. Walker, now 28, is the president and chief executive of Miracle by the Bay. "Matt is a real leader," said Hall, who is a board member with Miracle by the Bay. "He is amazing."
What eventually came out of that relationship is that the Performance Center has become a partner with the organization and offers an indoor field for their baseball games. 
"We have the space and are handicapped-accessible," said Hall. "This gives them a platform to play here and have some fun. It's really cool to see them succeed."
Players range in age generally from 10 to 50 with a variety of disabilities. 
"It's also an eye-opening experience for the kids in our regular program," said Hall. "When they see the people with disabilities and what they go through, it puts an 0-for-4 day in perspective for them."
Hall puts his own major league career into perspective when looking back at his own accomplishments. A career .262 hitter, Hall was better known for his work behind the plate. An excellent fielder, Hall had a career fielding percentage of .989 and twice had the best fielding percentage at his position in the American league in a season. Earlier this year, he was named to the Tampa Bay Rays all-time team at catcher.
"I loved it (catching)," said the 6-foot-3 Hall, who batted and threw right-handed. "There were a lot of all-star catchers when I played — Pudge (Rodriguez), (Jason) Varitek, and Posada. Leading the league two years (in fielding), that was pretty good."
Hall was drafted by the Rays before they had a team on the field, in 1997. 
"I was from California and had never been to Florida," said Hall, who was undaunted about being drafted by an expansion team. "None of that mattered. I just wanted to play major league baseball. Not too many people can say they played in the majors for 7-8 years."
He continued, "There were hard times early (for Tampa Bay). Seeing the team in its 25th year and becoming a regular contender is crazy. It's really great, especially when you see how the big markets spend on players. (Manager) Kevin Cash and I are good friends. Seeing how he gels that team together year after year is a credit to him (and the organization)."
Credit surely goes to Hall, as well, for his passion for wanting to help people with disabilities feel like they are part of something special.