DUNEDIN — For many years, city officials have seen development ideas come and go for what's known as the Gateway property on the east end of town.
Now they are enthusiastic about a plan to build a project that emphasizes walkability, plazas, open spaces and upscale architecture.
The developer, Joe Kokolakis, and architect David Wallace outlined their concept for the 4.3-acre Gateway property Aug. 19 to city commissioners, who embraced the project and complimented the development team for their vision for the property.
The plan includes 80 apartment units, a 78-room boutique hotel and 17,200 square feet of retail, restaurant and food hall concepts anchored by a single-tenant restaurant on the west end with outdoor seating.
Artisan East Apartments are expected to sit over two floors of covered parking, with 123 spaces being open to the public, including the adjacent surface lots, and 178 spaces on the lower level reserved for hotel guess and residents.
City Manager Jennifer Bramley said the discussion that evening was the first step in a methodical approval process.
"This is obviously a very important project for the city of Dunedin — the gateway to our downtown," she said.
The proposed multimillion-dollar development is located roughly off Main Street, Milwaukee Avenue and Skinner Boulevard.
City officials said in memos that the project is checking all the right boxes, such as the scale and size is primarily four stories in keeping with the surrounding area. They also said Kokolakis, who lives in Dunedin, has a proven track record developing high-quality projects. Those include Artisan apartments and Nature's Food Patch on Douglas Avenue and Stirling Common on Broadway.
Commissioner Moe Freaney said she was impressed by the project and the development team's efforts, such as on the restaurant, food court and retail component.
"Just your guys' focus on detail is amazing, over and over," she said.
The city was fortunate to have a developer like Kokolakis, she said, who has a proven track record.
"We see some of the crap all day long. Nothing against anybody immediately in our area," she said, "but I'm just saying in other cities you can see development that's not so good."
The project is expected to provide greenery, increases the tax base and create jobs. Hopes are that will act as a catalyst toward the revitalization of the east end of Main Street.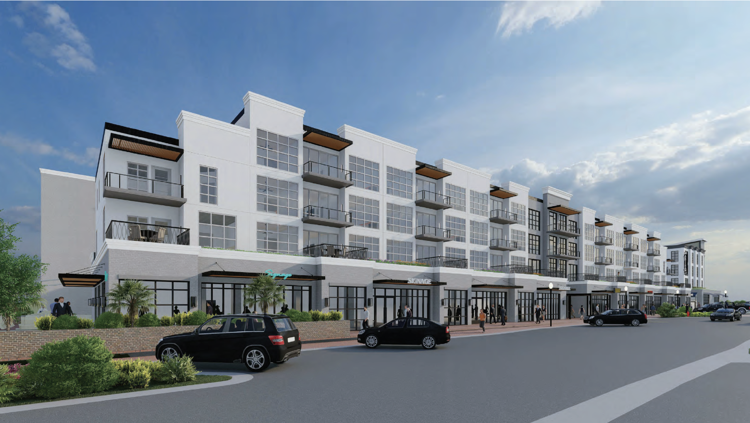 In discussing the project, the developers said they are not ready yet to name the anchor restaurant operators or the hotel company, which is a national chain, because agreements haven't been signed.
Hotel plans call for 3,083 square feet of meeting space. The dimensions were largely in response to county officials expressing a need in the north county for places to host meetings, Kokolakis said.
"I think it's going to be a great asset for Dunedin and Pinellas County," he said.
Later in the meeting, in response to a question from Mayor Julie Ward Bujalski, Kokolakis said that the meeting area could provide seating for 250 people.
"You rock," Bujalski said.
The rooftop will have a small space where the intent is for local musicians and artists to entertain guests of the hotel as well as the public.
Traffic and affordability
Commissioner Jeff Gow said with all the projects underway near the proposed development, he wants to make sure that city officials are keeping an eye on traffic levels in the downtown corridor.
Bramley said she will work with Kokolakis and engineers so that city officials know the exact impact of the project on the surrounding road network.
"We need to know those number of trips," she said.
Kokolakis said the developers are hoping that whether it's with ride-share programs, dedicated dropoff areas and its proximity to Mease Dunedin Hospital, their goal is to mitigate traffic impacts and hopefully having people who live there be able to walk across the street to go to work.
"Thank you, Joe," Gow said. "That's my goal as well."
Though he was pleased with what he had seen of the project that night, calling it a "gorgeous concept," Gow asked whether some features of the project could be less "bright and shiny" to make the apartments more affordable.
Kokolakis said since the project is in the Gateway area, he believes it is compatible with the buildings around it, such as the hospital and a large retirement home, and residents are willing to pay for amenities such as a gym, resident lounge, and swimming pool.
"We have proven there is a demand for this level in Dunedin," he said.
Developers say they are bringing in a new neighborhood into the downtown core with easy access to public transit but within walking distance to restaurants, bars, coffee shops, museums, parks, art centers and the waterfront marina.
Commissioner Heather Gracy was pleased with the public access aspects of the project, its local flavor and the Artisan brand, which Kokolakis used for the apartments on Douglas Avenue.
"The minimalness you brought to us I think gives us a clean, very open feel. And then any and all landscape you can add to that makes it that much better. It's very pleasing to the eye," she said.
Gracy said she can't wait to see the project proceed through the advisory boards' review.
Commissioner Deborah Kynes said she loved that the Gateway project calls for a boutique hotel and that developers are working with a Boy Scout troop and nearby apartment residents to conserve a half-acre parcel of the Gateway for a pocket park.
"I think it's going to be another true component to Dunedin," she said. "I think that when people go there it will call them to go on and walk down to the marina to the west. I think it's an excellent project," Kynes said.
Bujalski said the developers have created a formula in the contents of the project.
"The formula is of all the pieces of what's in this project will keep itself successful. But then it will blossom and keep the east end successful," she said.
She said all commissioners were doing that evening was giving the project their blessing and discussing a development agreement at their next meeting, but she asked that more pictures of the project be presented.
Bramley added that at the Sept. 3 meeting, commissioners will be asked to authorize city officials to negotiate a development agreement with Kokolakis and his associates. Several other steps will have to be taken before the commission delves into the design review.
The Gateway site has been planned for development since city officials bought the property in 2004 for $2.1 million for either a consolidated government center or mixed-use redevelopment. They have had numerous discussions about it.
Both the city and Gateway Dunedin LCC — the development company — own adjoining parcels of Gateway land and over the last year or so have been working toward the goal of a unified development plan, city memos say.