EAST LAKE — A Wal-Mart Neighborhood Market employee with a lifelong passion for animals recently won a $10,000 grant for the Suncoast Animal League.
Tarpon Springs resident Melissa Finn had no idea she had already been chosen as one of 12 winners from over 400 entries worldwide in the company's #SparkKindness Wal-Mart Associate Challenge when she sat down with Suncoast Animal League founder Rick Chaboudy Thursday, Nov. 14, at the East Lake Woodlands store where she works, supposedly to film a last-ditch pitch for her cause.
After shooting the short video, where an unsuspecting Chaboudy and Finn spoke about the tireless work the volunteer based nonprofit agency does with sick, neglected and injured animals, store manager Mike Musumeche handed Finn an envelope, which she believed held further contest instructions.
Instead, the paper inside read, "Congratulations: You are a winner in the Wal-Mart Associates Challenge!" and the look of shook on Finn's face quickly turned to tears of joy when she realized what happened.
"I'm just so blessed. I am so thankful and so humbled," she said as she received flowers, hugs and accolades from her coworkers. "There were so many other great entries, for them to choose us, it's unbelievable."
Chaboudy, who founded the "no time limit, no kill" animal welfare agency and shelter in 2006, said the Suncoast Animal League has "a reputation of helping very sick animals, ones that need special care to survive. We take many in from out of state and it's very expensive but because of grants like this and the support of the community we have been able to make it."
He praised Finn, who has volunteered at the Pennsylvania Avenue facility since its inception, for her dedication and generosity. "Melissa and I have known each other for a long time, and I know her spirit and energy, so I'm not surprised with her efforts and everything she did," Chaboudy said. "This is incredibly, extremely generous and we're so appreciative, we can't even tell you what this means to us in terms of caring for the animals."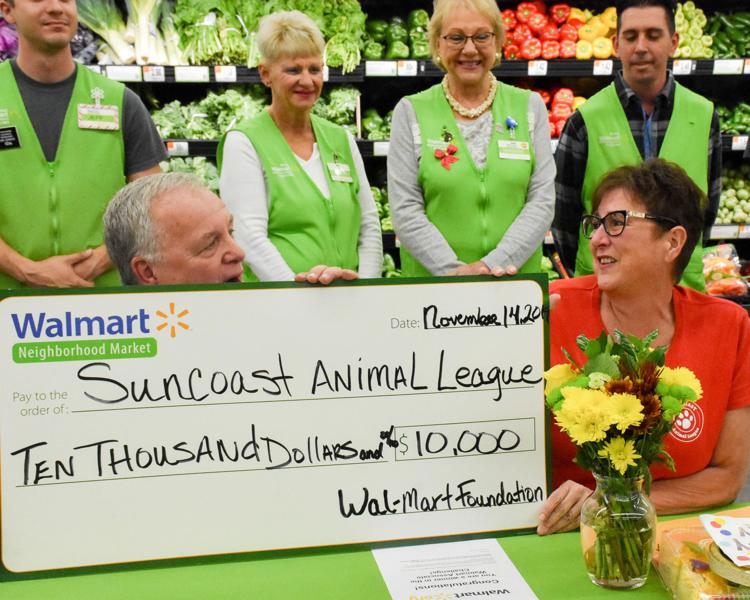 Musumeche, the store manager, also praised Finn.
"We're so proud of Melissa's commitment to support a cause that is important to her and this community," he said. "As a store, we partner with various nonprofits throughout the community to help people right here in Palm Harbor and Pinellas County live better. Our associates also volunteer in a variety of ways to support those causes near and dear to their hearts. Melissa's efforts are a great example of what our associates are doing right here in this community."
For her part Finn, who has a soft spot for dogs and has done everything from fostering animals to organizing events for Suncoast Animal League, said she was happy to be able to help a cause so near and dear to her heart.
"It's my heart," she said. "The shelter is my life and the animals are my life."