OLDSMAR — Gabby McGee, a longtime City Council member who made history when she was first elected in 2013, announced her resignation last week.
McGee, a 32-year-old manager for high-tech conglomerate Cisco Systems who was elected to serve a third term in March 2018, broke the news that she was offered a new position with the technology giant that will require her to move to Europe. McGee, who held the post of vice mayor, announced her exit to stunned colleagues during a rescheduled, lightly attended council meeting Sept. 11.
"Some of you may know I've been working really hard the last year to expand my career opportunities with Cisco, and today I got a formal offer," McGee said. "It's a very exciting role, it's a regional role in Europe, Middle East, Europe Asia and Russia, or EMERAR, so I will be relocating to Spain at the end of October."
McGee will be based in Barcelona.
While wiping away tears, McGee, an avid adventurer who has lived in Oldsmar for 12 years and spent half that time on council, said it was a bittersweet day and "definitely a tough decision to make. My mother wasn't too happy about it. But I'm very excited."
She added her last council meeting would be Oct. 15, with her resignation taking effect Oct. 21.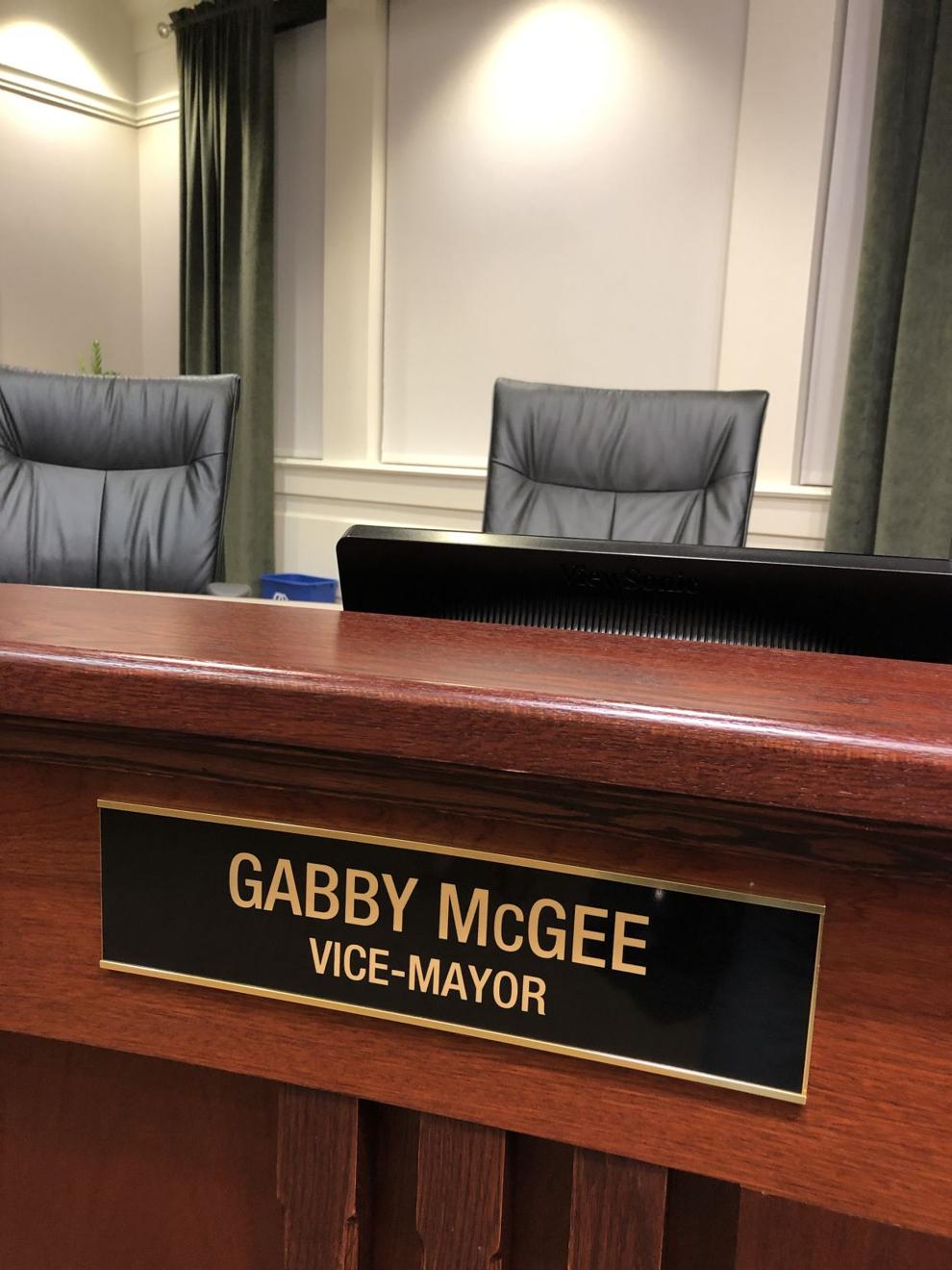 The news sent shockwaves through the room, with fellow longtime member Linda Norris recalling the day McGee made history.
"I remember when you ran, and you won. You were part of history, girl," Norris said of the 2013 election, when McGee joined Norris and the late Janice Miller to form the first female-majority council in the city's history.
After noting McGee was also the youngest council member ever, Norris said, "So, you made history twice in this city. I'm so happy for you. Congratulations. They're lucky to have you, and we love you."
Katie Gannon, who when she was elected in March became part of the city's second female-majority council, told McGee she was "part of the reason" she wanted to be on council, adding, "I'm happy if you're happy. But you will be missed. So missed."
Mayor Eric Seidel, who received the news in an email from McGee prior to the meeting, noted there would be time for a proper sendoff, but he didn't hesitate to discuss the impact his "little sister" has had on the city.
"I know this isn't your last meeting," Seidel said. "But what I will say to you is…your impact in this city is wide and deep, and it goes even beyond this council, which is part of the reason our citizens are so grateful that you served and the way you served."
Joking it was getting a bit dusty in the immaculate Council Chambers, Seidel added, "Your impact will be felt for years to come, and that's what you can certainly feel proud about."
According to the City Clerk's office, the council has 30 days from McGee's official resignation date to fill her vacant Seat 3 until a special election can be held. That election must be held within 120-180 days of the resignation date, according to the city charter. The qualifying period for the special election, which will be held on March 17, 2020, will begin Oct. 15 and end Nov. 15. The Seat 3 interim candidate will be sworn in Nov. 5 and serve through March 24, according to the clerk's office.
After the meeting, Seidel said he was "both saddened and excited" by McGee's sudden departure.
"I'm saddened because she has been a key leader in our city and on this council, her leadership will be missed," the mayor said. "However, I'm also excited for my friend. She has worked hard for this tremendous promotion and I know she will continue to excel."
Regarding the vacancy, Seidel said, "The council will change with the new leader who fills Seat 3, but I have faith they will be strong leader and add to the council's work for the city."