PALM HARBOR — Peter Brennan was 7 when he first set sail in an 11-foot plastic foam boat with the Kool cigarettes logo on its sail.
"My father sent away carton tops from his cigarettes and one day when I was at home the UPS guy came with a big box," Brennan said. "We had one of those big 1960s station wagons, and we'd tie the sailboat to the roof and drive to a pond near our home in upstate New York, and I'd sail it."
His father's whim created a lifelong attachment to the sport that has served as a compass rose for Brennan. The youngster would grow up to race under sail on Tampa Bay, along Florida's Gulf Coast, to the cold waters of Nova Scotia, and to faraway ports like Havana and Isla de Mujeres, Mexico.
The Palm Harbor resident has written a book, "Fun with Sailboats," about his years of racing and sailing.
Brennan said friends had urged him to put his adventures to paper.
"They told me, 'You should write a book,' and I did," Brennan said "I had kept lots of notes on trips I had taken over the years, so it was all there."
Nearly crushed at sea
He nearly died at sea during a race between St. Petersburg and the coastal resort of Isla Mujeres when the prow of a big ship bore down on his sailboat. His teammate, who had been at the wheel while Brennan rested below, had put their boat on course with a monstrous ship.
"We couldn't raise the freighter on the radio to let them know we were right in front of them, so we had to stand there and count the rivets on this enormous hull as it passed within 100 feet of us," Brennan said. "It was pure luck that it didn't hit us."
Later that same day, the two had reduced the jib — that's the front sail — to smooth the ride in the Yucatan Current's rough seas. A big gust of wind, accompanied by a huge wave, slammed the boat, tilting it nearly 90 degrees. Imagine the mast, which should point to the sky, suddenly parallel with the sea.
"If we hadn't taken in that jib, it would have taken in water, and that might have been it. That was twice in three hours that we came really close to sinking at sea," Brennan said.
Boating Long Island magazine says of "Fun with Sailboats": "It's mainly a love letter to a life lived with one foot on land and another on the deck of a sometimes becalmed and occasionally roiling vessel. No matter what happens, the reader is glad to be aboard."
Seeing no land gets boring
There are various levels of sailing commitment. If you are like millions of sailors, a calm lake is just fine. Others commit to sailing along ocean shorelines or island-hop from harbor to harbor, rarely far from the safety of marinas. Others cross oceans, their sails pushed by trade winds and helped along by ocean currents. The truly committed sailors compete in the Southern Ocean, an uninterrupted sea that circles the globe below the continents but above Antarctica. Gale winds or stronger are the norm, which build waves that regularly crest at 60 feet and taller.
Brennan prefers to see land fairly often.
"When all you see is the sky and the sea and no land for weeks and weeks, that gets boring," Brennan said. "I know people personally who do around-the-world alone, and it's crazy. You've got nobody to talk to. It's not safe. If you fall overboard, there's no one to save you."
He tells this cautionary tale: Two men are delivering a sailboat; one rests below while the other watches the helm. "Sounds like fun, right?" Brennan asks, mirroring the book's title. "Well, the guy below gets up and his partner is nowhere to be found. Never found the body.
"I was living in Long Island at the time, so after I heard that, I changed my practice. Sail with three people and let the third guy help keep the captain from falling asleep."
While attending Eckerd College in St. Pete in 1981, the young man honed his sailing skills by taking the school's free American Sailing Association Basic Keelboat Sailing course. He'd zip around Boca Ciega Bay and Tampa Bay, running downwind, leaning, coming about, and having a ball. After graduation from Eckerd, he moved to Miami, where he taught high school.
The bigger the sails, the longer the fall
As his skill grew, Brennan moved to a 22-foot MacGregor pop-up, a trailered sailboat with a removable keel for running up on beaches. He'd sail from Miami, through Homestead Bayfront Park, across to Elliot Key in Biscayne National Park, and down to Key Largo.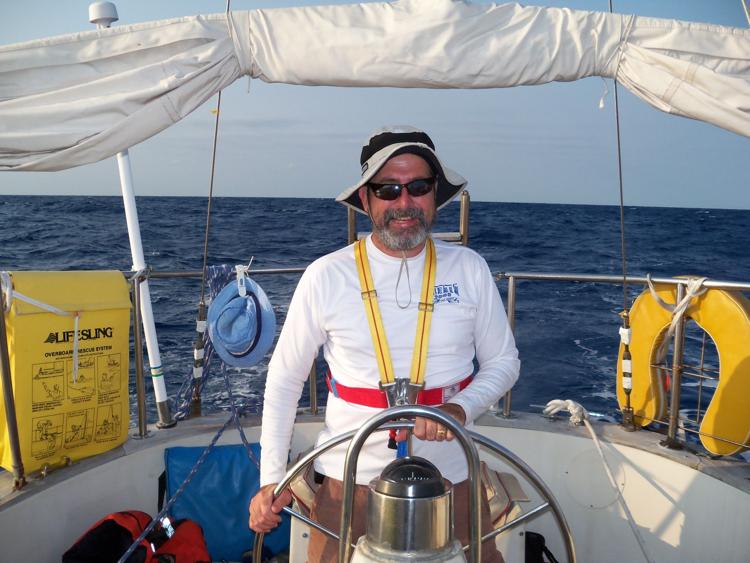 After returning to upstate New York, he bought an older, 30-foot Pearson — a strong boat for longer voyages — which he sailed around Long Island Sound, Block Island, Martha's Vineyard, the East River, New York Harbor, and the Atlantic Ocean.
But sailboats get bigger — much bigger. Brennan's first taste of tall-ship sailing came in 2000, when he volunteered to crew on the 100-foot Canadian schooner Mist of Avalon from Charleston, South Carolina to Newport, Rhode Island. In "Fun with Sailboats," Brennan also describes sailing around Ireland aboard the 100-foot-long Asgard II, a training brigantine. The majestic sailing ship went down in the Bay of Biscay in 2008, after Brennan had served on it.
"She was a square-rigged ship, so we could climb high up the mast and go out onto the yardarm. We grabbed the halyard from the top sail and swung out over the water," Brennan told the Beacon. "You release the rope as it takes you out, just let go, and drop 40 to 50 feet into the water. If you don't let go, you swing back over the deck and … well, you learn to let go over the water."
What his book is for
Brennan's wife, Susan, and his pup, Bayley the Wonder Dog, also share his love of sailing. The couple have two children and five grandchildren. "The kids sailed together with us on Long Island Sound, including day sails and overnight trips, but they've kind of gone on to other things," Brennan said, his voice filled with great memories.
Brennan has continued to crew on races, including the St. Pete-to-Isla Mujeres race, races between Florida and Havana, and Round Ireland Yacht Races. In June, he headed to Ireland to volunteer with the Irish Whale and Dolphin Group on its research vessel, Celtic Mist.
The book is a siren call for non-sailors to come aboard.
"I want readers who think sailing is too intimidating to read my book and realize it's not that hard to do, it's not that hard to learn," Brennan said. "My hope is some people end up sailing, crewing on another boat, even volunteering on a tall ship. That's the heart of it; it's not incredibly difficult and it's a lot of fun."
What about the tragedies at sea, the loss of life, the missing sailors?
"Take a look at all the people who have died on Everest," Brennan said, referring to the nearly dozen people who died on the peak in one week in May.
"That's why I don't plan to climb Everest," he said. "I don't want people to think sailing is all life or death — not at all. Ninety-nine-point-nine percent of sailing is all good fun."