PALM HARBOR — Curlew Hills Memory Gardens' annual 9/11 memorial ceremony had to be held virtually this year due to COVID-19, but that didn't stop the event's keynote speaker, Greg Amira, from visiting the spot inside the Curlew Road facility dedicated to the tragedy that claimed thousands of lives and left an indelible mark on the country.
Amira was in the South Tower of the World Trade Center, headed to work on the 73rd floor as a vice-president at Morgan Stanley, when the first plane hit the building. After making it out of the wreckage "without a scratch," the U.S. Army reservist went back inside the North Tower to offer help when he became trapped under a pile of rubble for more than five hours before being rescued.
Those memories are understandably still vivid in Amira's mind, and while most in-person ceremonies around the country had to be canceled this year in the wake of the coronavirus crisis, he believes that shouldn't prevent people from remembering the fallen and recognizing the significance of that day.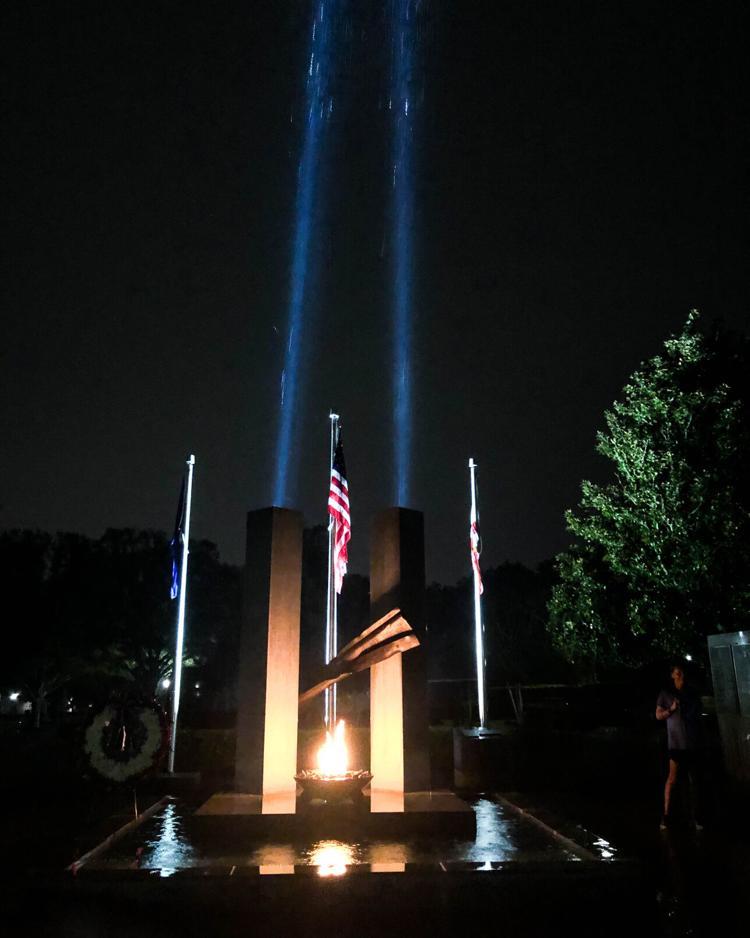 "I've said this for a while now and I'm trying to emphasize it more and more: going forward it needs to be memorialized … so future generations don't forget," Amira said on the night of Sept. 10 as he marveled at the light display representing the Twin Towers beaming 1,000 feet up into the sky flecked with drops of rain. "It's not even a blip compared to that. However, we do need to memorialize it so that future generations going forward don't forget it's largest casualty terrorist act on United States soil to this date, and I hope they never surpass it."
In addition to the painful memories of Sept. 11, 2001, Amira said he also remembers the way people came together in the wake of the tragic event, putting their differences and red tape aside for a common cause.
"Within hours people came together. No racism involved, no religion involved, nothing," he said. "And it wasn't just New York City or even the whole country, it was the world. And it wasn't like decision makers had to talk to each other. It was instantly, what do you need, you got it and it was there."
Amira, who now lives in Trinity and runs a nonprofit called Wounded Vets for Wounded Vets, said he would like to see that kind of selflessness and dedication to helping others be the lasting legacy of 9/11.
"Take that, take it forward, and just one day a year, on 9/11, pay it forward," he said, noting he would like to see the day become a national holiday. "Help a fellow person. I don't care if it's a nonprofit for fish and wildlife or disabled children. Give. And if you can't give your time and effort, give money, give a donation of goods and services, something, but just the one day a year use it to unite."
When it comes to giving back, Amira is not just all talk.
In addition to his nonprofit work, the Brooklyn native agreed to donate a piece of WTC steel he received on the 10-year anniversary of the tragedy to Curlew Hills to be included in the facility's 9/11 memorial section.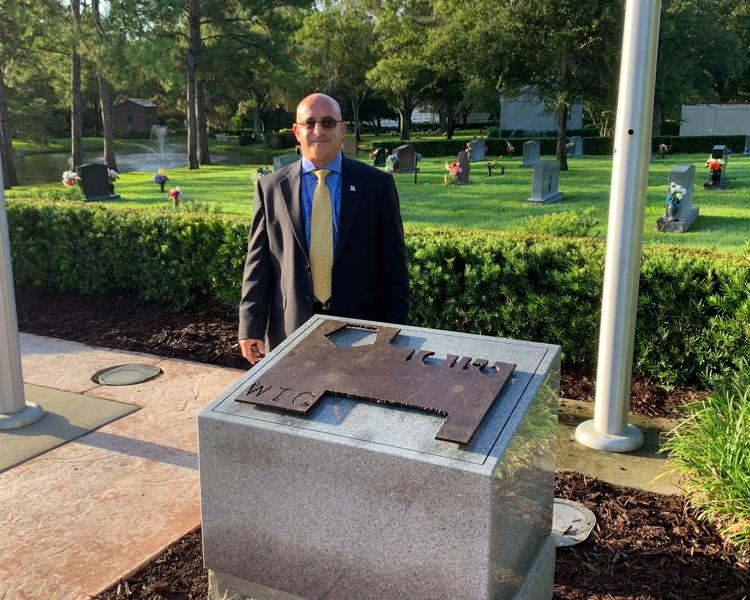 "I felt greedy having it at my home, keeping to myself and not being able to share it with so many others," he said. "So, when (Curlew Hills president and CEO) Keenan (Knopke) brought up the fact that we could add it to the park, it just blew my mind."
Amira said he wanted the piece to become a permanent part of the memorial so "others can see this and feel it," and he heaped praise on Knopke and the committee that puts the annual ceremony together.
"This memorial is second only to New York," he said, noting the many elements incorporated into the area, including tributes to Benghazi and those who have lost their lives since 9/11 as well as the giant piece of WTC steel that sits in a reflecting pool with an eternal flame at the base, make it so unique.
"And when you come here on 9/11 it's even more special."
As he stared at the twin beams rising high into the sky, Amira remarked it looked as if the lights were shining down, with the raindrops representing "the tears of angels raining down from the heavens above."