PALM HARBOR — The 2019 9/11 ceremony at Curlew Hills Memory Gardens in Palm Harbor has quietly become one of the largest in Pinellas County, following the 2012 creation of a special section centered on a piece of the World Trade Center and the inclusion of several unique elements over the years.
In addition to the memorial, which features the 150-pound steel beam flanked by twin towers made of concrete surrounded by mirrored pool, an eternal flame and walls dedicated to victims of the attacks, last year Curlew Hills officials, led by president and CEO Keenan Knopke, added a pair of twin light beams at the front of the facility as a prelude to the memorial ceremony.
"Every year we add a little bit more to make it more comfortable and enjoyable," Knopke said during the hectic lead-up to the ceremony. "It's definitely growing."
This year the beams, which reportedly can be viewed from a five-mile radius, attracted a steady stream of onlookers over the four nights leading up to the event.
"Amazing. Just awesome," St. Petersburg resident Jeremy Spradlin said as he observed them with his family on September 10. "I never even knew this was here. But this is absolutely phenomenal."
Spradlin, a former volunteer firefighter in Missouri, said "it's sad that some people seem to be forgetting the further away we get'" from the tragedy. "When it happened, everyone had a flag out. Now, they barely remember except on the actual day." He added he was glad he found out about the Curlew Hills memorial due to the lack of 9/11 ceremonies in the area.
"Not everyone can make it to Ground Zero," he said. "So, it's nice to have a place to come to feel a part of it and remember."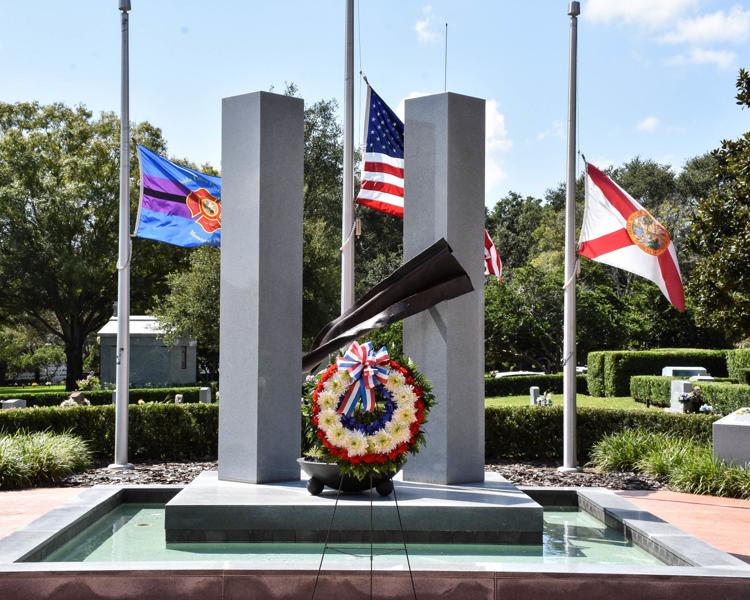 Indeed, the 2019 Curlew Hills Memory Gardens 9/11 Memorial Ceremony the next day delivered a number of memorable, emotional moments, including helicopter flyovers from the Coast Guard and the Pinellas County Sheriff's Department, 9/11 themed poems and artwork from area schoolkids, and several moving speeches.
"As we gather here today, it's our duty to keep alive the sacrifices of those who dies on September 11, 2001," keynote speaker and 9/11 survivor Patrick Anderson said. "It's been 18 years since 9/11, and those born since then have no memory of that day… Will you let those memories of heroism and loss be replaced?"
State Rep. Chris Sprowls, R-Palm Harbor, a New York native whose father is a retired NYPD officer, spoke about "America rising like a Phoenix from the ashes because that's who we are."
Afterwards, he lauded the Curlew Hills ceremony for helping to keep the memory of 9/11 alive.
"It's an amazing event," Sprowls, a Palm Harbor Republican who grew up in the area and was elected to the Florida House in 2014, said. "I have two small boys and they will come to this event. They will learn what happened on Sept. 11 and they will learn about it surrounded by the people who come to this event every year. And it will continue well beyond those who were alive at the time, and the reason why that will happen is because of events like this. I commend Keenan and Curlew Hills and Palm Harbor for making this such a priority."
Between the playing of "Echo Taps" by members of the Tarpon Springs Leadership Conservatory of the Arts, a bagpipe rendition of "Amazing Grace" by Dunedin bagpiper Josh Blais and "God Bless America" by Palm Harbor University's After-School Specials, several retired NYPD and FDNY officers, including Joseph Sprowls, led the placing of the wreath and the lighting of the eternal flame. In addition, Palm Harbor Fire Rescue Chief Scott Sanford conducted the traditional tolling of a bell recovered from an FDNY engine.
Following another flyover and closing remarks from emcee Mark Wilson, attendees flooded the memorial area, taking photos, saying prayers and reflecting on the gravity of the day.
Long after the space cleared out, two elderly women stood near the memorial, one consoling the other.
Dunedin resident Denise Reis, who lived in New York City on 9/11, was crying as she recalled her late husband warning her not to take the train into the city that day.
"He saved my life," she said, noting her husband, Frank, was a military veteran who died from Agent Orange-related illness. "I'll always believe that, and I'll never forget it."
As she slowly made her way closer to the memorial wreath, Reis said she was glad there was place she could come every year to remember the events of that day as well as honor her husband's memory.
"They should have ceremonies like this all around America," she said. "This is first class."