PALM HARBOR — Shortly after the coronavirus pandemic began in early April, the FEAST food pantry in Palm Harbor was experiencing record numbers of individuals and families visiting its facility at 2255 Nebraska Ave.
Thanks to a strong list of donors and a large number of volunteers, including many area teens who were out of school, the pantry was able to keep up while the COVID-19 crisis intensified in Pinellas County.
But with the kids about to go back to school, millions searching for work and no end to the pandemic in sight, the nonprofit, like many food pantries, is now struggling to keep up with the unabating demand.
"When the pandemic started, we were still doing well on donations, but we were seeing 2,000 people per month instead of 1,000," FEAST Executive Director Tamara Black said Aug. 7. "The numbers doubled in April, May and June, and then in July we saw 2,300 people."
Black said while donations from the community "were going well early on, they started to drop off," forcing them to purchase items like pasta, fruit, cereal and other staples.
"Initially people were excited to donate but they don't realize we still need, and a lot of people are still struggling in our area," she said. "It's really hard for a lot of people right now. They need help and I don't anticipate it stopping any time soon."
While the numbers of families in need continue to climb, Black said they have been using their off-hours (FEAST is open Tuesday through Friday from 9 a.m.-noon) to make some changes inside their small facility, which has been closed to clients since the pandemic started.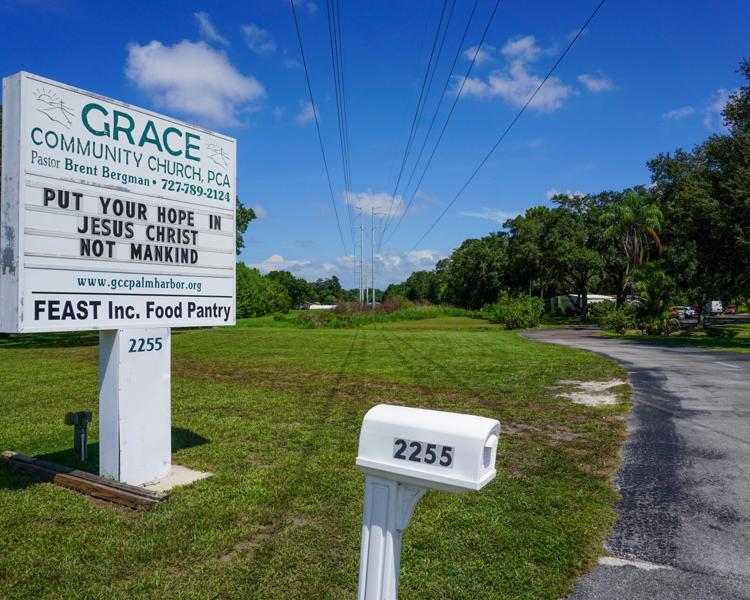 "We're utilizing the time to become more efficient, to create a better logistical flow and organize some things," she said, pointing to newly configured packing and receiving spaces as well as new donated flooring that was installed to help make the building more sanitary. "We're taking advantage of this time because once this is over and our clients can come back in the building, we want it to be as clean and as easy as possible for them."
She also said they were recently named as recipients of a $10,000 donation from Palm Harbor Cares, a community "giving circle" that collected donations and selected FEAST from three nonprofit finalists, that's earmarked for a commercial refrigerator.
"It will make it so much easier for us to store food that needs to be refrigerated," Black said.
During the walkthrough, Black noted the many empty spaces on the shelves.
"In the beginning, we were flooded with donations and we had so much food we were promoting what we needed," she said. "But now we're seeing empty shelves everywhere. We know people want to help they just don't know how."
Black said the best way for people to help is by "giving food or making monetary donations online at feastfoodpantry.com, and we also need volunteers, strong ones especially. We've been so fortunate to get kids to help us this summer but we're about to lose them so it's going to be tough."
Black praised the current crew they have at FEAST, which includes family members, new president Jeanne Andrews as well as dedicated volunteers like Robin McFerren and David Martin, a Dunedin resident who "showed up right after the pandemic started and hasn't missed a day since."
But she cautioned that FEAST and other area food pantries are going to need all the help they can get as the pandemic drags on and we approach the holiday season.
"Everyone's numbers are growing, and everyone is in need," Black said, noting FEAST recently collaborated with fellow nonprofits Dunedin Cares and Oldsmar Cares to swap goods.
"We're seeing younger families now needing help and with the holidays coming up I think the numbers are only going to continue to grow."
To donate to FEAST food pantry or sign up to be a volunteer, visit feastfoodpantry.com or call 727-789-5275.