DUNEDIN — Thanks to the coronavirus crisis, it's safe to say 2020 was a year that made everyone think about going back in time.
For Dunedin resident Bradley Despaigne, a traveling nurse who has faced the pandemic head-on, escaping the chaos and pain caused by COVID-19 was as simple as walking out to his garage.
Throughout the last year, Despaigne and his longtime friend and business partner, Joseph Benson, have been working on building an exact replica of the 1981 DeLorean DMC-12 from the 1985 film "Back to the Future." With 2020, and the iconic stainless-steel car, almost finished, he is ready to unleash his creation on the world and bring smiles to the faces of those who have suffered through this long, tough year.
"I've always been a fan of the movie since I was 7 years old, and my biggest dream was to buy a DeLorean and convert it into a time machine," said Despaigne, 36, noting he's watched the movie starring Michael J. Fox hundreds of times, often with his patients. "I'm a traveling nurse and I was a director of nursing for a rehab facility and the pandemic was a wakeup call for me. I knew I wanted to do something to make a difference in the community."
Despaigne's dream of building a four-wheeled "time machine" began to become a reality when he spotted one of the classic sports cars for sale in Inverness in September 2019. "I saw it on Facebook, and it caught my attention," he said. The instantly-recognizable vehicle is famous for its unique gull-wing doors and its eccentric creator, automobile industry legend John DeLorean. "I said garage or no garage, I'm going to get it, so I had it towed to my house and started working on it."
Despaigne and Benson soon learned the vehicle, which had 23,000 miles on the odometer, needed a lot of work following more than a decade of neglect.
"The seller told me it just needed a fuel pump, but it turned out to be a lot more than that," he said. It wound up costing more than $25,000 to get the mechanics on the car working again.
While the car sat at the DeLorean headquarters in Orlando for three months, Despaigne and Benson meticulously studied build schematics, blueprints and any piece of data they could get their hands on.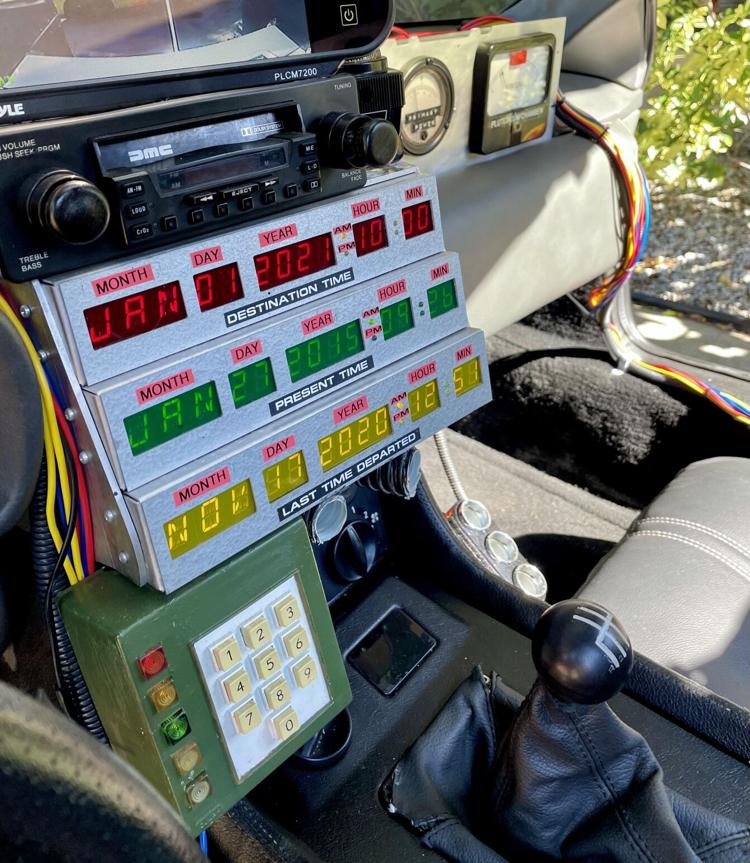 "We wanted to make it as accurate as possible," said Benson, who does a lot of custom car work.
To that point, Despaigne noted many parts "came from an aviation junkyard, pieces of old helicopters and airplanes, with the exception of the plutonium chamber, which is made from an old Dodge Polara hubcap, just like in the movie."
Indeed, when it came to building his dream machine, Despaigne was determined not to cut any corners.
"There's a $5,000 panel that goes inside the car," he said, adding that a lot of the parts are authentic and cost $3,000-4,000 each. "There's no cardboard and fake parts in here. This build has taken over a year and we've got more than $80,000 in it and we're not done yet."
While the car isn't complete — Despaigne said they are still working on sourcing some hard-to-find parts and said the build is 80-85% done — the DeLorean is already turning heads.
"There's not a day that goes by where I don't get stopped, asked questions, have pictures taken," he said. He was forced to build a garage behind his home to keep his creation out of sight.
Recently, the DeLorean made its car-show debut at Quaker Steak and Lube in Clearwater, where it quickly became a favorite of attendees and organizers.
"It got really good feedback, and the organizer parked us right in front," he said. "All we kept hearing was, 'Is it a real DeLorean?' and, 'Does it go 88 miles per hour?'" referring to the speed needed to activate the car's time-travel capabilities in the film.
Asked what he plans to do with the car once the build is finally finished, Despaigne said he is already renting it out for photo shoots, events and other occasions.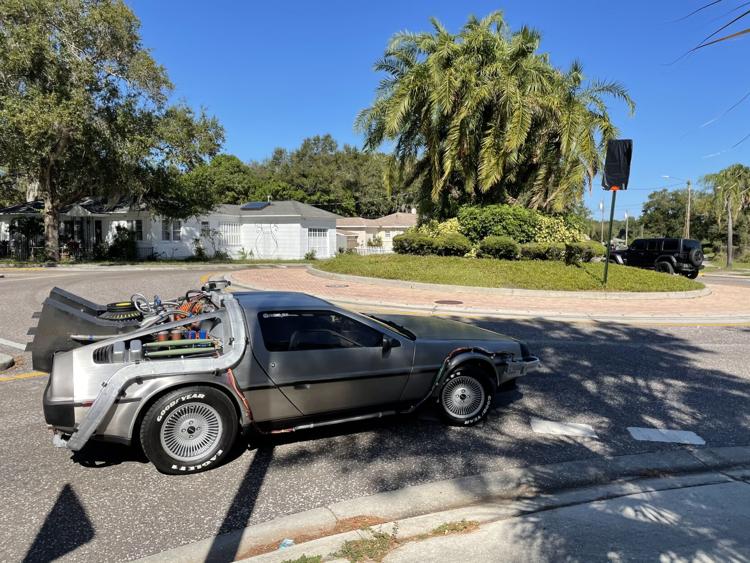 "It's not something you see every day," Benson said. "Who doesn't get happy when you see it? It's a once-in-a-lifetime thing to actually see one in person."
According to Despaigne, the car, much like his profession, is a way to make people feel better in a year filled with so much loss and despair.
"If you're watching the news, it's been a downer of a year," he said. "But being in the DeLorean or the medical field, having people say 'thank you' or making them smile, it really makes a difference and makes you feel good."