PALM HARBOR – Dick Hart's travels always have barbecue on the itinerary.
"I love Michael Symons' 'Brew, Chew & 'Cue' TV show on the Food Network, and I always try and visit the places he recommends when I'm out on the road," said Hart, a Palm Harbor resident. "They should really come here for a show."
He was referring to Iron Oak New American BBQ, which is Hart's home barbecue base when he's in town. Last week, Hart enjoyed a lunch at the establishment, located at 917 11th St. a block off the main drag. It opened Memorial Day weekend, replacing the short-lived Catcher and the Rye. Before that, Lulu's Beach House Café operated at the site.
What impressed Hart the most about Iron Oak?
"They know better than to throw away their burnt ends," he said of the flavorful pieces of meat cut from the "point" half of a smoked brisket and often considered a delicacy. "That's how you know a barbecue place knows what it's doing. I've been to places where they toss those."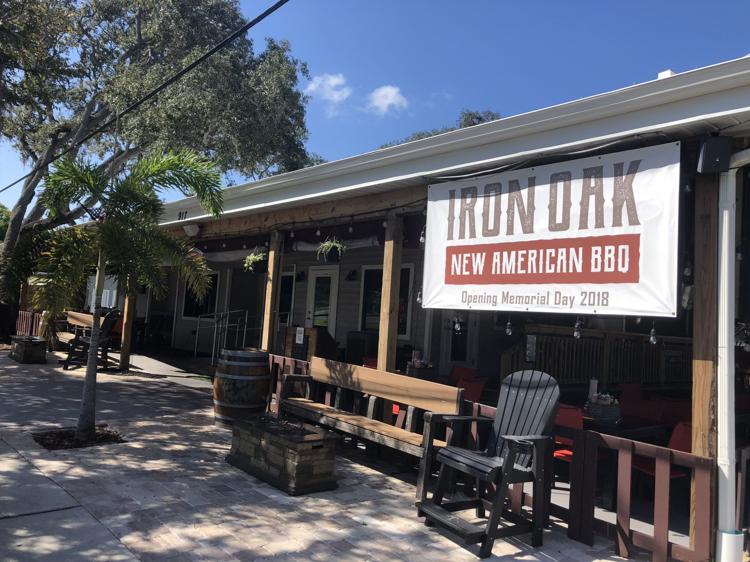 The restaurant, which is leasing the building, is part of Zachary Feinstein's ZJF Brands Group, known for Dunedin's iconic and award-winning Black Pearl and Living Room restaurants.
Despite being fairly new, Iron Oak has landed some accolades of its own. Recently, in its barbecue category, Creative Loafing presented Best of The Bay awards for the restaurant's pulled pork on a pretzel bun and to executive chef Chris Artrip.
Indeed, the establishment is off to a promising start, according to Kristen Gedeon, a server.
"We've had a good turnout so far. It's been busier than I thought it would be for this time of year," she said. "I can't imagine what it will be like during (tourist) season."
She'll hopefully be constantly ringing the bell located next to the bar – a routine that lets the staff know that no order tickets are in the hopper and everyone has been served.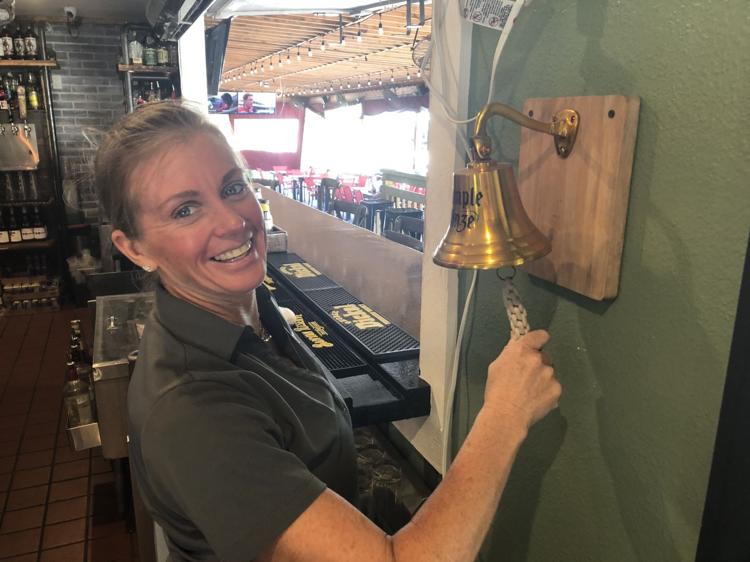 "It's our way of celebrating that we're getting things done," Gedeon, a Palm Harbor resident, said.
The use of organic, steroid- and hormone-free meats are essential for quality, assistant manager Carolyn Rivera said, coupled with a slow-cook smoker filled with hickory and oak.
Even the chicken wings are smoked.
"I love the smoked flavor," Hart said. "I'm not sure how they do it so well, but it works."
Rivera didn't want to give out too many secrets, but she added they also pride themselves in creating their own sauces.
"Everything's homemade," she said.
The fact that barbecue is not common fare in Palm Harbor is another recipe for success.
"Places here serve mostly fish, or bar food," she said. "We don't have a true competitor."
Then there's the old-world Florida décor and layout, featuring a tree-lined wrap-around porch.
"This place is even comfortable when you're outside," first-timer Brad Bedwell, visiting from Bradenton, said as he sampled a beer at the outside bar. "The shade is great and I love the old-school casual feel with the brick and wood flooring. It's cool in every way."
He was visiting fellow Marine Corps veteran Mike Smith, a Palm Harbor resident, who used to visit the previous establishment but felt it was smothering.
"You don't have people on your shoulder," Smith said. "It shows good discipline on their part, to trust in 30 tables instead of 90."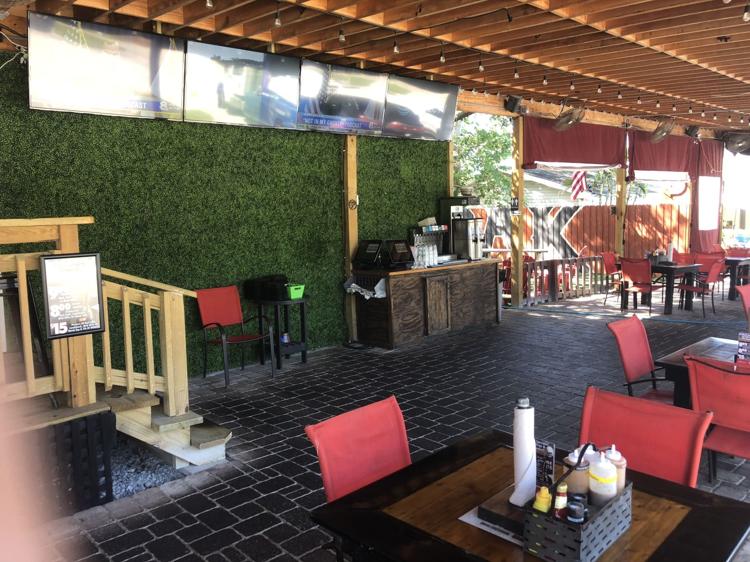 The airy porch is limited to 20 tables, complete with several TVs and seven rail-side stools. The inside holds six tables and seven stools at the main bar.
Around the corner is a beer garden, complete with picnic tables and cornhole station. Outside the front of the restaurant are benches situated next to cozy fire pits.
Back inside, 20 beers are on tap, including 11 of the craft-beer variety.
"We put an emphasis on the small breweries in the Tampa Bay area," Gedeon said. "We know that's what people want."
That includes Palm Harbor's own Hefeweizen, courtesy of de Bine Brewing Company on Florida Avenue.
Even some of the food offerings are the result of customer input – something Hart appreciates.
"I've given them suggestions online, and they've responded," he said. "I said they should serve pork belly, and they said they'd try it.
"It's nice to know that someone listens."
Iron Oak is open 11 a.m. to midnight Monday through Friday, 10 a.m. to midnight Saturdays and 10 a.m. to 10 p.m. Sundays.