PALM HARBOR — Fresh palm trees are now sprouting up all over Palm Harbor.
Well, make that palm tree murals.
The bevvy of murals come courtesy of Palm Harbor artist Michelle Sasha Wright, who has undertaken a campaign to offer residents to paint a palm tree mural — free of charge — at their home.
The singular condition is the murals must appear on the outside for other residents and guests to see.
Wright painted her first palm tree mural in early September on the side of the Palm Harbor Community Services Agency building on 16th Street.
Since then, Wright's murals have started to appear at various locations throughout the area.
"It does give you this sense of community, immediately," Wright said. "My goal is for it to be one with the community."
Wright's palm tree mural inspiration came from seeing the ever-present orange murals adorning downtown Dunedin.
The murals were painted by local Dunedin artist Steve Spathelf, who began on July 3, 2010.
"I thought, whoever this artist is, is a genius, because there are oranges everywhere," Wright said.
Wright's mural campaign began when she posted the free offer on a Palm Harbor Facebook group and on her website, www.MichelleSashaCustomArt.com.
"I posted a picture of the palm tree mural and said, 'Hey, if anyone wants a palm tree, I'll give you one for free.' I thought maybe 10 people would ask for one," Wright said.
What happened next may best be described as a palm tree mural genesis.
"I had about a hundred people signed up within an hour," recalled Wright. "Right now, I'm just under 300 names."
Palm mural applicants want to place the mural at their home or business, she said.
Her multi-mural project does present a logistical challenge: How to paint hundreds of mural requests as efficiently as possible.
To do that, Wright created a spreadsheet featuring customers' names and locations that she then uploaded to Google Maps to produce "painting clusters" of mural applicants located in various geographic areas.
"I can now see where the mural painting clusters are, and work off of the clusters," Wright said.
She says under ideal conditions, she'll be able to produce 5 to 7 murals a day.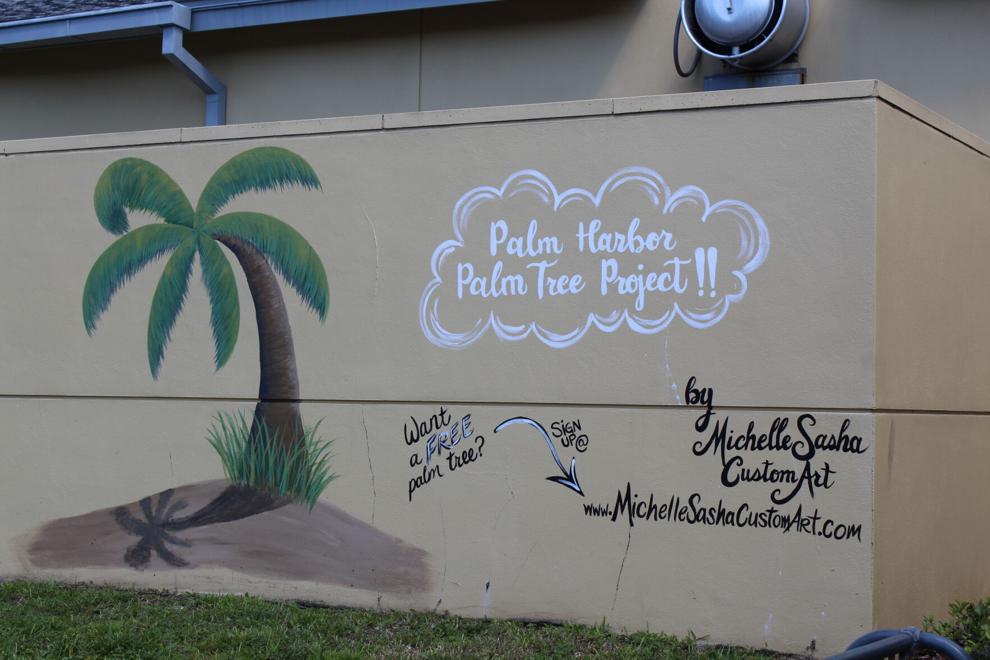 Tracing the palm tree's roots
Originally from Long Island, New York, Wright credits her mother and the internet as inspiration for her own palm tree mural.
"I looked up a bunch of palm tree pictures, and then went back and forth with my mom," Wright said. "I wanted to make sure it was recognizable as a literal palm tree."
Wright, who has painted since childhood, only became a professional artist in March, leaving her successful 15-year career as an insurance agent to pursue what she says "my gut told me."
Wright has decided not to charge her palm tree mural customers.
"I would love for this project to still be something that I just give back to the community," Wright said. "For now, it's still open for anyone to sign up."
She says her mural project follows her artistic credo to create custom art to satisfy a customer's own personal vision.
"Let me take that thing, this idea that is in your head, and transform that into something for you," Wright said.
Her mural project has reaped financial benefits for her own art business, generating 1,500 views on her own website.
"It's paying back tenfold," Wright said. "For every person who is looking for a palm tree, there's one other person that has contacted me about getting a mural for their home."
Another unexpected project side benefit, says Wright, residents offering up praise on the Palm Harbor Happenings Facebook group.
"That's been the best part thus far, how many people who have seen the mural have been touched by it," Wright said. "It is very touching; I didn't expect that."
A self-described "people person," Wright says the mural project has prompted her to meet people again.
"It's brought me back to getting to know people again and being more optimistic," she said.
So far, palm tree murals have appeared outdoors on a house wall, a garage, mailbox and picket fence.
To create palm tree murals, Wright uses ordinary exterior house paint.
"It's a durable as can be; it's made for it," Wright said.