DUNEDIN — One thing most people could agree on at a town hall on architectural design concepts for the new City Hall-Municipal Services complex was that they did not want an institutionalized, government-looking building.
They want to see something that says trendy, coastal Dunedin, Florida.
Three architectural concepts were shown to those in attendance at the Hale Center on Sept. 10, with a design that featured a rounded, rotunda-shaped archway building design and tower addition winning most acceptance.
Another concept that included an overhang covering the building entrance drew criticism as looking like a service station awning, while another design depicting the side of the building with a row of large flat windows was said to look too institutionalized.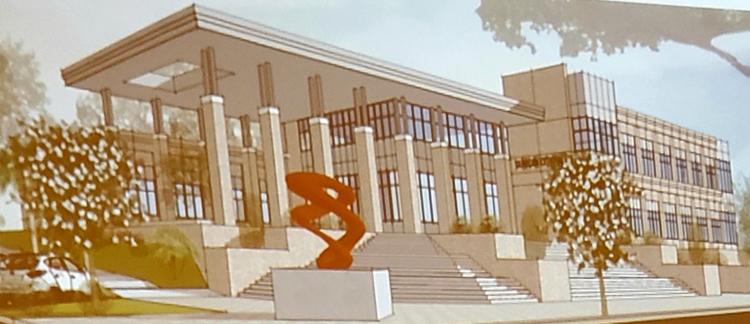 Architects noted the overhang was included to shade those outside the building from the sun and it was difficult to show all the design features in a one-dimensional drawing.
Architect Amy Weber, with Harvard Jolly Architects, explained that plans are to construct the 37,500-square-foot City Hall-Municipal Services complex at 737 Louden Ave., which is the existing site of the Technical Services and Municipal Services Building.
The complex, which includes a one-story City Commission chambers wing, consolidates three city buildings into an adjacent 2-story structure. The complex will be disability-accessible from all parking areas off both Louden and Milwaukee avenues, will preserve large stately trees and will provide room for two outdoor courtyards.
As currently conceived, architects envision an L-shaped complex stretching along Milwaukee Avenue, Wood Street and portions of Louden Avenue. Because of the difference in height from Highland Avenue to Milwaukee, there will be a series of grand steps leading to a courtyard at Louden Avenue and Virginia Street.
There is also space for an estimated $96,715 public art component, to adhere to city requirements that a developer must include public art with new construction.
She added the complex will have backup power generators and will utilize solar power panels on its roof.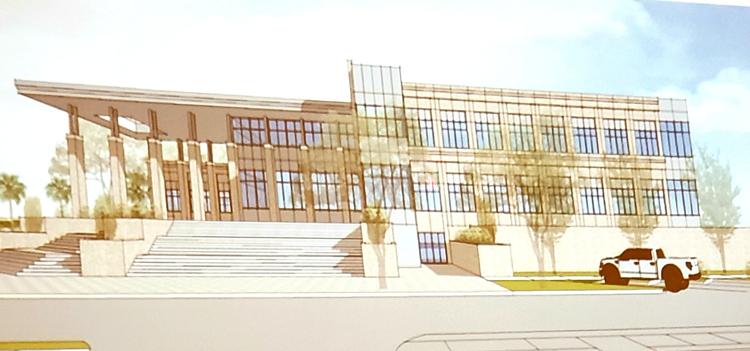 The 1.7-acre site will allow for City Hall to be built in a campus-like setting with a corresponding vertical parking structure that includes two elevated decks, located across Louden Avenue, on the former First Baptist Church property now used as surface parking at 500 Wood Street, according to Deputy City Manager Doug Hutchens. The city envisions selling a portion of the property along Wood Street to a developer who will build townhomes to buffer the residential area from the parking garage and defray a portion of the project cost.
The $24.7 million project will be paid for using $17.4 million in Penny For Pinellas funds, $2.5 million from the Community Redevelopment Agency, $3.4 million from the utility fund, $926,000 from the building fund and $563,000 from the general fund, Hutchens explained.
The city's current facilities have outlived their usefulness and are cramped and deteriorating, Hutchens explained. The municipal building first served as City Hall starting in 1958, the current City Hall was initially used as a library starting in 1964, and the Technical Services Building was the old police and north county sheriff's station that first opened in 1977.
The city wants to build an iconic City Hall-Municipal Services Complex that will be a showpiece for the next 50 to 75 years, Hutchens said.
Ward Friszolowski, Harvard Jolly owner, noted the building should last more than 100 years, if properly taken care of.
As the city prepares to demolish its old buildings and prepare for construction of the new complex, departments located in both the Municipal Services Building at 750 Milwaukee Ave. and the Technical Services Building at 737 Louden Ave. will be relocated to temporary sites, Hutchens said.
The current City Hall at 542 Main St. will continue to be operational until the new complex opens in the fall of 2021, the deputy city manager added.
Long-range thinking is to demolish the old City Hall in 2022 and create a second Pioneer Park on that site.
Bob Ironsmith, CRA director, who is in charge of the relocation effort, explained the finance and purchasing department will be housed at the Dunedin Community Center at 1920 Pinehurst Road. Human resources, risk management and utility billing will be relocated to the MLK Jr. Recreation Center at 550 Laura Lane.
The current utility bill payment drop box located outside the Municipal Services Building will also be moved to the new temporary location and will continue to accept check payments. 
Economic development, the City Clerk's office, and planning and development, which includes the building division, code enforcement and zoning and engineering, will be relocated to a commercial center on 1415 Pinehurst Road.
"We understand that these department relocations may be an inconvenience for customers. The city is committed to keeping the public informed and encourages everyone to follow the city's website and social media outlets for project updates," said City Manager Jennifer Bramley. "We are looking forward to a new City Hall Complex. A consolidated building with all of these departments under one roof is key for our organization and staff to best serve the residents, businesses and visitors of delightful Dunedin."
Demolition of 737 Louden and 750 Milwaukee will take place this fall; the project will be put out for bid April 2020 to June 2020, with a contractor scheduled to be chosen in July 2020. Construction will take place from Sept. 2020 to Oct. 2021.
Officials said the conceptual drawings will allow the public, various advisory boards and City Commission to weigh in on suggested changes before architects create a final design by April 2020, which will be approved by the City Commission.