OLDSMAR — Instead of the gold shovels that are typically used for ground breaking ceremonies, the pile of dirt in the open field at the Oldsmar Sports Complex on May 17 was lined with blue and black hockey sticks.
The equipment change was appropriate for the occasion, however, as Tampa Bay Lightning and city officials broke ground on a new public outdoor street hockey rink, the first facility of its kind in Pinellas County and one of 10 "Lightning Made" facilities the NHL organization plans to build in the greater Tampa Bay area over the next two years, according to the Lightning's vice-president of community hockey development, Jay Feaster.
"We want kids to have a place to play," Feaster said prior to the ceremony. "This is something we believe in very strongly. It's important. We gave away 100,000 sticks, traveled to area schools and conducted clinics and found kids really love the sport and … it's really growing in this area. That's why we're building 10 outdoor rinks."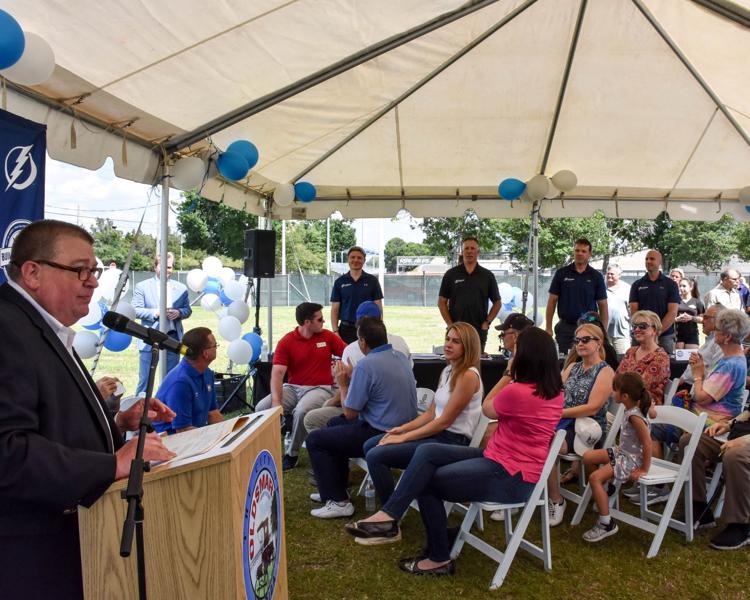 Feaster, who served as general manager of the Lightning's 2004 Stanley Cup winning team, said Oldsmar proved to be a perfect partner in terms of location, facility and cooperation from local officials.
"This is the first location in Pinellas County, and to have it in this great location at a great facility right on Tampa Road is huge," he said, noting the first Lightning Made rink opened in Lakewood Ranch in October 2017. "It's an exciting opportunity for us, and it's great to work with the city on this. I hope to work with people as enthusiastic as we are about these projects, and that's been the case with (City Manager) Al (Braithwaite) and his staff. They have been great to work with."
As a crowd gathered around the large tent set up in the field across from the city's BMX Supercross track, Mayor Eric Seidel introduced some of the attendees, including Lightning CEO Steve Griggs, former players Dave Andreychuk, Jassen Cullimore and Ruslan Fedotenko, Pinellas County Commissioner Dave Eggers and state Rep. Jamie Grant, R-Tampa.
Stating it was "an historic day," Seidel said they're "super excited to have a partnership with a world class organization in the Lightning. They bring all kinds of important opportunities for us with partnerships and programs, training sessions and clinics.
"Ten years from now potentially thousands of kids will be coming through this project because we had a vision and took the first steps."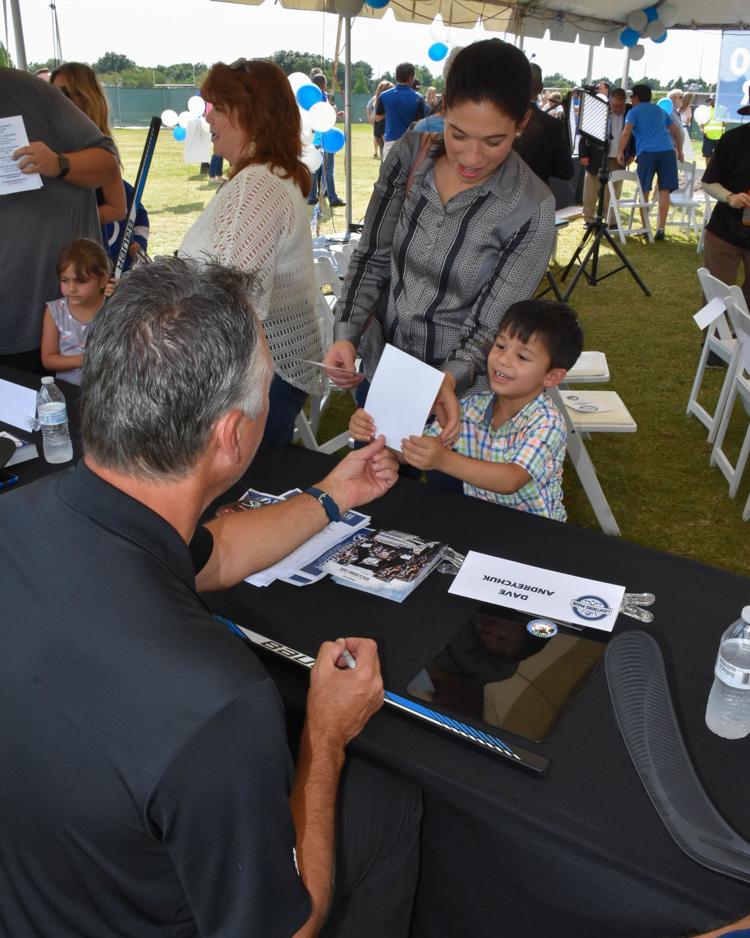 According to city officials, the project is estimated to cost $600,000. Oldsmar will use $500,000 in capital improvement funds earmarked for the Oldsmar Sports Complex for its share of the cost and the Lightning Foundation contributing $100,000, plus ancillary costs for equipment, clinics, leagues and other expenses.
Braithwaite, a self-proclaimed hockey nut who plays on the city's recreation league team, said the additional services the team would provide far exceeds the initial $100,000 contribution.
"It is important to remember that while not considered in the numbers, the contributions from the Lightning organization, as we use the new facility, are priceless," Braithwaite said via email after the ceremony. "For the community, for the Tampa Bay Skating Academy (a privately-owned ice hockey facility nearby) and for all hockey enthusiasts. This facility will be the most impressive one built to date, because of the commitment of the Oldsmar City Council."
Before posing for the traditional groundbreaking photo, former Oldsmar Mayor Doug Bevis spoke about the culmination of a "crazy idea" Braithwaite brought to him years ago.
"Al came to me and said, 'I have a crazy idea' and I said, 'let's do it!,' " Bevis said. "I always said, dream big or go home."
Bevis, who famously tried to lure the Tampa Bay Rays to Oldsmar with a plan for a stadium in the city, said they "build first-class facilities in Oldsmar, and this is no different. It's going to be incredible for the youth of Oldsmar and the area and give them something else to be proud of."
After flinging dirt along with Oldsmar City Council members Gabby McGee and Linda Norris and the Bolts team mascot, Thunder Bug, Eggers praised Oldsmar's next community sports facility.
"North County seems to have a lot of "firsts" for Pinellas County, and Oldsmar really leads the way," Eggers said, mentioning the adjacent BMX track and the zipline park at Mobbly Bayou Preserve.
"This is going to be another amazing "first" for the county run by a first-class organization that's going to be great for kids and adults. I'm looking forward to seeing it play out, and we're excited to be a part of it."