OLDSMAR — The city swore in its newest fire chief in a ceremony held during the Aug. 20 City Council meeting.
Jason Schwabe, an 18-year Oldsmar Fire Rescue veteran, had been serving as an interim chief in the wake of former Fire Chief Dean O' Nale's departure in June 2018.
After being sworn-in by City Clerk Ann Nixon, Schwabe said a few words about the promotion.
"I just want to say I'm thankful for this great opportunity to serve as the next fire chief," Schwabe said after being sworn in by City Clerk Ann Nixon. O'Nale began the tradition of installing the firefighters during the council meetings "so I thought it was a good tradition to keep moving on with," Schwabe said.
Schwabe then handed the microphone back to Nixon, who swore in Angel Hernandez as a Fire Rescue lieutenant.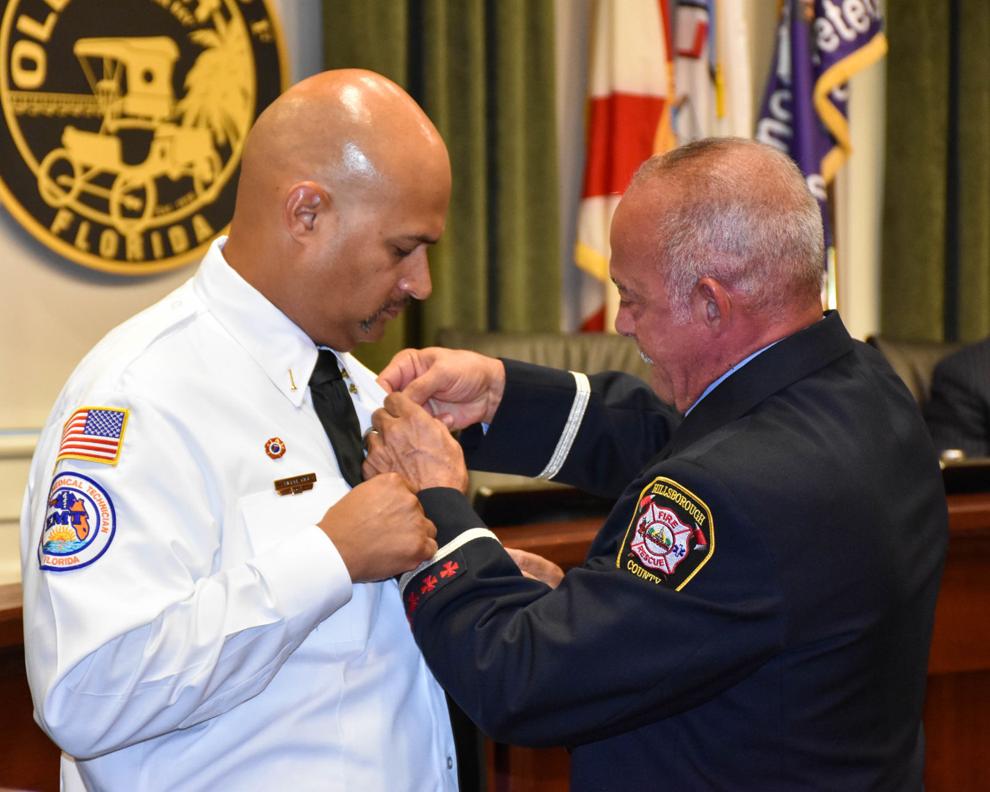 "I just want to say thank you to the new chief for giving me the opportunity to become lieutenant and prove what I'm worth," Hernandez, a 12-year veteran of the department, said.
He also thanked his colleagues and O'Nale for "being a pretty good example for me when I was hired. I never thought I'd be lieutenant, but he kept pushing me above and beyond…and here we are."
Hernandez was "pinned" by his father, former Oldsmar and Hillsborough County firefighter Gus Garcia, before the pair posed for photos with officials and family.