DUNEDIN — As a student in the University of Tampa's entrepreneurial program, last year Belicia Adams was tasked with creating a concept for a new business. When she began brainstorming ideas for the project, she knew she wanted to focus on two areas: art and giving back to the community.
She and her partner, Alexis "Stix" Brown, are both artists.
"So, it was important to try to figure out how to make art a business in a way that would impact people," Adams said.
First, she came up with Art Expressway, a mobile project that would bring art to the underserved, those unable "to leave the comfort of their homes," she said. It would target schools, senior living facilities and other long-term care communities.
Then she realized there was another segment of the community she'd like to serve: the military.
Both she and Brown have military ties. Adams served in the U.S. Army Reserves and has veterans in the family, including her brother. Brown's mother and father also served in the military.
"We definitely wanted to make sure we were serving our military community," Adams said.
She created the concept for Paint22, an organization offering free art activities to veterans. The program is modeled after Mission 22, a national nonprofit that combats the rising veteran suicide rate. Around 22 veterans commit suicide every day, which is why that number is so important to veterans and important to Paint 22's mission, she said.
"I definitely wanted the 22 in there," she said. "We immediately get responses. 'What does that mean?' is one of the common questions. It's a great conversation opener. We lose 22 military personnel a day."
After she completed her class project at UT, Adams decided to launch both projects for real in the spring of 2018.
"It was a success during the feasibility analysis state, so I decided to launch them," Adams said.
The Dunedin couple had always talked about working together, so she elicited Brown's help.
"When we first met (in Louisville, Kentucky), we immediately began talking ideas," Brown said. "We both love art. What can we do together?"
While they still operate both Paint22 and Art Expressway, their focus has shifted primarily to their work with military veterans.
"Florida demanded Paint22, so we pushed it forward," Brown said.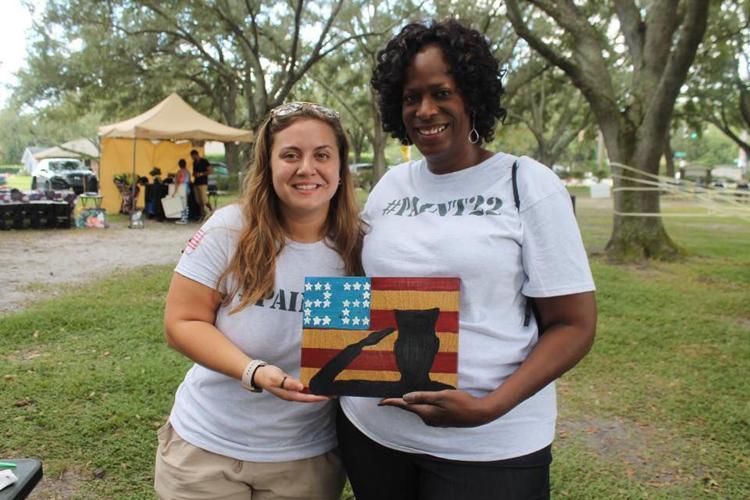 Since then, they've hosted several small group arts workshops for veterans, and even organized the Paint22 Family BBQ July 27 at Veterans Memorial Park in Oldsmar.
The key to their military outreach has been partnerships with various veterans' organizations, including VFW posts and the Homeless Empowerment Program in Clearwater, to spread the word about their free art workshops. One of the biggest relationships has been with the Florida Veterans Support Line, known to many as MYFLVET, a crisis center for veterans, Adams said.
"They have helped us reach local veterans," she said. "Connecting with veterans, getting them out is so important. I feel like we're giving them more of a healthy lifestyle through art, something they might hopefully pick up on their own. We're giving them an alternative way to express themselves."
Paint22's next event is its first annual Red Tie Fundraiser on Friday, Oct. 4, 7 to 9:30 p.m., at the Scarfone/Hartley Gallery at the University of Tampa, 310 N. Blvd.
The evening includes entry to a private art exhibit, refreshments, a photoshoot, a 50/50 raffle, a silent auction and more. Formal dress attire is preferred, though all attire is permitted.
Tickets range from $10 to $25. They can be purchased at www.eventbrite.com/e/paint22-red-tie-fundraiser-tickets-71365166133
For more information about the arts programming provided by Paint22, visit Paint22.com.