TARPON SPRINGS — Under clear skies but chilly temperature, the Feast of the Epiphany was observed in Tarpon Springs on Jan. 6, for the 114th time.
The city's celebration of the baptism of Jesus Christ held every Jan. 6 draws thousands from around the state, the country and the world for a day that begins with morning Mass at St. Nicholas Greek Orthodox Cathedral and concludes with an afternoon of food, drink and dancing known as Epiphany Glendi. In between the highlight of Epiphany is the dive for the cross, where dozens of teenage boys attempt to retrieve the holy symbol thrown by the Archbishop into Spring Bayou, with the retriever embraced by his friends before being carried up the steps and back to the cathedral like a returning hero.
This year, Hunter Sakadales, 18, of Tarpon Springs retrieved the cross from the chilly waters of Spring Bayou.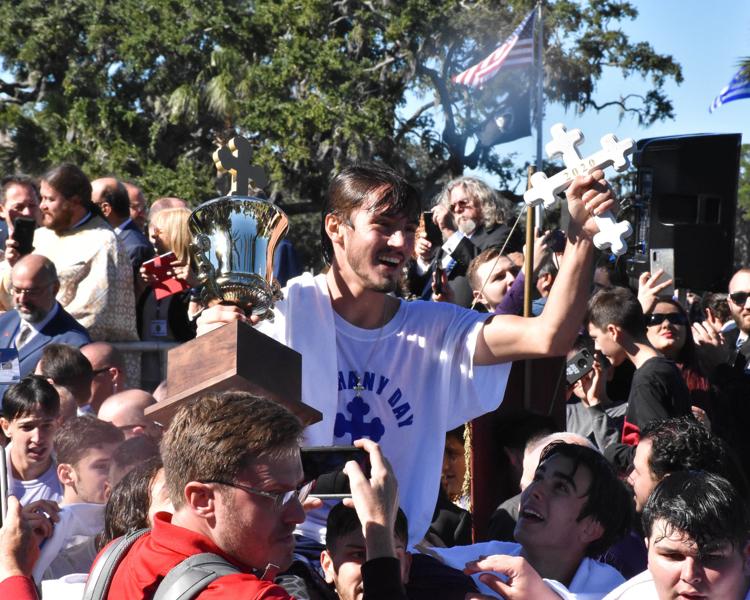 While many Greek communities have epiphany observances, Tarpon Springs' version has grown over the decades into one of the largest of its kind outside Greece, according to local historians and city officials.
"For over a century the Greeks of Tarpon Springs have shown incredible dedication to preserving and celebrating this aspect of their heritage, which is directly linked to the foundation of the community in the sponge industry and their deep religious faith," Tina Bucuvalas, a local author, producer and historian said via email. "Their Epiphany celebration — which is the largest and most widely known in the U.S. (and possibly anywhere) — has grown exponentially over the years but has remained fundamentally the same."
Bucuvalas, the city's former curator of arts and historical resources, spearheaded several successful campaigns to list local landmarks on the National Register of Historic Places. She believes Tarpon's Epiphany observance has become so popular — attendees regularly include politicians, religious dignitaries and celebrities — due to the city's large Greek-American community's desire to keep longstanding traditions alive.
"I would say that the reason that Epiphany in Tarpon Springs has remained so special over the years is that the Greek community in Tarpon Springs has tenaciously held on to more of its original culture than most ethnic communities," Bucuvalas wrote. "One reason for that is when an ethnic community comprises the majority or close to the majority population (as Greeks did for a good part of the twentieth century in Tarpon Springs), they are more likely to retain their culture than when they are a small minority."
Mayor Chris Alahouzos, who was born in Greece and grew up in Tarpon Springs, said he believes a big reason his city's Epiphany celebration has become such a huge event is due to its crossover appeal.
"Epiphany brings everyone together, regardless of faith," Alahouzos said in early December before leaving on a holiday trip to Kalymnos. "It's an event a lot of people come to see, and you don't have to be Greek Orthodox, or even Catholic, to enjoy it."
Alahouzos, a retired longtime telecommunications executive who as a youth unsuccessfully dove for the cross three times, also credited technology with broadening the event's reach.
"It's always been a big event but when it became accessible to everyone via television and the internet, more people started coming," he said. "As time goes by it's become easier to learn about it, and the more people see it, the more people want to come to Tarpon and experience our Epiphany celebration for themselves."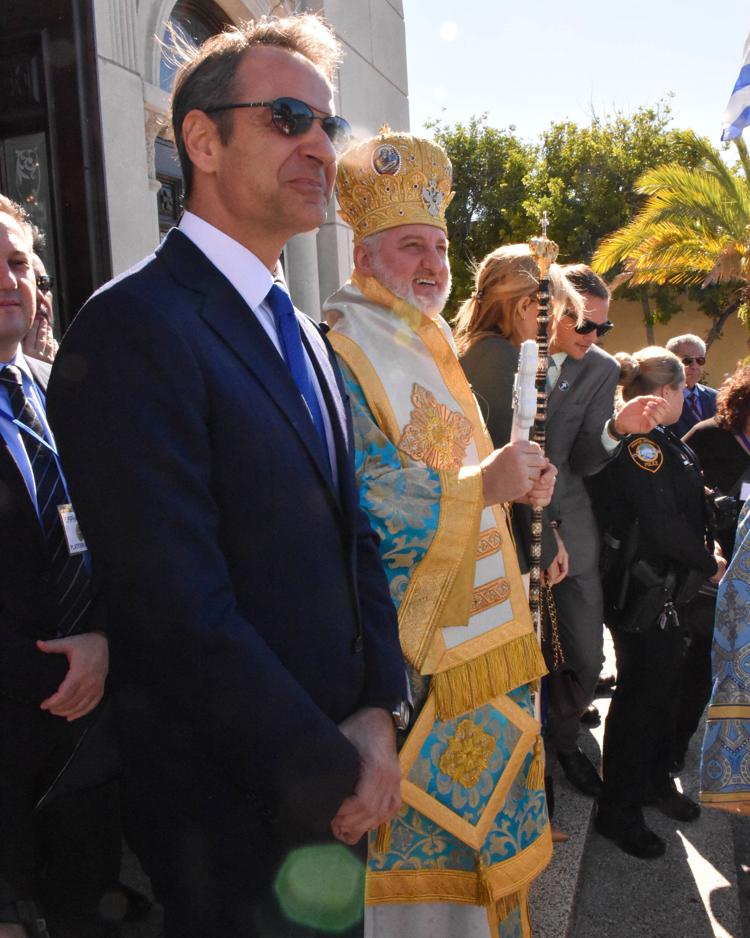 Indeed, last year's event was believed to be the biggest one to date, with warm weather leading to huge crowds that included NASA astronaut Nicole Stott and U.S. Rep. Gus Bilirakis, R-Palm Harbor.
Tarpon's 114th Epiphany 2020, however, was expected to eclipse that record, as the city will welcome a first-time guest, Kyriakos Mitsotakis, who became prime minister of Greece in July 2019.
The 51-year-old Mitsotakis, who was elected in July, is reportedly the highest-ranking Greek official to attend the city's epiphany celebration.
"It's an incredible privilege and honor to have guests like this, and it just shows why Tarpon Springs is known worldwide as the Epiphany City."
Archbishop Elpidophoros will be in attendance at this year's Epiphany rites in Tarpon Springs. He was installed as the Greek Orthodox Archbishop of America in June 2019. He succeeded Archbishop Demetrios, a past Epiphany celebrant.