It has been a long time since Seminole won a district title in girls soccer — 10 years, to be exact. On the other end of the spectrum is Palm Harbor University, which just went back-to-back.
The Warhawks and Hurricanes were joined by Dunedin and Shorecrest Prep as district champions.
Having lost three previous district finals by one-goal margins, Seminole finally came out on top with a 2-1 comeback win over St. Petersburg, a rival it defeated 3-0 earlier this year.
"What a ride that was," Seminole coach George Gomes said of his team erasing a 1-0 deficit with a pair of second-half goals. "I've never seen such emotion as when I walked on the field after."
A hit post followed by the Green Devils scoring the first goal did not set well with the Warhawks.
"I was like, I can't believe this. We're going to lose again," Gomes said, adding that after the game his players were "full-out hysterical crying. I think all those years took a toll."
Katelyn Tallbacka sent a through ball to Kylie Ovalle, who scored the tying goal. Ellie Carrington got the game-winner, finishing off the play after Jocelyn Markiewicz lofted the ball over the defense.
"As soon as we scored the tying goal the pressure came off of us," Gomes said.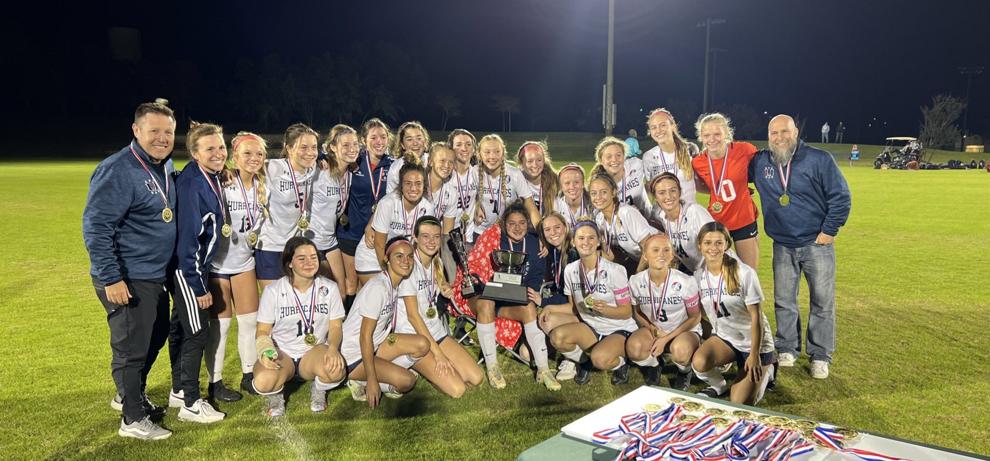 PHU remained unbeaten at 16-0 with a 3-2 win over Steinbrenner. The Hurricanes got goals from Morgan Little, Makenna Egan and Alyssa Tutas with assists by Kassie Fragale, Erin Walker and Lindsay Nicholson.
That scoring notwithstanding, coach Randy Irick lauded his defense for its collective effort. That group included sophomore goalkeeper Keely Cash, a replacement for starter Nyla Crittenden who suffered a season-ending injury earlier, along with backliners Ava Tutas, Emma Luecke and Abby Haber.
"It's just our starting core," Irick said. "Our captains every year come out and do a good job in taking leadership roles. Having a good regular season helps big-time."
The team's co-captains are Payton Porter, Crosby Nicholson, Little and Fragale.
As for the other district champions, Dunedin got a goal and an assist from Sarah Didriksen, with Myleigh Oglesby adding a goal in a 2-0 shutout of Gulf.
Shorecrest Prep soundly defeated Carrollwood Day 5-1. Kaja Dionne led the way with a hat trick and an assist. Adelaide Oman and Lili Scoby each added a goal for the Chargers.