OLDSMAR — According to a 2012 Library of Congress article, "The responsibilities of Poets Laureate during their terms are not well understood because there are few formal requirements."
After listing the three formal requirements for the national Poet Laureate position, the article states, "Outside of these major responsibilities, Poets Laureate are largely given the freedom to shape the position based on their interests and inclinations."
Since taking over the position earlier this year, Oldsmar's latest Poet Laureate, Amanda Butler, has been inclined to start the first City Council meeting of every month with a bit of verse.
"I attend the first City Council meeting of each month and read a poem to the council during the open forum," Butler, a 28-year-old former English major, author and avid poetry writer, said. "I love bringing my poetry before the council. Usually I try to relate it to monthly themes or something about the city that inspires me."
Butler, a Massachusetts native who moved to Oldsmar two years ago, took over as the city's Poet Laureate from Steve "Gator" Black roughly a year ago and decided to be very visible and interactive in her approach to the position.
According to Laura Kepner, a Safety Harbor author and founder of a local writers and poets club, Butler has placed her own spin on the role of the municipal Poet Laureate.
"Usually, local Poets Laureate go to one or two meetings a year, and sometimes other events like holiday gatherings, and read a poem," Kepner said. She has, however, never heard of anyone doing what Butler is doing. The co-author of "A Brief History of Safety Harbor, Florida" applauded Butler for her approach. "Poetry can be so highbrow," she said. "What she's doing makes it more accessible and shows anyone can write a poem and enjoy the beauty of poetry."
Indeed, Butler is doing her best to prove you don't have to be an English major and a professional writer to be a poet; in addition to reading her own poems, she assigns "homework" to the council members and staff, also.
"After I read my poem to City Council, I love challenging the council members to write their own poetry," Butler explained in an email. "There is never any pressure if they do not wish to partake, but I believe it's a great opportunity to take time to appreciate poetry: the art that can be found anywhere."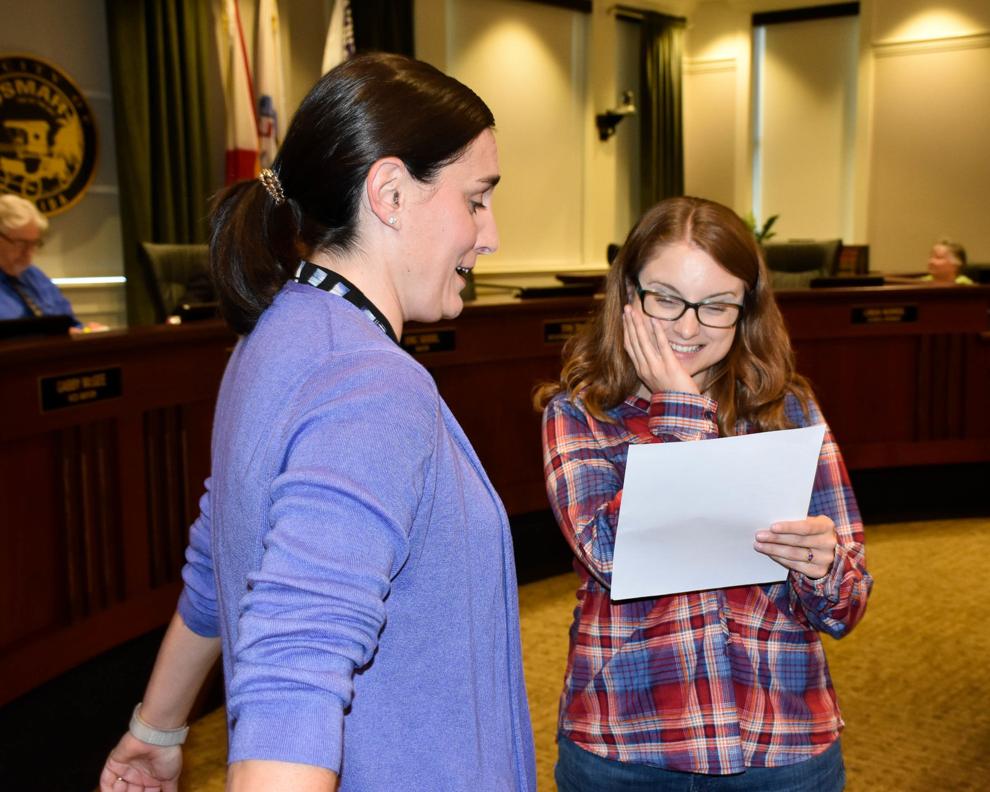 Though some officials appeared intimidated by the assignments at first, often admitting they had never written a poem in their life while scrambling to look for their lost homework amid the papers in front of them, the idea has slowly been catching on.
"This is the first poem I've ever written in my entire life," Councilwoman Linda Norris said during the June 18 meeting. She then read her piece, titled, "The Soul of a Superhero: A Brave Heart," a touching tribute to first responders that caused her to get choked up.
"Running towards (danger) while we run away," Norris read, "so that we may go on to live another day. The brave hearts are our everyday superheroes. Our first responders."
Butler was thrilled with the contribution, dishing out "poetry snaps" to Norris, who later thanked Butler for helping her step out of her comfort zone.
"With Oldsmar having Amanda as our very own Poet Laureate, our cultural game is on the rise," Norris said. "My poem was the first I had ever written, but it will not be my last."
If Butler was thrilled when Norris completed her homework, she had to be downright giddy when no fewer than four officials, including Mayor Eric Seidel, produced poems centered on a nature theme at the first meeting in August.
"I want to make sure everyone knows this is what you do in your role," Seidel explained to the audience Aug. 6, adding," we're not actually poets."
To that point, Butler politely disagreed.
"I like to say if you write a poem, you're a poet," she said with a smile.