PALM HARBOR — Five unknown American soldiers are now no longer gone and forgotten.
Discovered within the Water Street Tampa development site in 2018, the remains of five unidentified soldiers were interred at Curlew Hills Memory Gardens in Palm Harbor on March 4.
Given an official military service that included a rifle salute by the Florida Army National Guard's Honor Guard, the soldiers' remains were buried adjacent to the cemetery's 9/11 Memorial.
The Water Street construction project now underway was once site of a military post called Fort Brooke in the 1800s.
After the soldiers' remains were unearthed, Army officials approached Curlew Hills Memory Gardens as a possible local resting place for the soldiers who were identified in part by "U.S." buttons found on deteriorated uniform remains.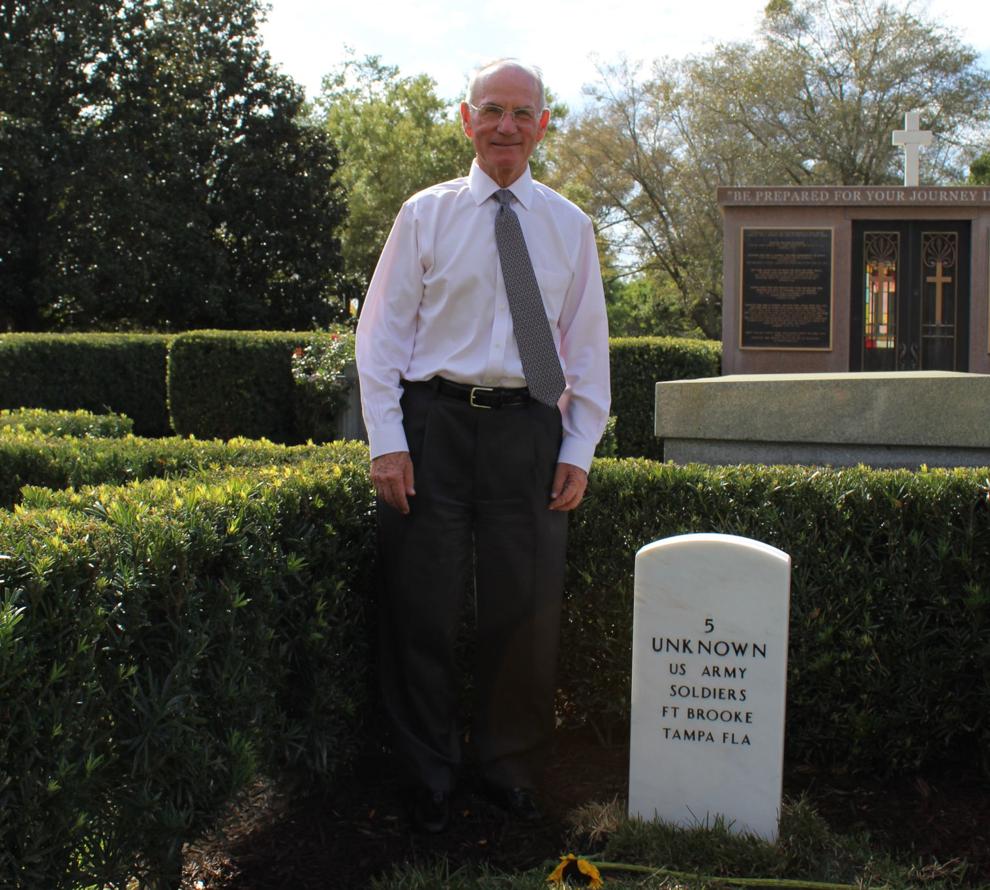 "We told them that we do everything we can for service to our veterans," said Keenan Knopke, president and chief executive of Curlew Hills Memory Gardens. "We would be happy to put in a proposal based on their terms."
Curlew Hills is honored the cemetery is the soldiers' final resting place, Knopke said.
When Army officials first approached Curlew Hills, Knopke said they told cemetery officials that they weren't able to find an acceptable cemetery site in downtown Tampa.
In addition, since the soldiers could not be identified based upon their remains, they could not be buried in any military cemetery, including Arlington National Cemetery in Washington, D.C.
"The Army officials said, 'Remember the time period,'" Knopke said. "'Remember the requirements for burial in those cemeteries. You have to have a name; you have to have a serial number.' They never could identify them, per se, with either a name or a serial number."
That left Army officials with the task of finding an alternative resting site for the soldiers that would meet the department's needs.
"They (Army officials) looked at other cemeteries like us that are licensed in Tampa, in Hillsborough County, and nobody seemed to meet their criteria," Knopke said.
Knopke said Curlew Hills was given the OK for the soldiers' burial after a review by Washington, D.C. officials.
"We were told that people would come and look at us and we didn't know that they were here," Knopke said. "We were told that they came and took pictures and sent them off to Washington, D.C."
After Curlew Hills Memory Gardens was selected, it submitted a burial proposal to officials in Washington, D.C.
There were changes, Knopke said.
"At first, we were going to try to do five separate graves," Knopke said. "Then it changed to being five in one grave, which makes a whole lot more sense."
Each soldier's remains were placed in a separate small container that was then placed into one large container, Knopke said.
The soldiers' badly deteriorated remains reflect the passing of 150 years or more and then contemporary burial methods, Knopke said.
"They probably got the best that they could at the time," Knopke said. "They buried them as well as they could, in the order that they died. They gave them a good burial."
The choice of a single-grave format altered the site location somewhat, Knopke said.
"When they were talking about five graves, we were going to be in a different part of the cemetery than we are now, with its own flagpole and so forth and a little more history about Fort Brooke on a monument," Knopke said. "That changed to what it is today."
The site consists of a singular grave site with a marble headstone that reads "5 Unknown US Army Soldiers, Fort Brooke, Tampa, Fla."
"They are out by our 9/11 memorial, they've a got an American flag real close by and they're facing East, as the best that they can tell," Knopke said. "The grave is now marked, whereas before they were never marked to the best of their knowledge."
Other soldiers may still be found in downtown Tampa, Knopke said.
"It would not surprise me that there are others down there, depending upon where they go," Knopke said.
Knopke said Curlew Hills Memory Gardens is grateful for having been chosen as the site for the soldiers.
"We're just honored to have them," Knopke said. "To give them what they thought they got in 1850 or 1860 — whenever they died — their final resting place. I can assure you today, they've gotten that."