EAST LAKE — The crowd that showed up at the East Lake Community Library on July 15 for the Council of North County Neighborhoods' latest legislative update wasn't the largest in the organization's 11-year history.
But according to CNCN officials, it might've been the most boisterous.
Roughly 30 residents filled the new community room at the East Lake Community Library for a 90-minute town-hall style meeting with a pair of Republican lawmakers from the Palm Harbor area, state Sen. Ed Hooper and state Rep. Chris Sprowls.
State Rep. Jamie Grant, R-Tampa, was also scheduled to appear at the forum but was unable to attend after being called to a meeting in Tallahassee, according to CNCN President Tim Lima.
After some brief introductory remarks, the lawmakers opened the floor to questions, and it didn't take long before hot-button topics such as climate control, voter's rights and arming teachers were addressed.
"It's been reported that the recent legislative session was the worst session in decades," said Noah Denny, 15, a student at J.W. Mitchell High School, in Trinity. He cited as examples the failure to pass legislation to ban plastic straws statewide and the legislation that was passed implementing Amendment 4, the voter-approved measure meant to restore the voting rights of former felons.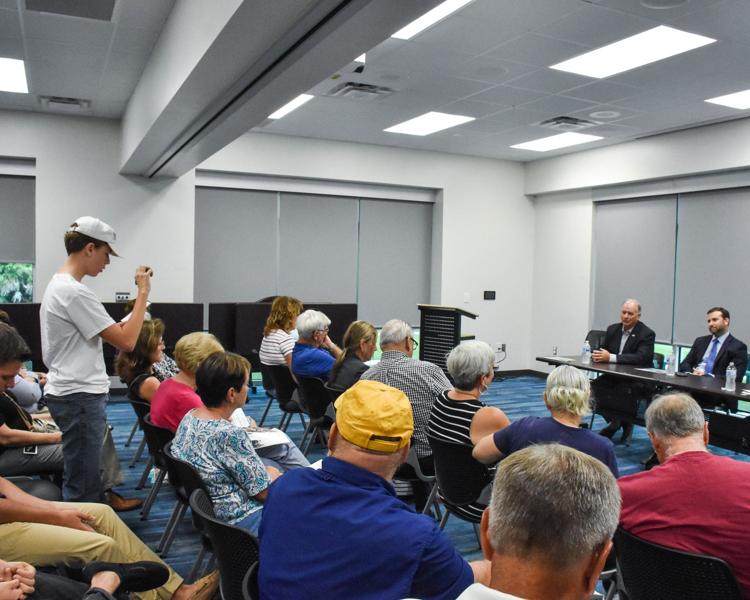 After a giving a speech that lasted several minutes, Denny told the lawmakers: "I want you to panic, I want you to think the world is on fire — because it is — and do something about it."
After the applause, Sprowls defended the Legislature's response to Amendment 4, which restores the voting rights of Floridians with felony convictions only after they complete the terms of their sentence and paid any fees and fines.
"The exact language of Amendment 4 is what passed in the House and the Senate," Sprowls, a former assistant state attorney, said. "It's disheartening to me, because a lot of what has been reported is completely and utterly incorrect."
Throughout the evening, the Amendment 4 implementing legislation was repeatedly derided and referred to as unconstitutional.
"Do you think it's right for Americans to have to pay a fine to be allowed to vote?" a woman who only gave her name as Katie from the West Chase area of Hillsborough County, asked. "Are there any other fines you're required to pay before you vote beside this 'poll tax?' "
Sprowls bristled at the term, stating, "It's not a poll tax. A poll tax has massively racial implications," a response that was met with several comments of "exactly" and "that's right" from the crowd.
Things continued to get a testy from there; when one woman accused the legislators of being un-American, Hooper quickly replied, "We're all Americans in here, and shame on you for accusing us of being un-American."
Hooper then began responding to a question about his support of arming teachers in the wake of the Parkland school shooting when he stopped and said: "I'm sorry. I didn't mean to interrupt y'all's groaning."
Jessica Harrington, a teacher who ran against Grant in 2018 and said she intends to do so in 2020, called for Grant, Hooper and Sprowls to return campaign contributions from the GEO Group, a private prison operator.
When Hooper, a former firefighter and Clearwater city commissioner, denied taking money from GEO, Harrington produced evidence of a $1,000 contribution to his senate campaign in 2018 the lawmaker has declined to return. Sprowls who has also declined to return a GEO donation, stated, "My answer is, money doesn't impact me."
The remark that was met with groans.
The evening ended with a comment from Laura Grimme McCullough, an ER nurse and advocate for bereaved parents. In response to an earlier remark about Florida not being able to accomplish everything alone, she said, "I want Florida to be the place where the rest of America says, 'why can't we be like them?' I want us to set the example."
"This is what America is"
Afterwards, several participants spoke about the somewhat contentious meeting.
"This is what America is — meeting in a local library and talking about important issues that affect the community," Sprowls said. "Even when we're disagreeing, this is how important decisions get made, by listening and taking action."
Hooper, who admittedly had his patience tested several times, said: "You expect the beatings and the negative remarks and comments. I don't think anybody enjoys it, but it's part of the job. Even knowing it's sometimes going to be unpleasant, it's part of the job."
While "still mad" at Sprowls for his support of the Amendment 4 legislation, Jacqueline Farrell of Palm Harbor said she appreciated the fact that he and Hooper showed up.
"There's a lot of politicians who won't face hostile crowds, they won't have town halls," Farrell said. "So, I admire these guys for coming here. They handled some tough moments and I give them credit because they didn't have to do this."
McCullough agreed. "They came out, God bless them," she said. "They didn't run. They took it on the chin, but at least they were here."
CNCN President Lima also praised the lawmakers, as well as the residents for coming out and speaking.
"I think it provides an opportunity for all the residents of this area to voice their opinions and ask questions of their state legislators," he said. "It just shows the kind of representation we have in this area is fantastic."