DUNEDIN — A new method of paying restaurant workers has rattled the tight-knight hospitality community in downtown Dunedin, as a handful of former Black Pearl employees staged a protest in front of the upscale eatery to bring awareness to the issue.
In addition to the Aug. 26 protest, owners and current staffers have taken to social and mainstream media to share their sides of the story.
Former employees Zach Benson, Tabitha Crewe and Whitney Southall stood outside the restaurant holding signs that read "$1.00/HR is NOT OK" and "Fair Wage or Better Bottom Line?" The protest began after Black Pearl owners Christine and Zack Feinstein — who through the Feinstein Group, also own the nearby Living Room, Sonder Social Club on Douglas Avenue and a new Living Room in Wesley Chapel — moved to a "commission-based" payment system for tipped workers, dropping hourly pay to $1 an hour. The new system also gives tipped workers 15% of a mandatory 20% gratuity that's added to every bill, with the opportunity to make more via their service.
The remaining 5% goes to bussers, hosts and barbacks, who typically received a percentage of the servers' tips. According to Zack Feinstein, the new model is being implemented at several major restaurant chains nationwide, including Ford's Garage, and is designed to benefit all front-of-house staff.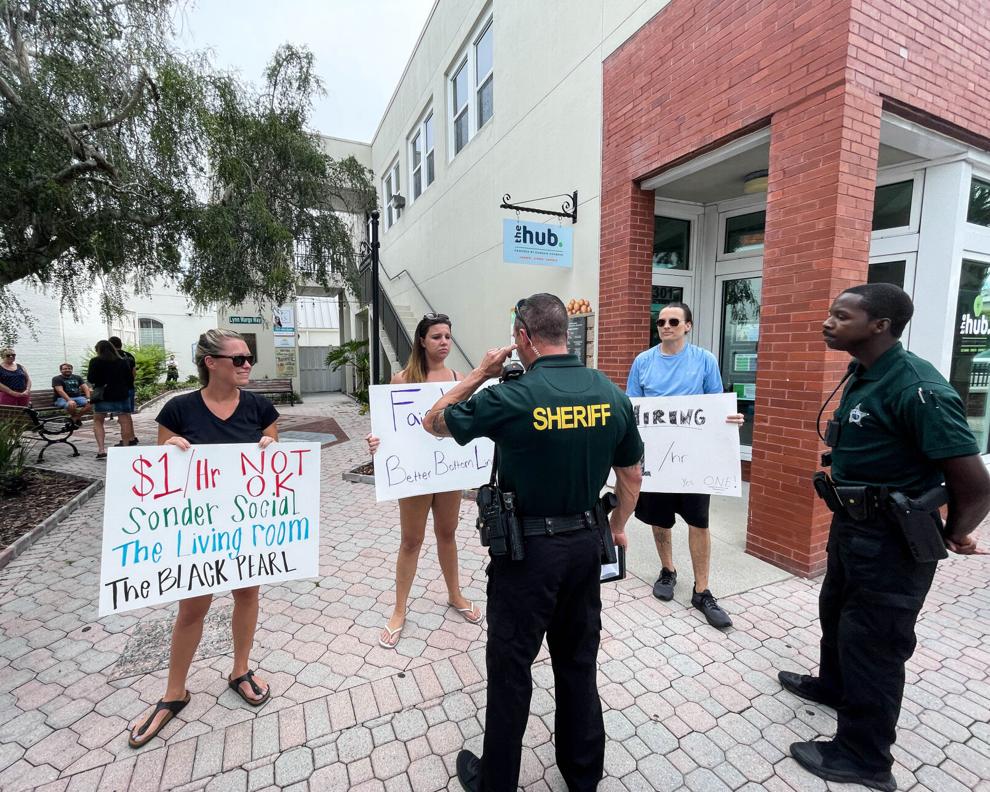 "What we're trying to do is raise the minimum wage for all employees, level the playing field and bring everyone together," Feinstein a few days after the protest.
The restaurant was closed briefly and then reopened with several new staff members, including a sommelier who doubles as host.
"We wanted to give everyone more livable wages and remain attractive to our customers, price wise," Feinstein said.
The owners spent six months studying the commission model and meeting with consultants before launching the new model at the Living Room in February, he said.
"It's a fairly common model — Bern's has been doing it for 40 years," he said of the high-end Tampa steak house. "But it's a completely different model that we're using here."
Feinstein has spreadsheets he says show the difference between how much servers make under the new system compared to the old one.
"The data shows it does work," he said. "And I was a skeptic."
He also touts employee testimonials saying they, too were skeptical until the Feinsteins met with them, explained what was happening and asked them to trust it would work in their favor.
"I like the model," Samantha Soto, the Living Room's lead server, said of the new system, noting she's making more money now than before it went into effect. "Before, if you made 20 or 22% in tips, you're not walking home with it every night, because you have to tip everyone out. So, having that 15% guaranteed is a security net, and then it's up to you to get more on top of that with your service."
Soto said she always explains the situation to customers and "typically they're really receptive to it when they understand how it works, but others see it's (automatically added) and have their minds made up."
Indeed, while the group of ex-employees spoke to passersby, including tourists, residents, and two community police officers observing the peaceful protest, some said they sympathized with their plight.
"I believe people who are working the hardest deserve to be taken care of," Clearwater's Monica Fay said. "I spend a lot of time here and if I hear about somebody getting unfair wages, I definitely won't be going to that establishment again."
The issue of informing the customers is one Zack Feinstein acknowledged he wished he'd handled better. "I wish we'd been more clear to guests what we were doing and been an open book from day one," he said, adding they have since placed QR codes at every table that direct diners to a website explaining the system.
He's also developing a podcast that will cover every aspect of what he labels "the future of the hospitality industry."
Regarding the ex-Black Pearl employees, Feinstein said two servers were terminated due to them "creating a hostile work environment," and not as a direct response to the implementation of the commission system.
"They lost a job they loved because they created a hostile place to work," he said, adding two hosts were also let go when they decided to phase the position out.
He and his wife bought the 36-seat Black Pearl in 2014 and the Living Room a year later. 
"A business without employees is just a building," Feinstein said. "The employees are everything we do, and we try to take care of them. Maybe the new system is not for everyone, and that's what I tell everyone. But at the end of the day, we're trying to do what's right by everyone who wears the 'TFG' logo on their shirts. We always want to do what's best for the employees. Period."
For the group of former TFG employees, all they can do is hope to bring attention to the changing system.
"I worked there for seven years, and I love the people—our chef is probably the most talented in the country," Benson said. "My problem is the business model. It's not good for the future of the industry."
When asked how she felt protesting outside the place she worked for a year and a half, Crewe, a 16-year veteran of the hospitality industry said flatly, "They can only fire me once; I've got nothing to lose."