OLDSMAR — When word got out that Gene Dale was trying to establish a Veterans of Foreign Wars post in Oldsmar, he said a common response was, "What took so long?"
"Nothing but positive and excited, and many said it's been a long time coming," Dale, VFW's District 21 commander, said when Oldsmar Post 12186 launched this year. "They all said we're glad we have a VFW post in Oldsmar now."
Indeed, it's understandable how some people would be surprised that Oldsmar, one of the most veteran-friendly communities in the state, a Purple Heart City that's home to scenic Veterans Memorial Park, didn't have a VFW post.
"We should have everything here! We're a Purple Heart City, we should have a Purple Heart chapter," said Frank Chicollo, a Vietnam veteran with three Purple Hearts who works with Congressman Gus Bilirakis on veterans' issues. "But I think this is great. It's long overdue."
Dale said the idea of bringing a post to Oldsmar had been floated in the past. "There was talk about putting a post here three years ago, but no one actually did it," he said. "At the time Oldsmar wasn't like it is now, and it has been a priority of mine to get a post here."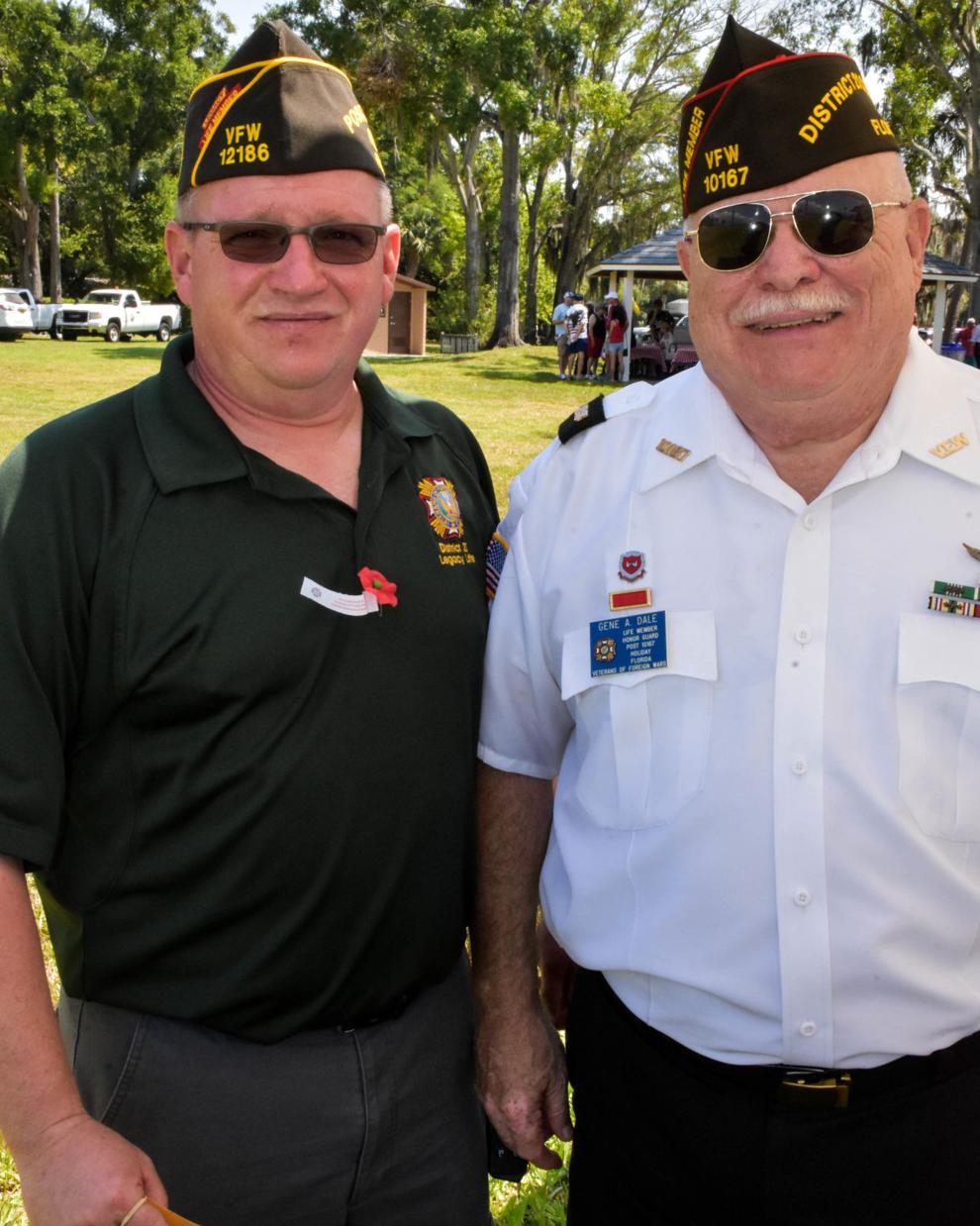 After entering the long process to receive its charter, members began meeting in the back room at Jack Willie's bar and grill in April. Under the guidance of Cmdr. Dave Bear, who has spearheaded several membership drives, the post's membership has grown.
"There's been a few changes since we started," Bear said during an Oldsmar Cares event at Veterans Memorial Park in October. "We have our charter now and we're up to 60 members, and our auxiliary is ready to charter. We're also in second-place in terms of VFW programs in the state, so the growth has been fantastic."
Bear said he knew the area was hungry for a VFW chapter when they were in the process of researching potential sites. "We looked at Land O' Lakes and Oldsmar and other areas, and when we saw how veteran-friendly Oldsmar is, it was a no-brainer," he said.
With the growth comes growing pains, however, and Bear said the post is at the point where it needs more space. "We'll never forget Jack Willie's. They have been great to us," he said. "But we've already outgrown it and we need to look for something that can accommodate us."
Bear said his "dream" facility would feature meeting and storage space as well as a kitchen and an office. "Being a brand-new post in a new city, we're just looking for something bigger," he said, adding, "I don't want to lose the momentum now."
He said he hopes the group can remain in Oldsmar after taking so long to establish a post in the city.
"We definitely want to stay within the city limits," Bear said. "Maybe the city will help us out, and there's a lot of veterans in the area. But I'm excited we picked Oldsmar and we definitely would like to stay here. We'll have to see what happens."
For area veterans who have finally found a post to call home, the thought of moving is disappointing.
"I joined (a post) in Tampa in 2004 and it went defunct, so I think this is a great idea," said Tampa's Doug Prestergaard, a VFW member since 1969, while standing at the Post 12186 membership table on Memorial Day.
"It's been 10 years since I had a place to go to meetings and to call home. So it's nice to finally have one nearby."