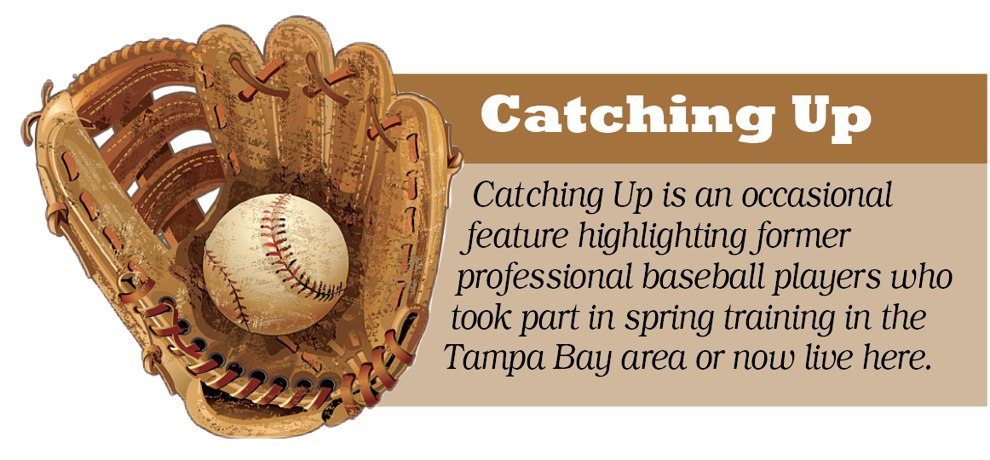 In November 1976, Dave Lemanczyk was enjoying himself immensely in the warmth of Puerto Rico, hanging on the beach, surfing and eating lobster — and playing some baseball. When he left the states to go south to hone his pitching skills, he was a Detroit Tiger. When he returned to the mainland he was a member of the expansion Toronto Blue Jays.
"A teammate (on his Puerto Rican team) came up to me one day and said, 'What's up, Blue Jay?'" recalled Lemanczyk. "I was like, 'Really?'"
Yes, really. After three-plus seasons with the Tigers, Lemanczyk was taken by Toronto in the expansion draft. Three months later, in February 1977, he was in Dunedin for the Blue Jays' first spring training camp. By then he had already had a contract disagreement with his new management. When he was in Puerto Rico he was in the process of being traded to another team that would have paid Lemanczyk an extra 30K that winter. But the Blue Jays told him no go — we don't want you to wear out your right arm.
"That cost me a lot of money," Lemanczyk said. "We didn't get off to a great start."
Things didn't get any better as Lemanczyk had a couple of run-ins with rookie manager Roy Hartsfield early on, and into the season.
"He set up so many fines that were just stupid," he said. "I was the first guy fined. I skipped a parade so I could follow up on a great deal on apartment rentals (near Dunedin). There were around 10 units available and nine players ended up going in on it. We paid something like $400 a month, which was a much better deal than in the hotels they wanted us to stay in."
Later in the season Lemanczyk's wife was pregnant and, of course, he wanted to be there for the birth of his first son. But the Jays were on the road, which made things tricky. He spent time on the phone with her leading up to the birth by helping her go through Lamaze breathing exercises.
"I got a lot of looks in the clubhouse," he joked.
As it got closer Lemanczyk was determined to be home for the birth even though he had a pitching assignment in Milwaukee. He hatched a plan to be removed from the game early and hop on a short flight to Toronto.
"In the first inning, bang-bang, I hit a couple of batters and before you knew it we were down 2-0," he said. "I had told my wife to call as soon as she was in labor and when I came into the dugout there was a message for me to call home. But it was the doctor — he said, 'Focus on the game.'"
At 2 a.m. the next morning he got the call he was waiting for. He drove to O'Hare Airport in Chicago and got on the first flight to Toronto, arriving in time for the magic moment. On May 19, 1977 the first Baby Blue Jay was born. Now Lemanczyk was hoping to be with his wife and son for a couple more days. He asked Hartsfield if his scheduled Sunday start could be moved to Tuesday. Hartsfield refused.
"I really couldn't believe it," he said. "What was the big deal? So I came back and got my ass kicked on Sunday."
Many years later, Lemanczyk does give Hartsfield, who led the team for three years — his only major league managerial experience — some slack.
"He was a new guy and wanted to make the most of it," he said of Hartsfield, who passed away in 2011. "He was caught between a rock and a hard place."
Even though he had his issues early on with management and with Hartsfield, Lemanczyk understood the significance of getting a chance to pitch as a front-line starter with an expansion team. With Detroit he was a fifth starter at best, as well as a long reliever. His record with the Tigers was spotty.
"Coming to Toronto was a fresh start," he admitted. "The big thing is that I now had an opportunity to pitch on a regular basis."
The Blue Jays struggled that first year, going 54-107 and finishing last in the East, but Lemanczyk had his best season to date. He made 34 starts and led Toronto in wins with 13 and innings pitched with 252. He added 11 complete games and a 4.25 ERA. And while he also lost 16 games, he was looking forward to 1978 and beyond.
Lemanczyk was the opening day starter in 1978 and it didn't last long. He was gone before the fourth inning. It didn't get any better as the season wore on. Instead of being perceived as the ace of the staff, he became relegated to spot starts and relief appearances.
"In spring training I pitched very good, but once the season started I couldn't get anybody out," remembered Lemanczyk, who admits his confidence level sunk dramatically as the season went on. "They weren't sure what to do with me. I felt I was under a lot of mental pressure."
He said he isn't making excuses, however, he thought that the team was putting extra pressure on him right from the start that year when they requested he room with a younger player — he won't name names — who was having personal issues. "They thought I could help the kid," he said, saying it became a burden for him especially as his own pitching troubles escalated.
Incredibly, Lemanczyk bounced back early in 1979 and was seemingly on his way to a Comeback Player of the Year Award. His confidence back, he hurled a 1-hitter in a 2-0 win over Texas and finished the first half of the season 7-5 with a 3.15 ERA, good enough for him to make the All-Star team for his first and only time.
"Making the All-Star team after my horrible year the year before that was totally unexpected," said Lemanczyk.
Unfortunately, he struggled in the second half of the season with injuries. His season tapped out at 8-10 with a 3.71 ERA.
As a team, the Blue Jays struggled, too, again finishing last for a third straight year leading to the firing of Hartsfield.
Lemanczyk would eventually finish his career with the California Angels in 1980. After that season he retired.
"Honestly I wasn't the best," he said. "Talent-wise I was in the middle." Lemanczyk finished his career with a record of 37-63 in eight seasons.
He would scout a few years for the Yankees, worked in the telephone and print businesses for a while, and later became a personal pitching and hitting coach. For the past 20-some years the 70-year-old has owned the highly regarded Dave Lemanczyk Baseball Academy on Long Island in New York.
"I think I am pretty good at what I do," he said. "I work one-on-one. And it's not just about baseball. It's about life lessons, too. I treat them all like family."
He works with kids as young as 6 and has even worked with a 74-year-old grandfather. Most of those who work with him, up to 75 a week, though, are teenagers.
Ironically, the former pitcher notes that he mostly goes over hitting skills rather than pitching.
"People ask me, 'You were a pitcher, how can you teach hitting?'" He laughs. "I had a lot of guys hit me."