DUNEDIN — The Dunedin Garden Club is 90 years old this year, but they are concentrating on the future.
"The 90th anniversary is a testimony to the success of 90 years of proactively meeting the needs of our community in the beautification, service, and education in partnership with our community," said Briony Tomalesky, president of the Dunedin Garden Club, during a recent interview at Dunedin Public Library. "Our focus is on the present activities — what we are doing now as a garden club."
However, it's the past that explains how important this little club has always been to this green-loving town in northern Pinellas County.
Dunedin resident Margaret Webb founded the club on March 21, 1929, on the first day of spring. Webb, who had belonged to the garden club in her Tennessee town, moved to Dunedin in the 1920s and sought to start a new club here, said Deborah Whalen, the garden club's historian.
Her home on Montclair Road and the garden she cultivated in the 1920s is still there, including plants that are direct descendants to the flora she planted, Tomalesky said.
Since its inception, the club of 37 gardeners and environmentally minded associates has helped keep Dunedin green. Webb and other early members halted a planned gas station in 1932 at the corner of Edgewater Drive and Main Street. They stopped the project by buying the property and beautifying the little pocket of land. The site — across Main Street from Edgewater Park — is known as Armston Park. Its iconic waterfowl fountain and tight, beautiful landscaping, is a testament to early land preservation in America.
When the world descended into World War II, the garden club's members helped Dunedin residents participate in the national Victory Garden movement, Whalen said. Victory Gardens, also called Food Gardens for Defense, were planted at both private homes and on public land to reduce pressure on the public food supply brought on by the war effort.
"Canned food was sent overseas for American troops because it kept better," Whalen said. "By growing vegetables and spices in their gardens, Dunedin residents and other Americans freed up canned food for shipment to troops overseas."
Garden Club members began teaching children about gardening at Curtis Fundamental Elementary School (formerly Dunedin Elementary School) in 1961. The Junior Gardeners Club continued for nearly 60 years, until 2010, Whalen said. The guiding light of that program was the late Alice Changstrom, who since the 1970s taught youngsters the joy of gardening.
"She lived to be 99 years old, and she continued to teach the kids until two or three years before she passed in April 2014," Whalen said.
"If you don't instill in a very young age the passion, it's hard to pick it up if you haven't been raised with it," Tomalesky said.
Changstrom, who was recognized nationally for her gardening and landscaping theories and helped plant the garden club's butterfly garden at Dunedin Public Library, is in Dunedin's Senior Hall of Fame.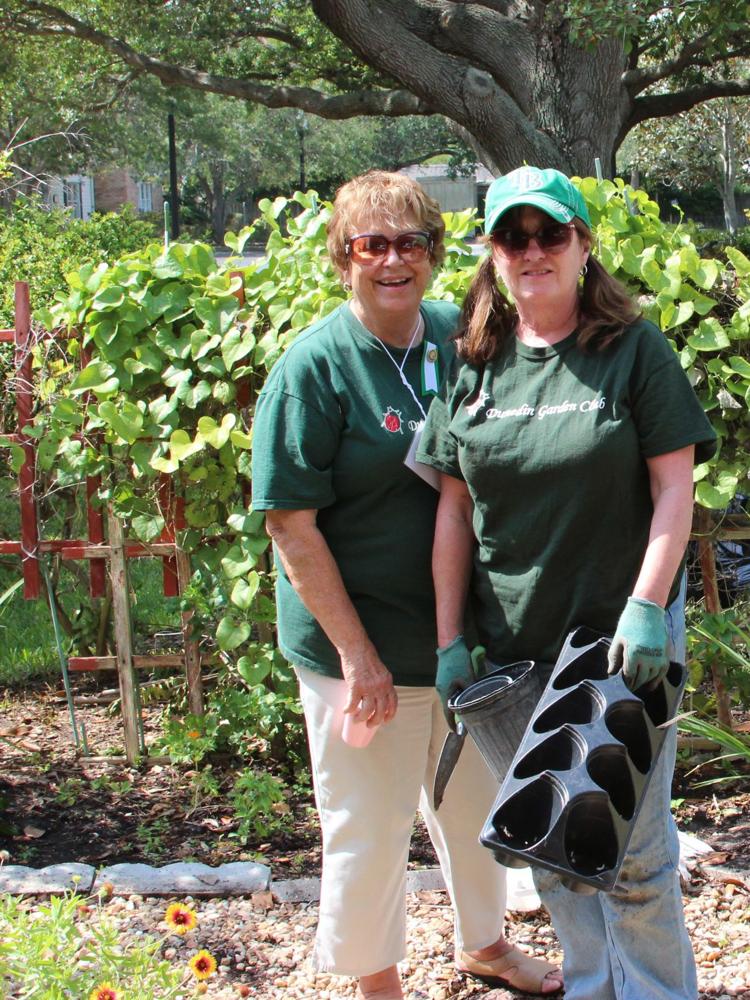 A lot of those elementary school students have grown up and now support the program in various ways, including Dunedin Public Library Director Phyllis L. Gorshe.
"I was involved in the gardening program at Dunedin Elementary School in the second, third, fourth, and fifth grades," Gorshe said. "Ms. Changstrom would come to the school and spend time with us in the garden. She helped install a love for gardening in me, nature and just loving our Florida area."
Then there's what every kid likes: "I also loved digging in the dirt," Gorshe laughed. "I won an award for the tallest dill plant, too."
Like other garden clubs around Florida, the Dunedin club awards a scholarship for young gardeners to attend the Wekiva Youth Camp, which teaches environmental education and gardening. Gorshe attended the camp for several summers. Her young son, Isaac, also attended the camp.
The garden club also helped preserve Hammock Park at 1900 San Mateo Drive, which the city of Dunedin had once planned to develop. The unique environment has walking trails, boardwalks, a butterfly garden, a disc golf course, and children's playground. But to the garden club, it's a rare environment deserving of preservation.
According to Friends of the Hammock Inc., in its 85 acres, the park contains a hardwood forest, a salt water estuary, fresh water ditches, and a dry, white sand scrub area. There are six definite plant habitats, based on soil type, moisture, and vegetation communities.
"It is part wetland, part hammock, and there is a salt water marsh that goes out toward Caladesi Island that is also connected to a freshwater lake," Tomalesky said. "You can follow the water, from fresh, to brackish, to salt water. Hammock Park has all three. It is native environment for gopher tortoises, and there's a nesting pair of bald eagles."
As the city built the park, the garden club mapped the walking trails and identified the plants and trees along the trails. Along with Friends of Hammock Park, the garden club is fighting to eradicate the air potato, an invasive vine that strangles Florida's native plants.
The garden club's future, which Tomalesky is so excited about, continues the proactive approach to gardening and civilization.
In addition to traditional civic cleanups, planting beautification projects, holiday decorating and participating in flower shows, Tomalesky wants to focus on subjects that are appealing to its population. The club holds seminars on how to turn small patio spaces into a "plant paradise," growing herbs and native gardening to reduce water and pesticide usage. Opportunities range from hands-on projects, gardening challenges, and guest speakers who provide tips on orchids, mulching, winter gardening, butterfly gardening, attracting bird species, and sustainability gardening.
Tomalesky, who almost lost a beloved pet to plant poisoning, wants the garden club to continue educating the public on which plants, flowers, and seeds pose a danger to pets and humans. Children, too, can be accidentally poisoned by fairly common house and garden plants, she said.
"Most kinds of lilies are dangerous, as is oleander, rosary pea, and of course, sago palms," which are common landscaping plants, she said.
The club recently purchased a plot in the Dunedin Community Garden, where it will collaborate with the community, Whalen said. The club is planning field trips to parks, botanical gardens, and nurseries in the region.
Whalen said the garden club's annual plant sale is its biggest fundraiser. This year's plant sale is Oct. 11 and 12, from 9 a.m. to 2 p.m., behind the clubhouse at Palm Lake Village. The club propagates the plants during the year, and also obtains landscape plants, herbs, and vegetable plants, for this annual sale, Whalen said.
"With this fundraiser, we earn the funds to provide horticultural speakers at our meetings, to send kids to summer nature camp, and to support additional horticultural education and civic beautification and outreach projects," Whalen said.
The Dunedin Garden Club meets from 1 to 3 p.m. on the first Saturday each month at the Dunedin Public Library, 223 Douglas Ave. Rookie gardeners are welcome; veteran gardeners are always willing to share their knowledge, Whalen said.