DUNEDIN — Numerous local tennis players feel slighted over the number of courts available for them in town with the rising popularity of pickleball.
They asked city commissioners Jan. 4 to build more courts to prevent animosity between tennis and pickleball players, who share some of the city courts.
Commissioner Moe Freaney said she discussed the issue with City Manager Jennifer Bramley recently.
"My words were, 'I see the train a coming. It's coming down the tracks. We got a conflict. We have a high demand and we don't have enough,'" Freaney said.
She thinks one avenue of funding would be from the federal American Rescue Plan Act. The city received its first payment of $9 million in October of the $18.3 million it expects to receive.
The city's website states the dual-use courts are temporary as the Parks and Recreation Department's long-range plan is to build stand-alone pickleball courts.
Mayor Julie Ward Bujalski said the need for more courts is on commissioners' minds, adding that officials have also talked about using space for courts at Stirling Park
Even without the American Rescue Plan funds, city officials still will have money for courts, whether they are for pickleball or tennis, she said.
"We already have that in our following year's budget. There is a possibility we can move it up. We just have to take a look at everything going on," she said.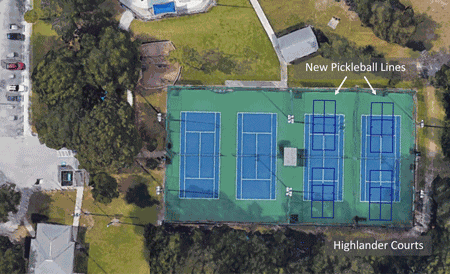 Susan Klueppel, a tennis player, spoke at that meeting in part to "debunk the current rumor that we don't exist."
There are 55 people who she plays tennis with who are supporting what she had to had to say, she said, adding they have room at Eagle Scout Park and Highlander Park for additional pickeball courts.
"We do not want to continue with overcrowding, frustration. Having arguments with our own citizens. That's not right," Klueppel said.
Seven city tennis courts are available for tennis players, said Lynn Osborn.
Over the past two years it's been more difficult to get a tennis court on any given day either of two parks.
"Dunedin has enough funds for the health and safety of all its citizens with tennis and pickleball courts. Let's keep all Dunedin citizens in mind and remember that our town is still growing and will be getting more residents to enjoy our perfect weather and outdoor activities," Osborn said.
Mary Konrad has been living in Dunedin for 14 years and using the courts at both parks all those years.
"Particularly in the last five years there has been a huge increase in the amount of tennis flow and people who are interested in playing tennis. Tennis is not a declining sport here in Dunedin. It is a growing sport," Konrad said.
She sees more and more people being turned away because there is a need for more tennis courts.
"We have the money, we have the land and we have the demand. Let's do it," Konrad said.
In other news
Commissioners recognized artists Mason Gehring and Margaret Schulte for their contributions of artistic benches along Patricia Avenue and the Pinellas Trail.
Gehring was born into a family of artists in Dunedin. She is a studio artist, drawing and painting instructor who also uses her arts in health care training. She is an active member of the arts community in Dunedin and throughout the county, city records say.
Schulte is an author artist and public speaker who lives and works in Dunedin. She also has published blogs and hundreds of limericks among other works.
"This is an exciting project. Just because we really have been working hard on trying to find even the smallest ways of bringing public art into our community and sharing it and improving various corridors," Bujalski said.
Commissioner Deborah Kynes thanked the artists and others involved in the benches project, saying said it's important to recreate art to reflect the "ambiance and history of our very special town."