OLDSMAR — First, there was regular tourism, featuring activities and locations centered on sports, leisure and adventure. Then came ecotourism, or tourism directed toward the natural environment, such as the zipline aerial adventure park at Mobbly Bayou Preserve.
Now, Oldsmar is pioneering a kind of space tourism, after partnering with retired astronaut Nicole Stott to create a mile-long interactive map of the solar system that uses an augmented-reality app to deliver information on the galaxy's planetary bodies.
During a ribbon-cutting ceremony March 5 at R.E. Olds Park, the physical center of this virtual universe, Mayor Eric Seidel praised staff, including Arts Coordinator Lisa Schmid, Multimedia Coordinator Mark McGinley and Marketing Specialist Debb Vitraelli.
"We would not be here today if this project wasn't led by a dedicated staff of our communications, our marketing and our art departments," Seidel said to the crowd that gathered around a project monument. "They worked tirelessly to have this project up and running for our community."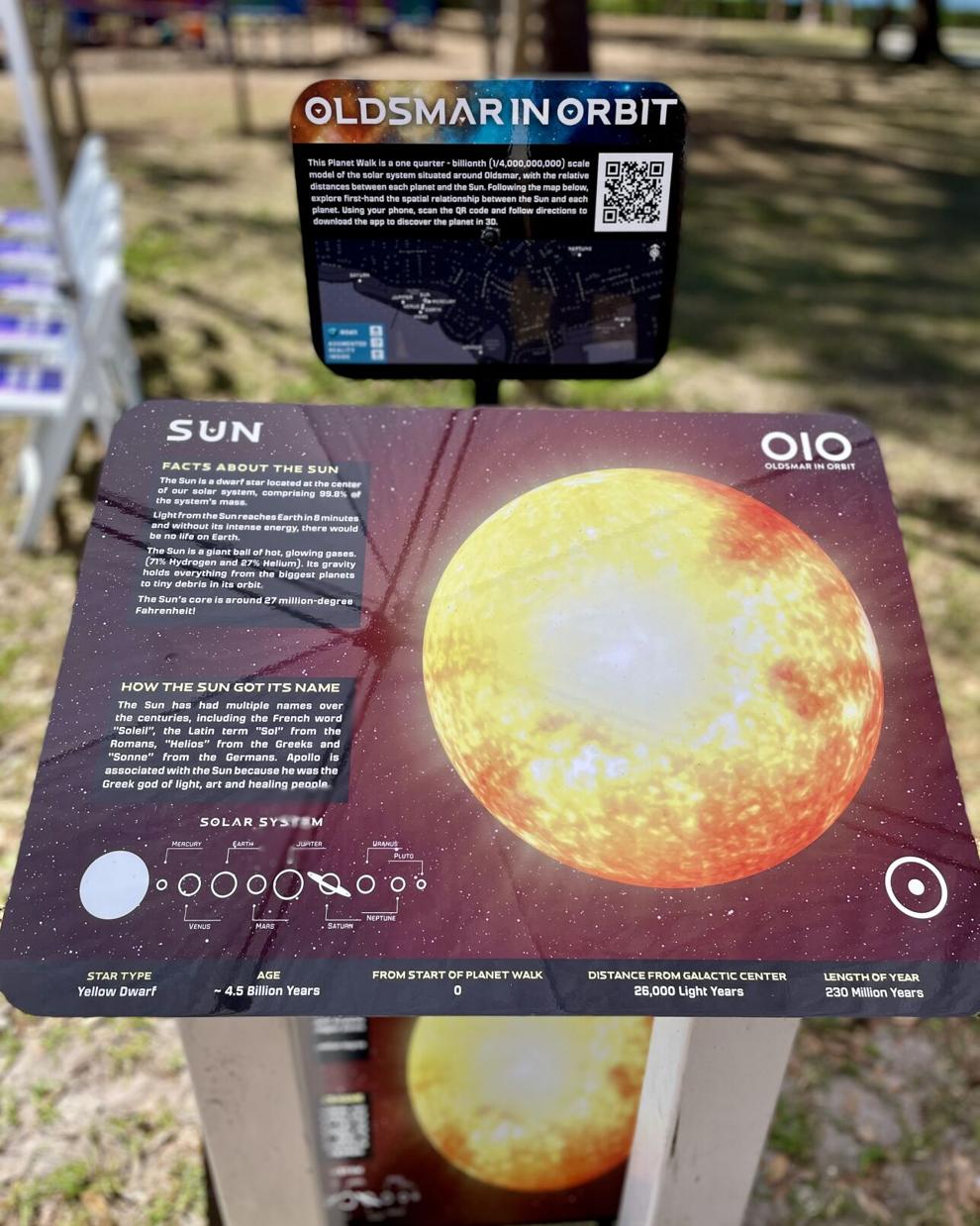 The mayor also recognized members of the St. Petersburg Astronomy Club "for reviewing all the data and offering your expertise and support for this project."
Spanning nearly a mile, the Oldsmar in Orbit Planet Walk has a scale of 4 billion miles-to-one and showcases each planet with an informational sign, planetary facts and astrological images. Each sign is placed proportionally to its actual distance from the sun.
The Planet Walk begins inside R.E Olds Park, 107 Shore Drive W.
Seidel said the Planet Walk app allows users to take an "out of this world journey" to the nine planets and the sun, "gaining first-hand experience of their enormous relationship."
The Planet Walk app, whose interactive features are activated via a QR code at stations along the walk, uses augmented reality to display 3D images phone screens. Audio messages from Scott are also activated.
"As an astronaut, I was blessed with the opportunity to spend over 100 days orbiting our planet," said Stott, a Clearwater High School graduate who has spent more than 100 days in space. "But there's so much that's important about what we bring back to Earth from those experiences."
Stott, who now lives in St. Pete and is also an accomplished artist, praised Seidel, City Manager Felicia Donnelly and other officials for the city's various art installations.
"I think Oldsmar has been known for (public art installations) for quite a while, and now you're incorporating space into those art spaces. How cool is that?" she said. "I believe there's a real love for this intersection of science and space and art, and I think it helps us communicate with a much broader audience and introduce them to things they might not even know they curious about."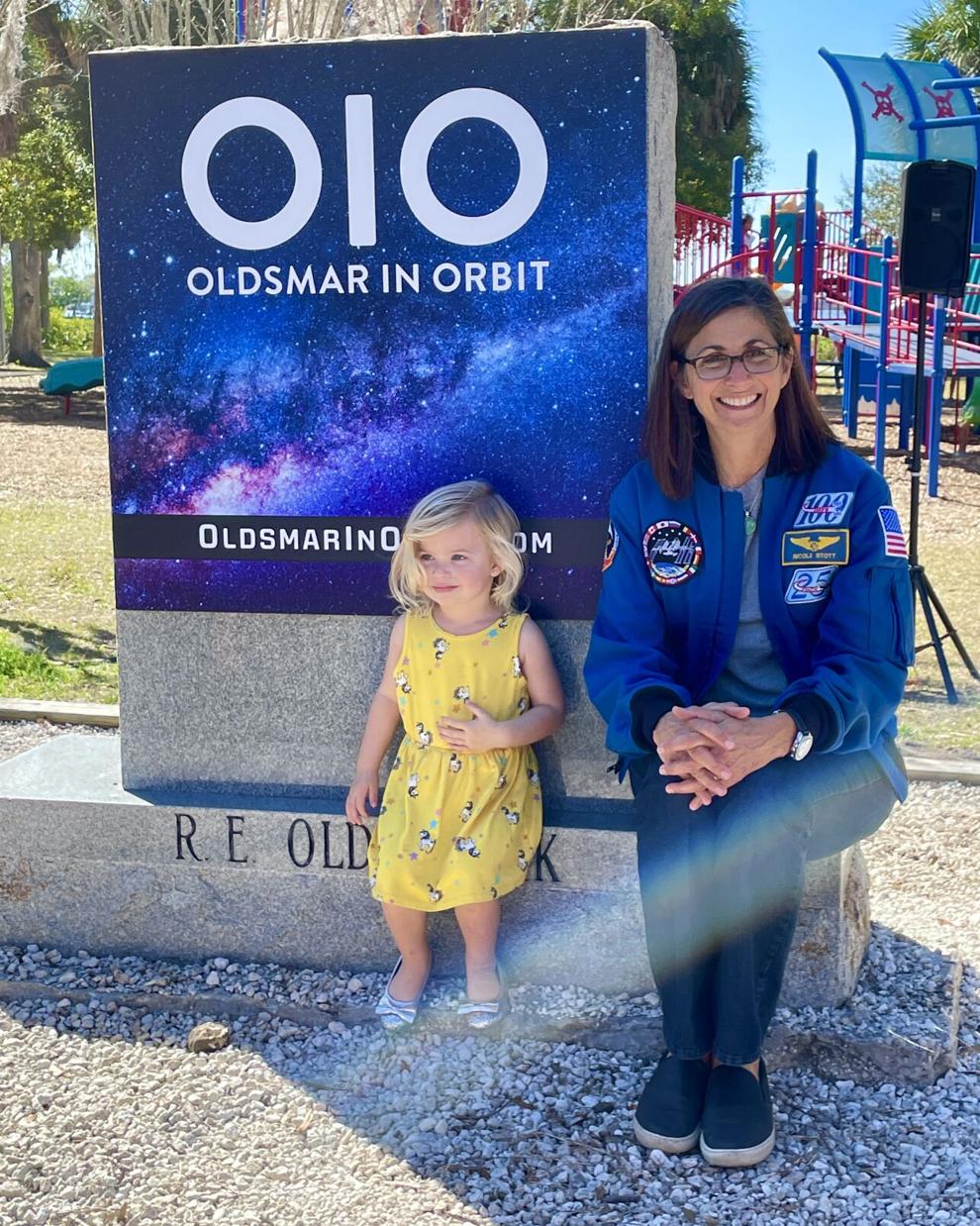 After her speech, Stott was inundated with requests for photos and autographs, including several from star-struck young girls.
"I love space, so bringing something here the kids can engage in is beautiful," Stott said. "The thought that has gone into this project is such a perfect way to attract not just kids but everyone to the area. Everything about it is so nice to me, because this has the power to get people thinking."
Stott then headed to Oldsmar Public Library to sign copies of her first book, "Back to Earth: What Life in Space Taught Me About My Home Planet."
"What's so exciting about it is it brings art and science together, and we think it will be attractive to kids and adults because there's really nothing else like it in the area," Seidel said.
For more information on the Oldsmar in Orbit exhibit, visit myoldsmar.com/Oldsmar-in-Orbit.