PALM HARBOR — Barbara Guarascio took a big chance by moving to Pinellas County from Detroit to open her Detroit Coney Island eatery with the idea of bringing foods unique to Michigan and elsewhere in the Midwest to the Sunshine State.
"I came to Florida to bring the Detroit Coney Island style of eating to Florida," Guarascio said, explaining "a Coney Island is basically a diner in Michigan, and you'll find one on every corner."
After a successful five-year run on the beach, Guarascio sold her 700-square-foot spot and took another chance when she decided to relocate to U.S. 19 in April 2018.
"People kept asking me to come to Palm Harbor," she said, noting she "loved the beach, but it's changed over the years and the offseason is tough."
Despite starting over again Guarascio, a mother of six who is also a certified life coach, was determined to fulfill a promise she made to her entrepreneur father before he passed away prior to her moving here.
"I made a promise to my dad I would take what he did and multiply it, and this is the result," she said.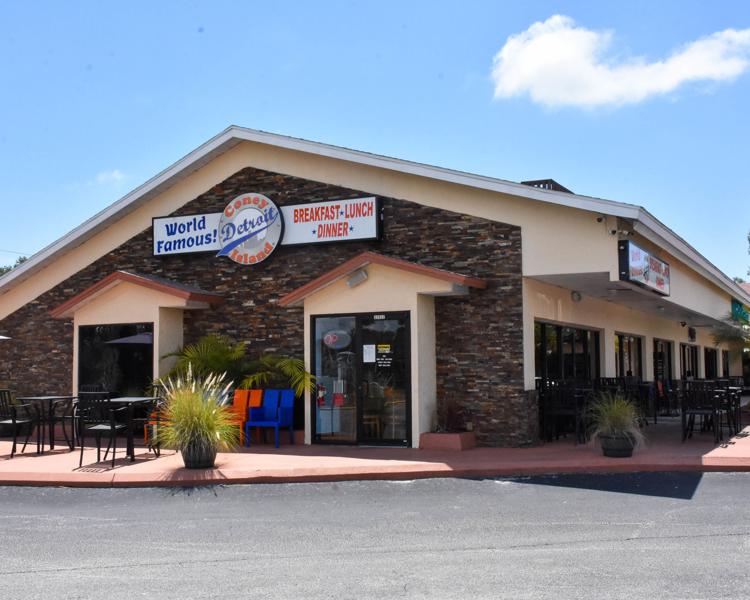 "This" is a 1,500-square-foot, 150-seat space at 32922 U.S. 19 N. It features a large outdoor patio and dozens of iconic photos, posters and items from the Motor City hanging on the walls, much of it donated by Guarascio's loyal customers.
"I have a huge following because the Coney Dog is iconic in Michigan," she said. "People from there know there's only one way to make them — natural casing dog, you put the chili on, then the mustard and then the onions. You don't do it another way, or it's not a real Coney Dog."
Guarascio noted all her Michigan products are imported directly from the Great Lakes State, including Faygo pop, Dearborn Sausage Company and Koegel brand hot dogs, Better Made potato chips and Sanders Hot Fudge, plus other meats and seafood like walleye and perch.
"If I'm going to have a Detroit Coney Island diner and I don't use Detroit products, why bother?!" she said with a laugh.
She added she gets asked all the time if the food is authentic, and she replies: "Yes. It's from Detroit."
Guarascio admitted she and her staff "cater to Northerners" and a high percent of her customers are from Michigan and other parts of the Midwest. Nevertheless, she also gets "a lot of people who never knew Detroit has a lot of good, food, so they're getting a good taste of Detroit here," she added.
Indeed, longtime loyal customers Ed Sepulveda and his mother, Grace, former Northeasterners, make the drive from New Port Richey at least a couple of times a week for the complete Detroit Coney Island experience.
"We got a gift card to come in and try it last year, so we did, and we fell in love with the place," Ed Sepulveda, a New York native, said. "It's so nice and relaxed. Such a family-friendly place. And the food is great!"
Grace Sepulveda added, "It's really a family here, and they really make you feel like family."
Indeed, Guarascio said all six of her children either now work or have worked in the restaurant, making Detroit Coney Island a true family establishment with a real "back home" feel.
"People come in for the nostalgia," she said. "It makes them feel like they're back home. I get emotional sometimes because … it brings back such fond memories for them."
Now comfortably settled into her new place, Guarascio said she has no plans to expand or relocate.
"I love it here and I want to stay here and keep it simple and make this a place where you come in, have a good meal, a good time and feel like family," she said. "If I've done that, I feel like I've done my job."