PALM HARBOR — Work on the long-discussed roundabout slated for Florida Avenue and Alternate U.S. 19 is underway, according to the Florida Department of Transportation.
The $2.6 million project was scheduled to start Aug. 4, according to FDOT, and is expected to take nine months to complete. In addition to the roundabout, which FDOT describes as a circular intersection without signal equipment in which traffic flows around a center island, the project will also include drainage improvements, roadway resurfacing, new sidewalks, a shared use path and landscaping.
The controversial traffic calming feature has been earmarked for the busy intersection for several years — Forward Pinellas prioritized the design in 2018 while FDOT has conducted community outreach as far back as 2015 — as studies have shown that roundabouts result in a sharp reduction in accidents, serious injuries, and fatalities.
"Studies show roundabouts have a 90 percent reduction in fatal crashes and a 76 percent reduction in serious injury crashes," FDOT spokesperson Kristen Carson said via email, noting the features also result in a 10-40 percent reduction in pedestrian and bicycle crashes. Roundabouts are designed to slow cars down to at least 20 miles an hour and eliminate T-bone crashes and crashes from vehicles taking left turns into oncoming traffic, which reportedly caused 85 percent of fatal accidents at intersections with stop signs or traffic signals.
During a town hall meeting held at the White Chapel in September 2015, an FDOT official explained why it made more sense to add a roundabout at the intersection rather than a stop sign or signal, as many residents have called for. "The No. 1 safety feature of it is that it slows down the speed of traffic, and this is vitally important," engineer trainee Craig Fox said. "And it's for this reason that departments across the nation are pushing for more and more roundabouts."
Fox also addressed the common thought that rotaries seem "counter intuitive" when it comes to helping with traffic flow, "because you're slowing down," adding they "allow traffic to flow through at a constant rate." Pinellas County traffic official Ken Jacobs also noted roundabouts are more cost effective than signals in the long run.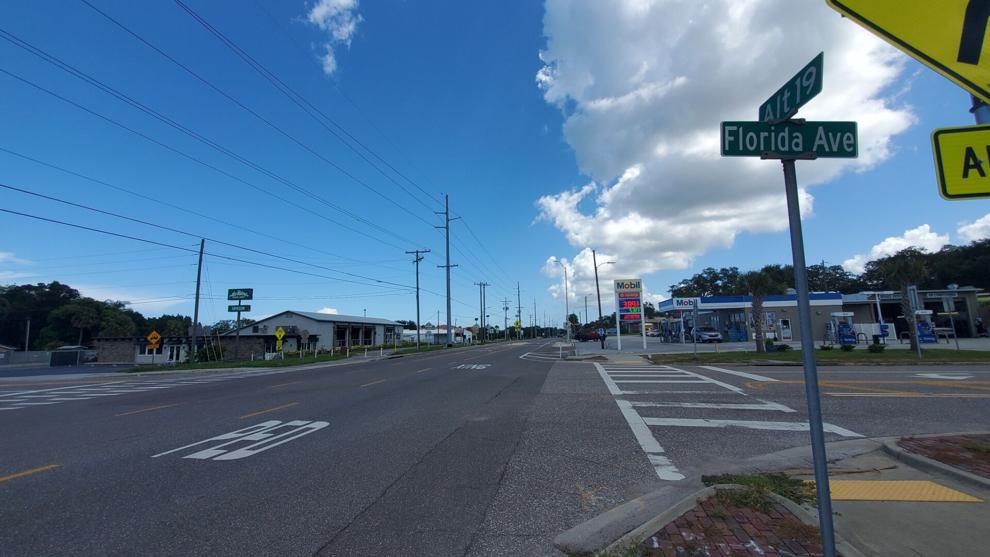 Despite the evidence that roundabouts, or rotaries, as they are often referred to, are safer and more cost effective, they are routinely criticized for a perceived propensity to cause accidents rather than prevent them. The $13 million Clearwater Beach rotary, which originally featured a massive fountain that required expensive redesigns, is often cited locally as a prime example of why they don't work.
"Big mistake. People can't handle the one at Clearwater Beach," read one comment on Pinellas County Government's Facebook post about the project. "This is as dumb or dumber than the Clearwater Beach roundabout," read another.
During the 2015 meeting, Fox noted the visual impairment caused by the massive fountain in the center of the circle led to the dozens of accidents at the site. "The main thing to learn from this is a good design will give you good results and a bad design will give you bad results," he said.
Regardless, it appears the studies and statistics have done little to sway some residents.
"The people who live around here have said over and over that we do not want this," a commentor wrote on the FDOT post, but the remark received a response that read, "Just because people don't understand what's best for them doesn't mean we shouldn't do what's best for them." That exchange represents the polarizing roundabout debate in a nutshell.
But according to Forward Pinellas Executive Director Whit Blanton, transportation officials are not concerned about winning popularity contests or social media debates, they're focused on saving lives.
"The issue we have now here in Pinellas is we have a lot of aggressive drivers," Blanton said by phone this week. "And roundabouts are designed as a direct response to slow down aggressive drivers. They force you to think about how fast you're traveling and that's what they're designed to do."
Blanton explained the decision to add a roundabout at that location came after "looking at a lot of different alternatives, and this one checked all the boxes," noting they had to consider the high number of pedestrians and Pinellas Trail goers in the area. "Our decisions are made with everybody in mind, not just car drivers," he said, noting the nearby downtown district is growing and that part of the trail sees high use. "But change is hard for people, and much of the opposition to this feature is a knee-jerk, gut reaction. Hopefully in time they will see this was the best solution for this location."
Work on the long-discussed roundabout at the intersection of Florida Avenue and Alt. U.S. 19 began last week, according to Florida Department of Transportation, with the $2.6 million project expected to last nine months.