PALM HARBOR — A floating ice cream truck may now be spotted each weekend in gulf waters off Palm Harbor.
Well, technically, it's actually an "ice cream boat," operated by two 16-year-old Palm Harbor boys, the proprietors of Two Guys Ice Cream.
The young entrepreneurs have taken the concept of a neighborhood ice cream truck and adopted it to a waterborne route, providing customers ice cream and other treats.
Operators Zack Bataoel and Jace Maples may have also found the ultimate formula for mixing business with pleasure, spending six to eight hours a day on the water, making various stops along the way.
Sophomores at Palm Harbor University High School, Bataoel and Maples met roughly four years ago while playing on the middle school basketball team.
The duo operate their ice cream boat on weekends during the school year and first ventured out Aug. 21.
"It's everything that we would want a job to be," said Maples. "We're our own bosses, we have control, and we're out on the water selling ice cream in paradise."
"We get paid to hang out on the water," Bataoel added.
However, the boys' floating ice cream store has also provided an education into the mundane details of running a small business that includes ordering inventory, keeping a set of accounting books and filing the requisite legal paperwork to operate the company.
Launching their 19 1/2-foot motorized skiff from the Ozona section of Palm Harbor, the two enterprising merchants serve up ice cream and other snack cravings to beachgoers of Honeymoon Island, Three Rooker Island and surrounding islands.
"Last week, since it was super nice out, everybody was on their boats, we were out on the water for about 6½ hours," Bataoel said in early March.
The floating ice cream truck — a preowned family lake boat that the boys are currently paying off — also carries soft drinks, candy, and other various snacks, along with an inventory of dog ice cream cups.
The young ice cream purveyors see themselves offering a specialized service that previously did not exist.
"We're bringing it to you on the ocean," Bataoel said. "You don't find that much out there."
The partners had to secure several food licenses to sell ice cream at the different island locations, as well as research the type and cost of power generator they needed to refrigerate ice cream.
To date, the two budding businessmen have hired three part-time workers to fill in when school sports and other activities take them off the boat.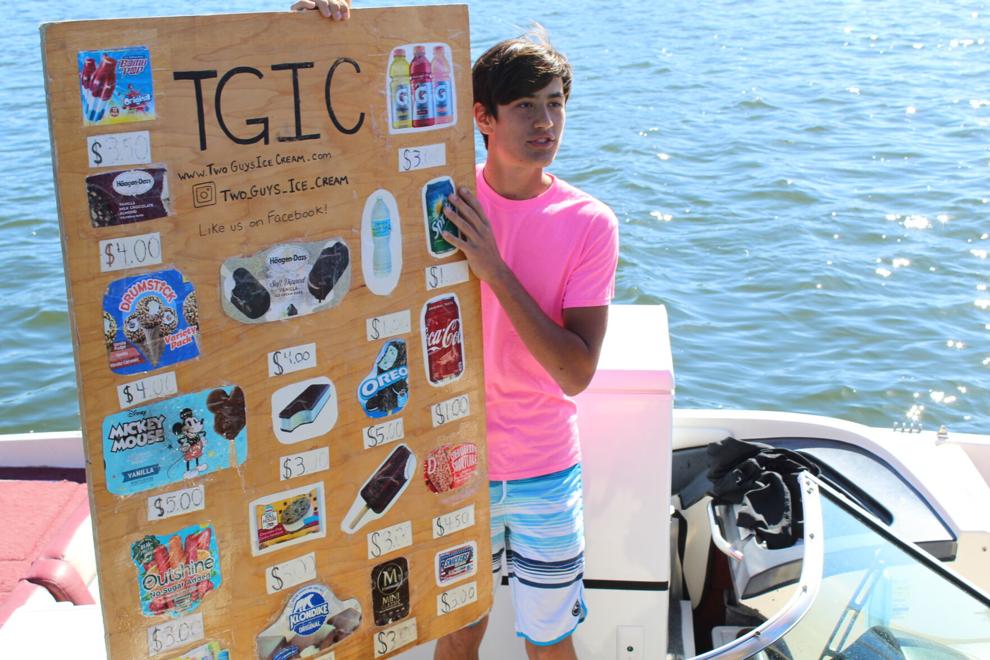 The boat is equipped with a commercial-sized freezer that is powered by two marine batteries and a marine-grade electrical invertor.
The entrepreneurial pair have ambitious expansion plans that include buying additional refrigerator units along with a much larger pontoon boat that will hold more goodies and expand their selling range.
"Eventually, we want to have more than one boat," Bataoel said. "We want to be out on the water all up and down Pinellas County. We want to expand to as many boats as we can."
Their ice cream business has also whetted both boys' appetite for operating a business of their own as adults.
Their water venture has also given the young men an appreciation of the potential challenges of running a larger business.
"For us being a small business, I can't imagine what the pace must be with a bigger business, like a restaurant or a food chain or things like that," Maples said.
These two ice cream merchants have already learned that running a business is no part-time hobby.
"It's just surprising how much time it takes," Bataoel said. "I now understand why entrepreneurs are always busy. We're constantly buying ice cream, constantly checking on the boat, constantly doing things to get ready. But it's your business, so you can't complain."
The partners say they've also learned building a successful business means weekly profits need to be plowed right back into the operation.
"In owning our own business, instead of working for someone, we're working our butts off, sometimes for nothing, so we can put back into the business to save up for our pontoon boat," Maples said.
An entrepreneurial spirit is something both young men say is in their blood.
"My dad has always been an entrepreneur, and I've always wanted to run my own business," Bataoel said. "And it's a good way to give back to the community — to let them have fun with ice cream out there on their boats."
To market and brand their floating ice cream business, the co-partners invested in a set of bright pink signs crafted by the daughter of their local church youth pastor. They were then further developed and refined by Zach's sister.
With the exception of December and January, the two ice cream vendors run a year-round business, plying the island waters off Palm Harbor most weekends.
The boys say buying a pontoon boat will give them more time on the water by doubling their refrigeration space.
"Last weekend, we ran out of seven — more than half — of our inventory items," Maples said. "As soon as we have more space, we can have two freezers, maybe even three."
A pontoon boat would also provide easier landings on island sand compared to their fiberglass skiff.
The marine ice cream truck finds its customers two ways: literally running into customers while trolling the Ozona area waters, and through the company's Facebook and Instagram hits.
"We're constantly checking our accounts to see if people are calling us out," Bataoel said. "We also see people along the way who wave their arms up in the air, shouting, 'Ice cream, ice cream.'"
Spotting a dog on boat or land can also be a potential sale, with the boat freezer well-stocked with what's called "Frosty Paws."
"When we see a dog, we tell people, 'We have dog ice cream, if you'd like to take a look at it,'" Maples said.
The boys' sales route includes Three Rooker Island — essentially a natural sandbar — and then over to the tip of Honeymoon Island State Park that features a dog park, and finally over to Caladesi Island State Park, which is only accessible by boat or kayak.
Ice cream transactions take place both boat-to-boat and landing the boat on beachfront to make land sales.
"We're going in and out of boats, and people are calling us in," Maples said.
Two Guys Ice Cream sales volume is directly proportional to any given day's temperature high. Case in point: business took a pronounced uptick two weeks ago when daytime temperatures inched over the 70-degree mark.
"That was the first nice weekend," Bataoel said. "Once it's warm enough to go when it's in the mid- to high-70s and above all day, people are out on their boats."
For information, visit www.facebook.com/TwoGuysIceCream.