PALM HARBOR — Taking over an organization that boasts 300 members in a community with no local government would've been a daunting task for anybody.
Doing so during a global pandemic could be considered doubly challenging.
So, Dean Maratea knew he was in for a rough start as president of the Greater Palm Harbor Chamber of Commerce the minute he took over. But rather than run and hide, the affable New England native decided to meet the challenge head-on.
"The day after St. Patrick's Day was my first day on the job, and then the next day the whole state shut down because of the coronavirus," Maratea said during a recent sit-down interview at Stilt House Brewery. "Here I was in charge of small businesses and the whole state just shut down. So, I used my experience with Zoom and reached out to as many people as I could, and I just went from there."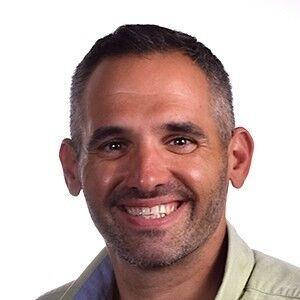 Maratea, who comes from a retail, hospitality and e-commerce background, said he learned from an early age the importance of giving back, and he knew the qualities instilled in him by his father would serve him well during one of the most difficult times in the history of the country.
"I think empathy is the biggest quality to have, and I have plenty of it," he said. "I grew up poor, but my dad always took me and my brother to a local homeless shelter to fold laundry, so charity and volunteering has always been a big part of my life."
Maratea said he began to touch base with as many chamber members as he could, virtually and later in person, and he quickly learned he had to be the answer man for the local business owners.
"In Palm Harbor, we're the City Hall, we're everything, and business owners usually have all the answers," he said. "But in this situation, people were looking to me for help and they had to trust me quickly. I had to keep people engaged and give them a social outlet and keep them abreast of county information. I became their trusted news source."
Noting the trial by fire was "actually the best way to jump in," Maratea soon learned he was going to have an uphill battle rebuilding relationships and growing the chamber's membership base due to missteps by past leadership.
"It wasn't a well-run operation to begin with," he said candidly, noting the previous president used the position as more of a personal social outlet and did not follow through on standard chamber business, though he stressed the chamber's board of directors is as strong as it's ever been. "But I think because I didn't have a chamber background, I was willing to try new things." After talking with Upper Tampa Bay Chamber of Commerce officials Jerry Peruzzi and Mark Howe, Maratea learned the three pillars to a chamber's success.
"Community and charity involvement, small business networking and having some fun! From talking to Mark and Jerry I learned those are the three keys to success, and to me the chamber has neglected that."
By using a combination of Zoom meetings, hybrid networking mixers and other fun, COVID conscious events, Maratea believes he has successfully started the process of rebuilding existing relationships and forming new ones. Now he's focused on rebuilding what was once a thriving downtown.
"Downtown is the key to success in Palm Harbor," Maratea said. "It's where the locals go to get away and ideally it has to be more than businesses there. But the goal is not to explode. We want to keep it charming and successful, and the biggest thing is getting a group together, getting a plan and exercising it. We need to all be on the same page working on the same goal — to make the downtown thrive."
To that point, Maratea has joined forces with a longtime chamber adversary — the local merchants association — to help revitalize what used to be a hot spot but has fallen on hard times, with glaring vacancies, including the former Peggy O'Neill's building, and long under-construction projects including the mixed-use development on Florida Avenue contributing to the overall disjointed feeling downtown.
"Downtown is in limbo right now, and everyone's got to come to the table to develop it and grow it," said Joe Swett, the owner of Sunshine Irrigation who is leading the merchants group. "It's all independent and financially there's no support, so everything falls on our shoulders, from the trash collection to events, everything. There's a lot of red tape behind the scenes people don't know about. But we're working on it."
Indeed, as the state continues to deal with the effects of the pandemic, there are signs of hope for a better future in downtown Palm Harbor.
The merchants group, in conjunction with the rec department and Bogota Kitchen and Bar, recently held a Christmas tree lighting ceremony that was  well attended, and popular establishments like Thirsty Marlin, BarFly, Smuggler's Island Pub, Two Lions Winery and Fireside Pizza Café have been attracting patrons to the area throughout the coronavirus crisis. Plus, the impending opening of the Florida Avenue restaurant and retail facility, as well as the high-end steakhouse slated for the old Peggy's building, could help jumpstart the district's rebirth, according to Maratea. "That could be the new hub," he said of the corner Florida Avenue and 11th Street.
Both Maratea and Swett understand there are still challenges ahead. But unlike the business leaders of the past, the duo is committed to seeing the process through to completion.
"We have the right support in place," Swett said. "We just have to keep it going."
Added Maratea, "We're the future here, and people have to respect that."