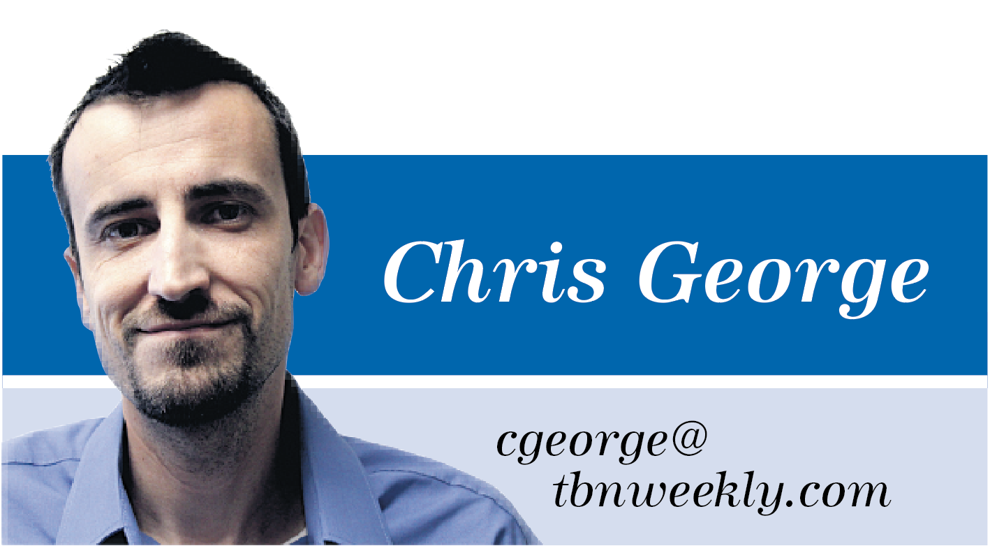 After reflecting on the past year, I searched hard to capture the perfect words to succinctly and eloquently sum up 2020.
Unfortunately, the words were not suitable for print in a family-friendly publication.
So, all I'll say is this: What the hell was that? Did I just wake up from a nightmare or did this year really happen?
On Jan. 1, I took over the role of executive editor for Tampa Bay Newspapers from Tom Germond, who retired after a long career in journalism. The first item on my to-do list for 2021 is to punch Tom in the face. Although, he's a Gators fan, so he's probably suffered enough this past month or so. Maybe I'll just throw a shoe at him instead (if you're not a sports fan, look it up).
But, somehow, Jan. 1, 2020, feels like it was both last week and a decade ago all at once. The year started with so much optimism for what was ahead.
Then March came. The first cases of COVID-19 trickled in.
Mild concern followed, but we've seen new viruses before. SARS, bird flu, swine flu have all popped up. Plus, this was the USA. Surely, these kinds of things don't get out of hand in this part of the world.
The first deaths in the Tampa Bay area were reported later that month, and those illusions of immunity from the rest of the world's problems quickly faded.
More cases and deaths quickly followed and in a matter of weeks the entire economy was brought to heel.
Then we took the roller coaster ride that wouldn't stop. A series of state and county orders flooded in one after another, and I now suffer from a rare ailment called executive order whiplash.
At one point, one of our reporters informed me that his son saw that the head of the Department of Business and Professional Regulation announced on Twitter that changes were coming on bar regulations.
This led me to ask him two questions:
a) Why is your son — or anyone for that matter — following the head of the DBPR on Twitter?
b) Why is the DBPR chief making statewide policy changes through his Twitter account?
"Because it was 2020" was always the answer.
At this point, life wasn't chaotic enough yet, so George Floyd choked to death under the knee of a Minneapolis police officer, setting off social unrest and protests throughout the country.
Oh, and all this was happening in the middle of an election season that, once again, I cannot describe because the words are not suitable for a family-friendly publication.
But, despite all the stress and consternation brought on by this god-awful year, it wasn't a total loss. I do think it managed to teach us some valuable lessons that I hope we will carry forward.
• Empathy for those who have fallen on hard times.
I think many of us learned that we are only a few mishaps away from being there ourselves.
Many people in this country live paycheck-to-paycheck, but we assume the checks will keep coming. Take a couple of those paychecks away and we are going to miss some payments. Take away even more and you start seeing evictions and long lines at food pantries. Some of those who received aid from those pantries likely never imagined they would do so.
So, when life does return to some sort of normalcy, don't forget that the need for help never disappears and there is no vaccine for the hardships of life.
• Gratitude for what we do have.
This year has taught me to never utter the words, "Well, it could always be worse."
It's best to just be grateful for what you have now, and then, if things improve, be even more grateful later.
I'm grateful for a great many things — a loving family, friends, a satisfying career. But, for this column, I'd like to express gratitude to my colleagues who help make that career satisfying.
Tampa Bay Newspapers was not immune from the economic meltdown this year. We rely on local businesses to advertise in our papers and on our website, and if those businesses are closed or are hanging by a thread, then we suffer as well.
We had to make some decisions this year that would've been inconceivable even weeks before the virus arrived here. Sadly, our newsroom is much leaner than it used to be.
But we carried on and our staff proved their worth and commitment to community journalism. They, too, faced many personal hardships this year, but they persevered and made it to the end of this marathon year. I consider myself fortunate to work alongside them.
I was also heartened and touched by those employees who were furloughed and continued to offer their services because they believe in what we do here.
Some of those journalists still contribute to our papers in Pinellas and Pasco counties and some have moved on, but my gratitude for all of their professionalism and passion will last much longer than this virus.
Chris George is the executive editor of Tampa Bay Newspapers. He can be reached at cgeorge@tbnweekly.com.