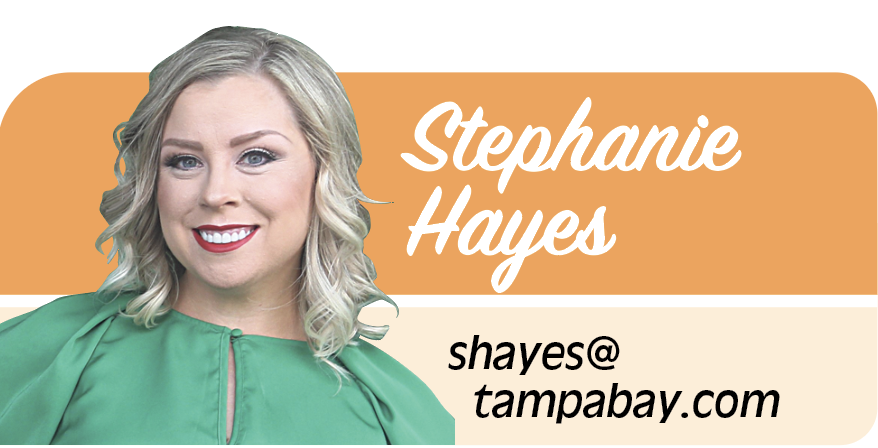 Goodbye to Bed Bath & Beyond.
Goodbye to yet another American corporate comfort that just couldn't hang, filing for bankruptcy protection and falling to rest near brethren Toys "R" Us, Tuesday Morning, Stein Mart and Sports Authority. Goodbye to a big-box retail wonderland woefully behind the times, lost to the couch-surfing ease of internet shopping. And yet, goodbye to something, somehow, timeless.
Goodbye to the stacks of invasive blue coupons refusing to be ignored, clogging the mailbox, sticking out of chaotic kitchen drawers, dangling from countless refrigerators via local pizza shop magnets.
Goodbye to hectic parking lots, to automatic doors, to rushes of icy air conditioning, to fluorescent lights and cavernous warehouse ceilings. Goodbye to soft favorites playing gently overhead. Goodbye to "Unbreak My Heart."
Goodbye to epic posters of beautiful humans living their best lifestyles. A man, barefoot atop a burlap rug, holding an adorable infant staring at a bowl of brown eggs. A woman in a white bathrobe perched on the edge of a bathtub, hair in a chignon, setting the water temperature just so. A blissful couple gleefully chopping rainbow chard to accompany their pristine quiche.
Goodbye to the real couples wandering the store with a wedding registry device, scanning housewares they never knew they needed until confronted with the possibility of limitless gifts. Artfully mismatched Fiestaware. J.A. Henckels knife sets. Gold-plated utensils with service for 12 friends they may or may not have.
Goodbye to the Bed and the Bath, yes, but goodbye mostly to the smorgasbord of wonderful, weird, wild Beyond. Sure, buy these items online if you must, but feel no joy of random discovery.
Goodbye to the TravelJohn, a resealable, disposable urinal perfect for road trips, camping, boating and more. Leakproof! Hygienic!
Goodbye to Herb & Lou's infused ice cube cocktail mixers in pink grapefruit paloma with cinnamon, basil and chilies. Goodbye to the promise of elegance, sucker.
Goodbye to the most SodaStream content anyone has ever seen.
Goodbye to a $400 Homedics kinetic sand table with a little ball that rakes a hypnotic pattern in the powder. Goodbye, mindfulness!
Goodbye to coasters and mugs with so much to say: RAD DAD. MY HEART IS IN THE U.S.A. TROPICAL VIBES. SWEATER WEATHER. LOVE IS BREWING.
Goodbye to UGG brand classic sherpa pet hats and coordinating socks, a great gift set for the fashionable yet chilly animal companion in your life.
Goodbye to digital scales featuring smiling women on the box hugging their knees beside a dysmorphic reading of, always, 127.2 pounds. That one can go, actually.
Goodbye to the checkout lines filled with impulse items, sour candies, face mask holders, bottle brushes, As Seen On TV garage door motion lights, all begging you to give them one more look.
Goodbye to the frantic, last-minute search through your phone for a text or email coupon, because despite having so many billboard-style savings vouchers infiltrating your home, you never remember to actually bring them to the store. It doesn't matter anyway, you realize upon reading a sad, printed sign at the register. The coupons are over. It's all over.
Hello to the tiny glass butter dish that charmed you on your last lap through the liquidating store. It was $8. You're not sure why you had to have it, but you did. It's a little reminder of a familiar American era of browsing and bargains, maybe, a retail ritual disappearing a bit more each year.
Final sale.
Stephanie Hayes is a columnist for the Tampa Bay Times.