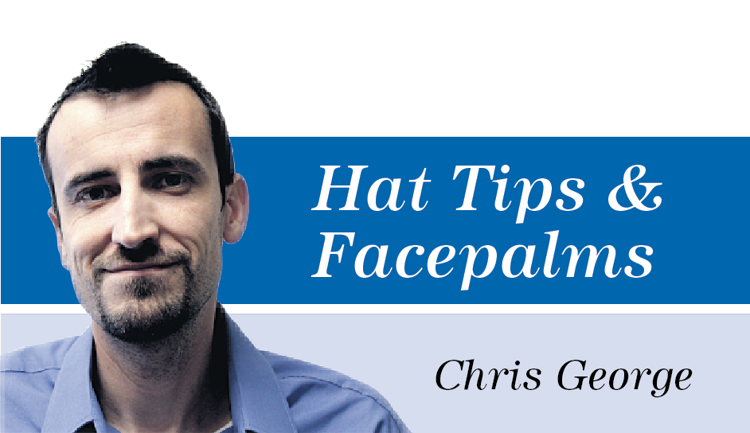 I'm going to preface this column by stating I have little artistic ability and am probably even less qualified to judge artwork. I understand that subjectivity is part of the beauty of it, and that one person may look at the work of Salvador Dali and see brilliance while the next person looks at it and sees B.S. 
That being said, I'm going to judge some artwork. Taxpayer-funded artwork, that is.
Now, please turn your attention to the two pieces of art that accompany this column. One of the images is a piece of public artwork the city of Clearwater is paying $36,000 for to place in the lobby of its Morningside Recreation Complex. The other is a priceless piece crafted by my 4-year-old son Atticus during his pre-kindergarten class at Starkey Elementary (Go Bears!).
Public artwork has been all the rage in Pinellas County since murals started popping up all over downtown St. Pete. Some cities, such as Clearwater and Safety Harbor, even have public art advisory boards and subsidize the pieces. Sometimes they work to help revitalize businesses or certain areas in need of a boost. Other times, cities spend the equivalent of someone's annual salary on something my toddler worked up in between circle time and naptime. 
Hat tip to the Dunedin High football team: The Falcons ended a five-year, 43-game losing streak when they opened the season with a 44-23 victory over Keswick Christian. To erase any doubt, they went ahead and won their next two games, starting the year off a perfect 3-0. Should we expect anything less than a true Cinderella story for a team whose head coach is named Mitch Disney?
Facepalm for the USF football team: My alma mater has lost eight of its past nine games, including a painful 49-0 loss to Wisconsin to open the season. What's even worse is that I have a colleague who is a staunch Wisconsin fan. So there might be a photo of me wearing a hat in the shape of badger (his name is apparently Bucky for those of you wondering) floating around somewhere. It wasn't long ago that USF was Central Florida's team on the rise. Now, I'm sad to admit that they lost the war on I-4 to UCF and will probably need to build a new stadium and indoor practice facility to catch up with the Knights. 
Hat tip to David Barr: The former Marine travels around the nation raising money for veteran causes by hosting motorcycle poker runs. He did so earlier this month when he participated in the Safety Harbor-Patriot Express Honor Ride & Party. He has ridden more than 83,000 miles around the world, crossing six continents and riding across the Gobi, Namibian and other deserts. Oh, I forgot to mention that he's a double amputee, losing his legs to a landmine explosion in 1981.
Facepalm for Oldsmar's downtown development efforts: The city had a false start recently when it had to table its rankings for downtown developments because additional submissions were filed. The move didn't sit well with one of the members of a development group looking to make over the entire 7-acre parcel next to City Hall. Vincent Jackson (yes, the former Buccaneers wide receiver) told TBN reporter Jeff Rosenfield he was surprised there wasn't a vote. 
"We gave away a lot of the ingredients of our proposal. So, everybody has seen our plans," he said.
However, much like his playing days, he's a tough guy to tackle and said he still believed in the plans and wasn't going anywhere.
P.S. For those of you who made it this far, the image on the left is worth $36,000. The one on the right is priceless.